Sometimes, getting all the gears for your sport can be expensive. Either you are a beginner or an expert, it is wise to buy cheap parkour shoes in 2023.
Parkour is an extreme sport and does not matter how much you care you will have to buy shoes at least two times each year. Even if you buy expensive shoes from high-end brands, they will not last more than six months. Cheap does not mean low quality, it means within affordable price thus it would be correct to say that it is the list of best affordable parkour shoes under 50$.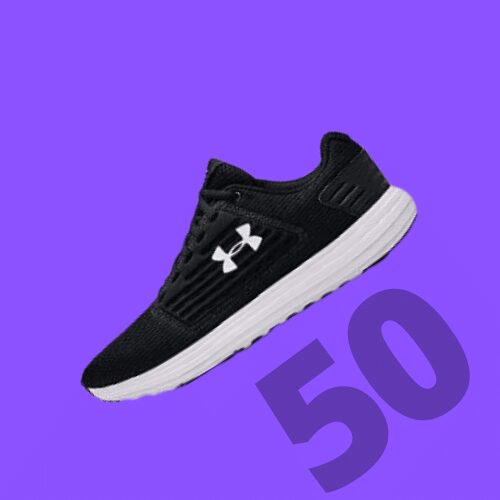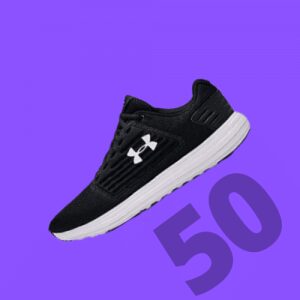 Cheap Parkour Shoes
1. Trail Free Running Shoes by Camel Crown
This shoe has a very beautiful outer design. The upper area has a clean and nicely stitched mesh. The shoe features lace-up closure. The upper part of the shoe is made with such hydrophilic material that absorbs the moisture keeping your feet warm and dry.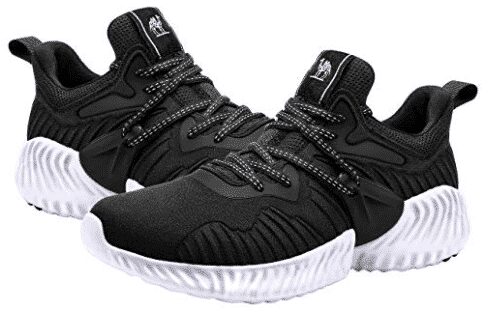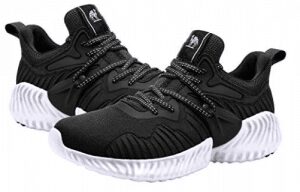 The outsole of the shoe is non-slippery and also features a shockproof fashionable design. You may have difficulty in getting the perception of your ground while wearing it. Yet, if you are a beginner in parkour, you can go with this shoe.
The thick outsole is recommended for starters because while practice they fall too much. Thick soles like this, usually have the ability to absorb shock and prevent certain injuries. Once you get better you can buy thin outsole shoes.
The insole of the shoe has shock-absorption capability. We would recommend you to buy an extra insole so your feet can exactly fit with the shoe. It does not have a dual sole which I think is only found in Take Flight Parkour shoes.
This shoe has the best arch support you can find in this price of cheap parkour shoes. We did best from our research and found this shoe as the most affordable parkour shoe of 2023. Now let us take a look at its pros and cons and then we will leave it up to you whether you should buy this shoe or not?
2. Surge Se by Under Armour – Cheap Running Shoe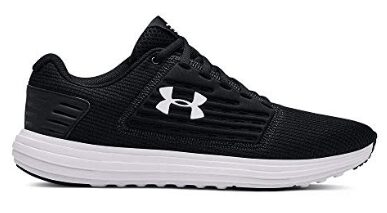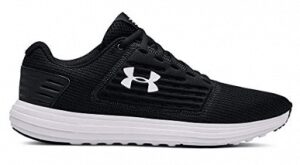 Surge Se is made for those who are beginners in Parkour as it is in between your normal sneaker and a parkour shoe. It has all the qualities of a parkour shoe, yet it has more cushioning and flexibility. Its light-weight further adds to its features. It fits well to the size of your feet.

Parkour exercise causes sweat and smell in feet, but these shoes have breathable mesh on the top. This mesh ensures the proper ventilation of air and prevents the odor from producing in your shoes. Shoes are pretty much durable, but as we discussed above, parkour shoes do not last more than six months. The shoe is well balanced, which is the first priority of parkour while choosing a new shoe.
The material of the shoe is synthetic and the bottom is made with rubber which is recommended for parkour training. The material found in this shoe matches with those of Adidas parkour shoes and they are top in their quality.
While looking closely at the bottom we observed that the ridges will help you to have friction while landing on the ground. Few of the designs are along the width of the shoe which are in danger of tearing off but as we cannot wish for everything from a shoe.
It is still a great shoe with many required qualities. One of the most important things is that the parkour must be able to feel the ground under his/her feet. The rubber is thin and good but the cushioning can be a bit distorted in that sense. So, if you are a beginner, there is a shoe perfect than this for you. but if you are not a beginner, we will suggest you pick a shoe with less foam density.
This shoe comes in other colors?
Yes, it has many other colors with different styles.
Is this shoe true to size?
Yes, it is totally true to size.
Let us take an overview at its pros and cons
3. Athletic Sneakers by MAIITRIP – Men's Running Shoes
While jumping over obstacles, you would never want the weight of your shoe pulling you down. These running shoes by MAIITRIP are a perfect selection for a lightweight shoe. As they are very light in weight, you can use them for running, cardio exercises or for parkour training.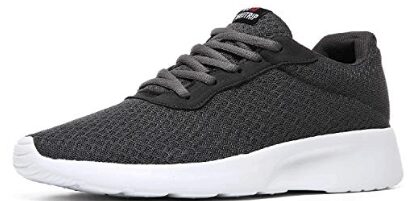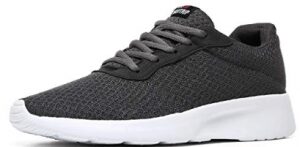 It nearly weighs nothing, which is the best experience you will get while wearing these shoes.
The top of the shoe is breathable and helps in the ventilation of air. It is made up of fiber and synthetic rubber. It is also nice looking and is available in seven different designs and colors.
You will like its charcoal grey version which is displayed here. The stitching of shoes is just perfect, like any other expensive shoe. The top is not very high and is with lace-up closure.
Inside the shoe, it consists of foam and synthetic fiber. It is super comfortable. Sole is very thin, so you feel like you are bare feet. It is perfect for parkour, as you will be able to feel what is underneath you.
The rubber of the shoe is neither hard nor soft, which is a perfect combination for an affordable parkour shoe. Soft rubber loses traction with time and hard rubbers provide less durability so it is better to choose rubber quality in between hard and soft. Although you may lose the pattern under sole due to friction within 4 months, it will be the time to get a new pair.
Can we wash these shoes?
Yes, it is made up of fiber and rubber so you can wash them. It is better to dry them in shade after washing. Do not wash again and again.
Let us take an overview at this cheap parkour shoe pros and cons and show you why we have picked it in our list of cheap parkour shoes
4. WHITIN Men's – Minimalist Trail Runner
This shoe by WHITIN is unique from other listed shoes here. Its uniqueness is in its flexibility and design. The design of the shoe features a wide toe box so your toes can rest easily in it.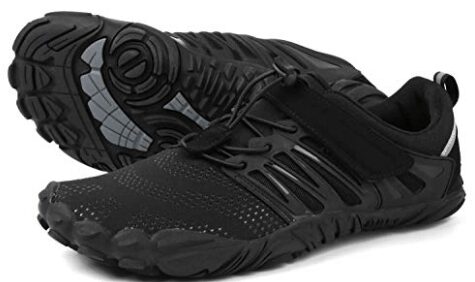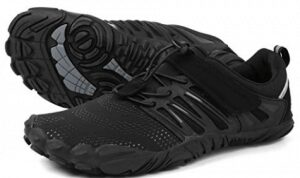 The upper part of the shoe is half rubber and half Ragazine material. It has small holes in it for ventilation of air. Although it is not as good as breathable mesh yet this material holds well on a wet surface. Breathable mesh is good for ventilation but when it comes to running in areas with less temperature, you may even feel the breeze on your feet.
The material used on this shoe, the air will pass but moisture will not. So, your shoes will be odor-free.
It has a lace-up closure that helps you to tight it while performing parkour exercises.
The sole of the shoe is thin enough that you can get feedback from the ground. While doing parkour, you have to feel the ground so this shoe stands well for that. If you are a beginner then you can keep the insole intact otherwise you can remove the insole for a more bare-feet feeling.
Note our advice in case you are buying this shoe. Try to adjust in them for 2 days without doing extensive training. Because they are a bit different in style from other shoes. After that, you can go on running in them.
Our durability test concluded that they are one of the best durable shoes on our list. We did 200 miles running with them and they are still doing great.
What do you think about this pick from our cheap parkour shoes list?
Can these shoes be used for hard exercise?
Yes, we tested them for hard exercises and support. They hold up pretty well.
Let us take an overview at its pros and cons
5. CAMVAVSR Men's – Affordable Parkour Shoes
Are you looking for shoes that can be used during every type of sport or exercise? for walking or running? Then, These shoes are a perfect choice for you. They are different from other shoes in their Minimalist style. These are one of the light-weight shoes in the market. Let us read in-depth about them.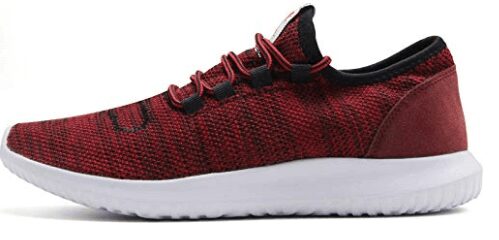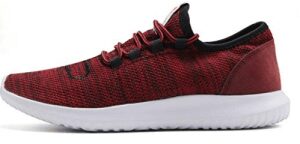 The design of the shoe is very minimal and clean just like casual sneakers. The shoe is available in seven different colors and you can go with the one you like. These shoes are basically designed for running and sport. So, they also fit properly on your feet.
The insole of the shoe is comfortable and the arch is adjusted so to provide the best mid-foot support when you walk.
The midsole of the shoe is thin so to help you feel the ground. If you ask us to choose among the cheap parkour shoes due to their sole and simple design, we will rate this one on the top. They are also easy to wear and easy to take off. Although it looks like leather at the back of the shoe it is synthetic leather yet we would say that it is as much as you can get for this price.
Although the arch is pretty much good, if you feel pain in the arch of your foot, we will suggest you buy one extra insole from Amazon. They are available for nearly free.
Just like other shoes it also has a breathable mesh on the top for air ventilation.
6. TSLA Men's – Minimalist Barefoot Shoe
Looking for a fresh design you have never seen before? Check out these fantastic TSLA Men's Parkour Shoes.
A beautifully designed upper part of the shoe is made up of nylon and synthetic fiber. It is dirt proof that comes with a price that the shoe lacks a breathable mesh. If you do parkour training on un-paved grounds then this shoe is suitable to pick for you.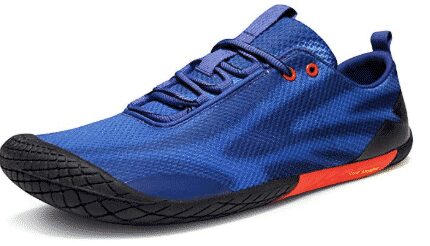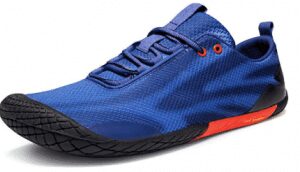 Other than the modern design of the shoe, the sole of the shoe is customized for zero-drop. This shoe lacks proper arch support but some people go with a flat sole so it is totally up to you.
The outsole features resistance against slip. It is a necessity for parkour when training during rainy seasons. The shoe is also well balanced for every kind of sport. If you are looking for the highest amount of grip then you should check out Merrell Trail Glove 4 which has an amazing outsole.
We tested the durability of this shoe and here are our results: The outsole of the shoe is strong. The upper of the shoe is average but tends to last long if you get the correct pair of your shoes. If you order a small size or a large one, there are chances that they will not last long so we suggest you order the correct size and always note down the guidelines from the description of Amazon.
If you are going to buy this shoe, we will suggest you buy 1/2 down than your actual size.
Let us take a look at its pros and cons
7. DoubleStar MR – Cheap Ninja Training Shoes
This shoe is made in a special Chinese style. The upper part of the shoe is in Yellow color, which is a very soft and cozy feeling yet it is very strong.
The shoe design looks like a mix of cotton material with rubber or synthetic fiber. The stitching of the upper part is also hidden and clean. There is a black lining design which further adds to the strength of the shoe and its beautiful design.
The yellow color you are wondering is because of Kung Fu and Bruce Lee. This shoe is available in just one color but it matches either you are going to wear it daily as a casual shoe or while doing parkour. This shoe is basically regarded as good for Kung Fu or Parkour like sports. This is the reason we have added in our list of cheap parkour shoes.


The insole has double cushioning that makes it extra comfortable. It is claimed to have a shockproof insole. The heel, the arch, and forefoot are such to provide you the best control possible while wearing this shoe.
The shoe is really flexible which gives you the advantage of jumping and crossing un-even surfaces. The insole is also kept dry and cool due to the slim upper surface and passage of air. Although breathable mesh is not vivid yet it is enough
On the sides, the shoe has outsole from toe to heel. It protects the shoe from wear and tear and acts as wear-resistant especially when you kick something. While doing parkour exercise, you have to sometime do an immediate stop and here this style brings you the benefit. It is designed so to provide you feeling of control over the design.
The outsole of the shoe is slim and gives you the preception of the ground under your feet. One of the surprising things about this is that the shoe its outsole is hand-made. It is the only such product in our whole list.
Let us take a look at its pros and cons
8. Hawkwell Men's – Running Shoes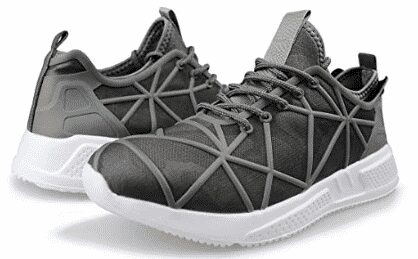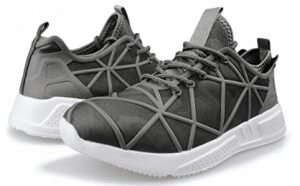 It is another affordable men's sport shoe. The upper part of the shoe is made up of fabric and is totally breathable. The fabric is knitted in a beautiful design. It comes in various colours that you can see on the website. The knitted fabric network makes the shoe extremely lightweight and easy to use for running. It has a lace-up closure so that the shoe can fit with your feet.
The insole is lined with memory foam that provides cushioning. You still do not lose the responsiveness of the outsole with the comfortable insole. The insole has also good shock absorption. The shoe has good arch support. You can use it for all types of sports such as tennis or parkour.
The outsole of the shoe is comparatively thick for a parkour shoe but still runs well if you are a beginner. The shoe has a unique tongue construction that reduces pressure on your foot.
9. XIDISO Barefoot – Waterproof Parkour Shoe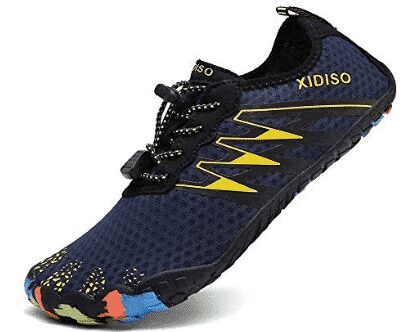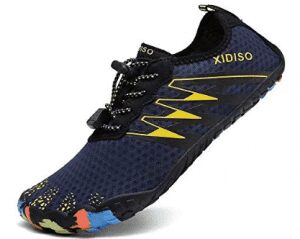 This is shoe is one of its kind water shoes. Xidiso shoes are actually barefoot parkour shoes and they are the best affordable shoes for doing parkour.
This shoe is overall the most favorited shoe on Amazon so we have labeled it as the user's favorite in our list of cheap parkour shoes. We selected this shoe has great for parkour because you can use it for running, climbing and jumping.
When your feet are inside the shoe, it gives you the confidence to control our shoes. The material of the shoe is extremely thin but durable. It is water-proof so you can easily wear it in your pool.
The upper part of the shoe has a very slim design. The material of the shoe is very flexible. It is a complete rubber so you can wear it in the pool and water. It dries up very quickly. While wearing it, it feels like you are just wearing socks.
We would suggest you buy design with a lace-up closure because they fit exactly and have a proper grip on your feet.
The outsole of the shoe provides good traction while running or climbing on smooth walls. This shoe is selected as User's Favourite because out of 100% of people who bought this shoe 99% are happy customers.
10. Tazon 6 FM by PUMA – Running Shoe
It is only big brand shoe we have listed in this article, most of the famous brands do not sell at low price and their low price is because of cheap or out dated products.
This shoe is listed here because it has latest design which features an EVA in the insole for shock absorption. Let us take a look at this shoe from top to bottom.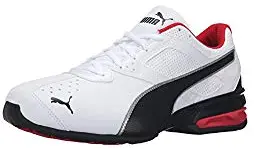 This shoe is made from synthetic leather which means it is not good in the water but the sole is made from rubber so you can use it on wet roads with worry. Although the upper part is made of synthetic leather yet it is breathable so it will keep your feet dry.
This shoe is categorized as a running shoe but it has a major drawback which is its weight. The outsole is a bit heavy to be categorized as a running. If you have big feet than it is good to buy this shoe. It is one of the cheap parkour shoes from reputable brands. We have found it best for everyday use, gym workouts and also comfortable to walk in or drive.
Do NOT listen to reviews telling you to buy 1/2 large pair. This shoe is true to its size, so buy your exact one and enjoy it.
Why Choose Cheap Parkour Shoes? – Buying Guide
You might have thought, why is this website recommending me to from cheap parkour shoes, when I can buy expensive ones.
First of all, affordable products are off course not a burden on your pocket. Second, we recommend cheap parkour because in hard exercises like parkour shoes wear out easily. So why not save some money as well as get the parkour shoes at affordable price.
There are many benefits of choosing the cheap parkour shoe, so let me share a few ones with you…
You can try out different designs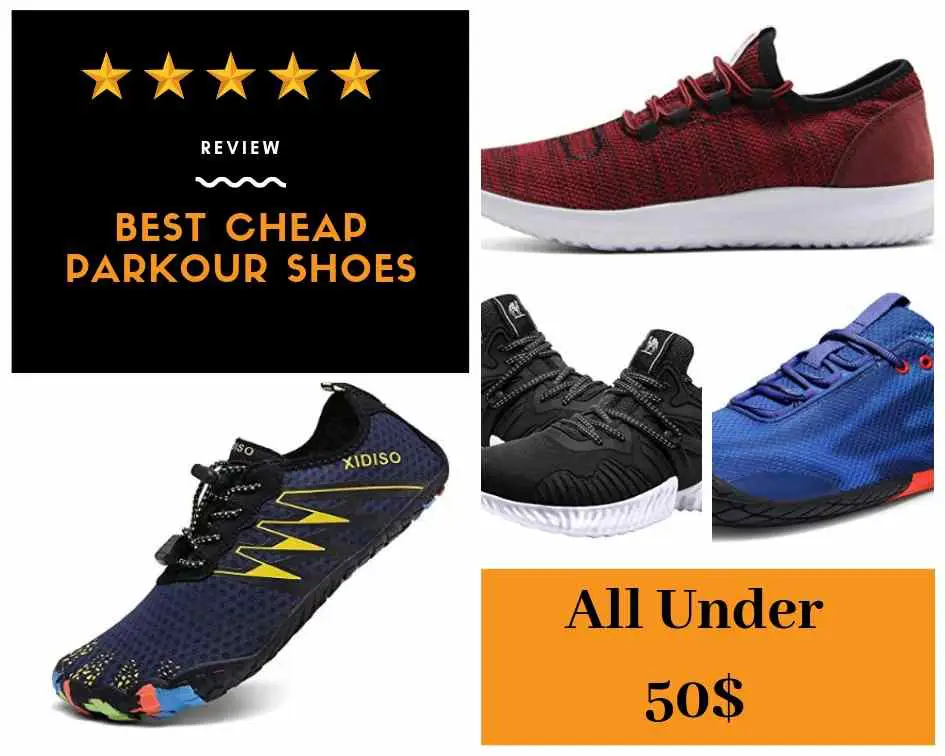 In the modern era where the fashion industry is booming and new different designs of shoes are coming out every month, if you have expensive shoes you are stuck with them until they are completely worn out or unable to fit in your feet. But if you have cheap ones, you can surely leave them and try a new one.
You can buy more pairs of shoes
Usually, every parkour keeps at least two pairs of shoes. One for training and the other one for sport. We have sorted out the best parkour shoe for training. So if the shoes are cheap than you will be able to buy more pairs and an extra one ready at any time in your shoe rack.
Final Advice
We have completed an in-depth analysis of cheap parkour shoes. Now it is your turn to pick the one that suits your needs. Let us know about your choice in the comments.
Take a look at these interesting models also: