You just bought a beautiful suede leather shoe and you are searching for the shoe care products that mask them from any damage?
Step outside with confidence and walk comfortably as the top shoe-protector spray for suede leather is on guard!
Your style statement can be an inspiration for others and modish footwear is a significant part of the fashion you carry. So why compromise when you can surprise!
From the name, it is evident that the products we are talking about are meant for protecting the shoes from the extreme weather conditions. If you own Jordan then you should check shoe protectors for white shoes instead of these ones.
There is a magnanimous collection of shoe-care products that are specifically formulated for the leather, and among those products, you get categories of products with different systems, But here we are just focusing on spray systems that function through the nozzle, and have the advantage of covering each and every crevice of the leather surface. Giving one to two coats will be the most appropriate way of treating your shoes and then leaving it to dry.
We have reviewed here the top five of the shoe-protector sprays and this is going to let you know about many necessary characteristics and will counter your issues. Go ahead and give it a read.
Best Shoe Protector Spray for Suede
1. Scotchgard – Best Shoe Protector Spray for Suede
Make the people startle with your jaw-dropping style, as the suede shoes you wear boast the elegance and let you walk with confidence on the go. Maintaining the suede items in your wardrobe is a challenging task, but the Scotchgard Suede and Nubuck protector is here to take care.


This shoe protector spray gets the job done splendidly. It protects the shoes along with other suede or nubuck accessories from water, salt stains, oil, and dirt. This spray will be excellently protecting all types and colors of suede leather, including footwear, coats, jackets, gloves, hats, and even handbags or wallets.
The spray gives a long-lasting reliable shield to armor your shoes from rainwater so that you won't have to worry about your apparels even in the rainy weather. However, be really very vigilant on the surfaces you apply, as it will not work on smooth-finished leathers.
The spray has a straight-forward application, however, there are few things you have to take care of when spraying on the suede leather items. First, wipe away and shrug off any dust on them. Then check whether the color wears off or not by applying it on any hidden area of the shoes.
Let it dry and then wipe it to see if the discoloration occurs, if yes, do not use further. If the fabric remains the same you can continue the usage. Afterward, spray on the fabric from a distance of 6 cm and apply two lighter coats all over the suede or nubuck shoes. Let it dry and then they are ready to wear.
Final Views: 3M CHIMD is a distinguished brand for multiple kitchens and daily use appliances. So this leather shoe protector spray is going to be a reliable product that is going to protect your shoes from various weather conditions and random spills. Continuous use will increase the shelf life of your suede leather apparel.
2. Apple Brand Garde – Suede Leather Shoe Protector
Apply a layer of Apple Brand Grande on any leather surface, drop some water on it, and then see the beady appearance of water droplets on the surface.


This is the magic the Apple Brand Garde does with the leather items you own, creating an invisible repellent seal that does not let any spill damage the surface.
So what surfaces are we talking about here? We mean handbags, wallets, shoes, coats, jackets, boots, and even furniture. The spray provides exceptional protection to the suede leather, and especially Vachetta, along with nubuck surfaces. You can also apply this to your parkour shoes.
This spray actually guards the shoes against water spots, precipitation, oil, grease, juice, coffee, liquor, and salt stains. It prevents discoloration of the leather products and imparts more strength to the surface. The apparent surface will not lose its shade and color, and furthermore, you won't see any residual droplets of spray on the shoes.
Final Views: Made in the USA Apple Brand Garde is a trusted brand that is reviewed with a lot of appreciation and appraisal. Interestingly the makers claim that the dominant names of the fashion industry place their trust in this company. So here we reviewed a recognized brand for you that might be your next choice.
3. Kiwi Select All Protector – Suede Protective Spray
Versatile, efficient, and convenient are the superpowers of Kiwi Select All protector. This shoe protector spray is going to protect the footwear in your cupboard, imparting strength, and quality to them. Don't let your style fade away with time, for the Kiwi Select All is rated among the top shoe-protector sprays for suede.


Versatile, efficient, and convenient are the superpowers of Kiwi Select All protector. This shoe protector spray is going to protect the footwear in your cupboard, imparting strength, and quality to them. Don't let your style fade away with time, for the Kiwi Select All is rated among the top shoe-protector sprays for suede.
This spray quantifies 7.7 oz of easy-apply formula, and it will be enough for multiple uses provided that you don't spray it abruptly. Compatibility is ensured on suede leather, nubuck, and fabric textile shoes. Interestingly it is not going to decolor your shoes, so you can use it on colors without any hassle. However, make sure you don't apply the spray on metallic leather, patent reptile, or vinyl surface because it will damage them.
The Kiwi spray will protect the shoes from rainwater and spills, so the shine and look remain the same and you don't have to face any problem. Giving the shoes a single or double coats would be sufficient for making the shoes resistant to stains. This product is also good for application on outdoor basketball shoes.
As the nozzle streams a fine spray on the surface, it is guaranteed that each drop of the liquid reaches the pores and cracks of leather, thus assuring that the shoes are well protected. The spray is formulated to prevent the yellowing of shoes, and it dries quickly so that things are not messy for you.
Final Views: Kiwi brand is famous all over the world for its products that take care of the footwear. This spray can work wonders on your suede, leather, and Nubuck shoes, therefore it might be a great addition to your daily appliances.
4. Bickmore Gard-More – Leather and Suede Protector
This shoe protector sprays for Suede from a prestigious brand Bickmore takes leather care to the next level. Given hundreds of five-star rankings, the performance of this product speaks volume so we reviewed it for you.

This spray adds a protective layer to the leather items that are exclusively formulated for the sole purpose to repel rainwater and salt stains. This spray makes the shoes suitable for rainy weather so that they don't get the sticky mud on them, and you shouldn't be cleaning them frequently.
It stirs the magic on leather, nubuck, suede, fabric, and much more. The spray shields the leather goods such as hats, shoes, boots, sneakers, jackets, coats, even the interior of cars and furniture. The spray is not going to change or vanish the color of the surface.
Usage steps ask for proper cleaning and then apply this aerosol spray on the surface at a distance of 6 inches. Afterward, thoroughly spray the liquid on the subject and then leave it to dry. After some time, an invisible layer acting as a repellent will be shielding the surface, drop on some water to test it out.
Final Views: This product is from a trusted traditional USA brand that has an efficient performance, and it can be a good buy for you.
5. Reshoevn8r – Suede Boot Spray Protector
Reshoevn8r is an outstanding shoe protector spray delivering perfect coating to the shoes. This spray would be protecting your clothes, shoes, and accessories from dirt, mud, liquid spills, in addition to the salt stains.

The spray container has a cool attractive design in the black and blue color combo. Atop is an efficient spray nozzle that sprays a fine stream of liquid onto the shoes. You will be liking the design, so moving ahead this magic spray has practical applications on various surfaces, be it suede, mesh, nylon, and canvas. However, it is not at all suitable for patent leather surfaces.
The benefits of this protector are not confined to shoes only, rather it would equally armor hats, bags, coats, and jackets as well from rainwater. It is certain that you will be getting quality results if you follow the instructions. Exclusive steps include cleaning off the dust from the surface, spraying from a distance of at least 6 to 8 inches, and then letting rest for about 6 hours.
The results, in the end, will be phenomenal. You will see the shoe surface gets a new uplift after applying the protector. The color and texture of the shoes remain intact. Wear sneakers, boots, joggers anywhere, and forget the worries of them being damaged.
Final Views: Bring home this amazing product as a treat for your shoes. They will be definitely loving the care this protector is going to instill. Things in which you invest on-demand care so that their quality remains intact therefore, it can be one of the options available.
How to pick the best shoe protector for Suede?
Things demand proper care, and they could wear off with time if not taken proper care. This guide will highlight the necessary factors you have to see before buying a shoe-protector spray for suede so you will get the product that delivers the most.
The shoe-spray ultimate goal is to shield the particular leather surface from other stuff, such as salt stains, oil and grease spots, or coffee spills, and protection against the mud along with rainwater in rainy weather. So make sure that the spray scores high here.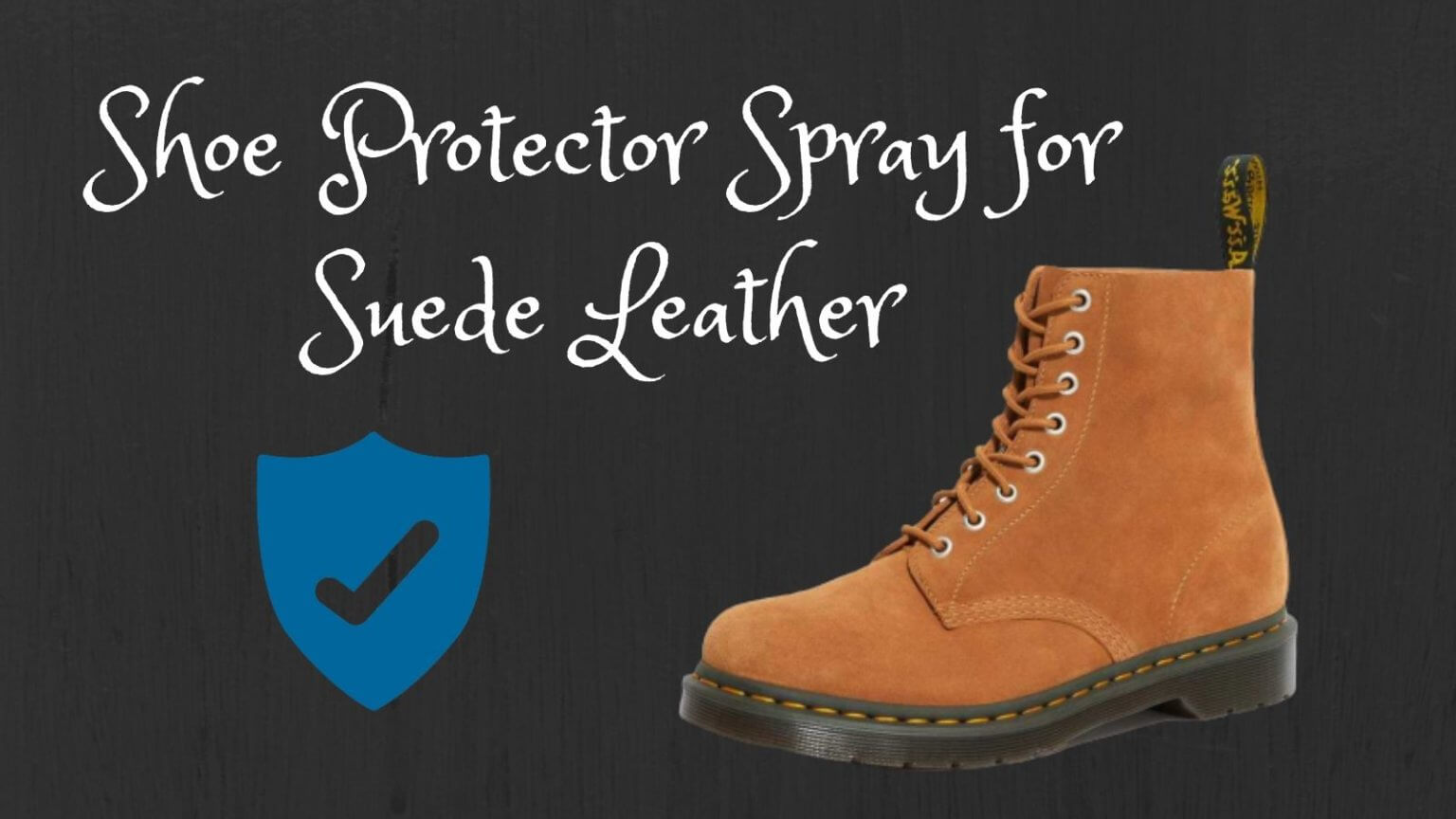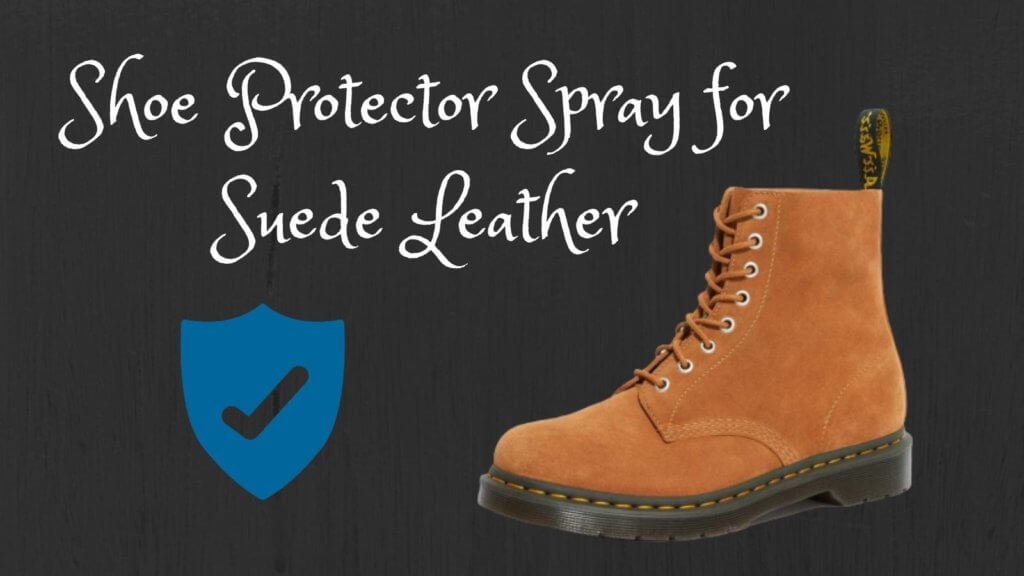 Check that for how long the invisible layer stays on the surface of the shoes, and how frequently you have to apply it. If the layer rests on the surface for a long time then that is a bonus. However, if it demands more application then look for the container that quantifies more liquid in it. The ideal residence time of the spray is four to six weeks.
Your investment on the shoes can go wasted, if the protector spray causes discoloration of the shoes, and unfortunately the change is reversible. Therefore do look carefully into this facet, and here is a tip for you. Do check for discoloration on a small hidden patch of the surface. So that your money does not go wasted. You can apply the same tip on your parkour pants.
Shoe-sprays are known for the fact that they have their application on other surfaces as well. You can use them on leather peripherals in car interiors, on furniture, protect purses, belts, and many other surfaces. All you have to do is be vigilant and careful when working with spray so that you don't counter any negative results.
Wrapping Up
Shoe-protector sprays offer versatility and the adamant fact is that they can protect and coat other leather goods as well. They include loads of things like hats, coats, boots, sneakers, and much more you will see when you look around in your home. Above all the products that we have reviewed, our topmost recommendation would be:
Scotchgard Suede & Nubuck Protector for its proficient performance and durability.
Here as we reach the end of the page, we hope you are now familiar with the top-rated shoe-protector products and the on-going trends in the market. Hit like and write us your feedback! Happy shopping.
Don't miss these products available on Amazon right now: