Are you new to parkour and looking for the best parkour shoes for beginners? I have reviewed 3 best parkour shoes for newbies in 2023.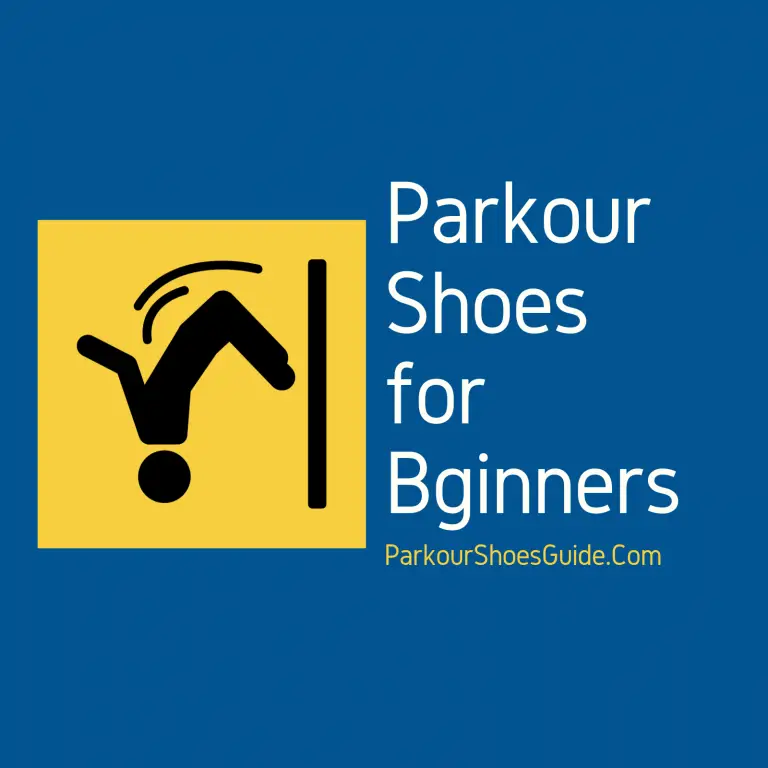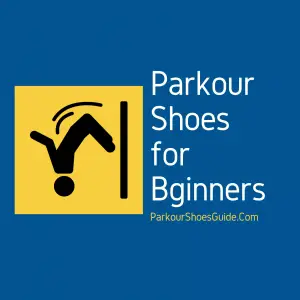 When you are a beginner in parkour, you must be looking for shoes that provide you maximum cushioning without hindering responsiveness from the ground. At the same time, you will need a grip and breathability of shoes as well. Cushioning is required because when you are a beginner, you make mistakes, and you get hurt. Cushioning prevents these small wounds and helps you improve your game.
We have also added a buying guide and frequently asked questions about beginner parkour shoes at the end.
First, let us take a look at these 3 best parkour shoes for beginners
All of these have a normal price range, but if you are very low on budget, then you can take a look at these cheap parkour shoes.
3 Best Parkour Shoes for Beginners
1. Take Flight Stealth Ultras Parkour Shoe for Beginners
From laces to the sole, this shoe is specially designed for parkour. It is made by the "Take Flight" shoemaker company. They are specialized in making sports shoes. Let us see in detail why we have chosen this shoe, our favorite pick for beginner parkour.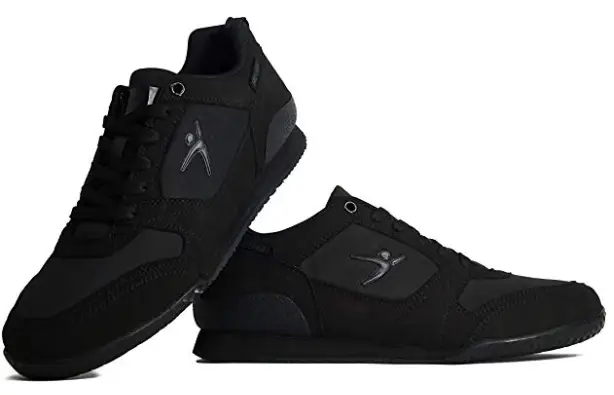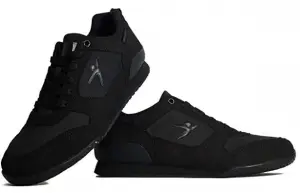 Classic Design & Comfort:
This shoe has a very ergonomic design. Although, It is available in only one color and design, yet it suits the needs of beginners.
The lip on the front of the shoe is great for stopping and providing traction while climbing. Most of the shoes have a separate lip or just a part of it at the front that quickly falls of, and most probably, it is the first thing that wears out in the shoe. But in this shoe, this is the part of the sole and will last longer for sure as well as it will provide an excellent grip.
Not only its design is fresh, but its feel is also very comfortable. The laces make this shoe adjustable as per your feet's width. If you like the snug feeling, then you can make it more tight as per requirement. This shoe wraps around your feet and becomes part of it.
This shoe is also flexible and comfortable to wear.
Sole of the shoe:
The insole of the shoe is perfect for a parkour shoe. It has a moderate amount of cushioning in it. When you flip, you will be able to feel the ground under your feet, but it will not hurt you.
Doing Parkour on a wet surface is never appreciated. These shoes also do not perform so well on wet surfaces.
Take a look at this video review by Keegan Ben
In the parkour shoes, outsoles are most vulnerable to friction and in chancing of getting old easily. This happens fast to soles with pieces that are joined together rather than the one-piece sole. However, this shoe has a one-piece rubber sole, so you can run on the hard pavement without worrying about your shoe's outsole.
Overall review of Take Flight Stealth Ultra Parkour Shoe
It is a very light shoe with amazing grip. You can do flips very easily with it. The padding of foam at the bottom is also moderate. The durability of these shoes is awesome. It seems like they last forever. This shoe meets our all requirements of a parkour shoe.
2. Onitsuka Tiger Unisex Ultimate 81 Shoes
Now we are going to review Ultimate 81 by Onitsuka Tiger Shoes and see why this shoe is called as one of the best parkour shoe for beginners. This shoe is available in many designs and colours. So let us jump in its in-depth review
Design of of Ultimate 81 Show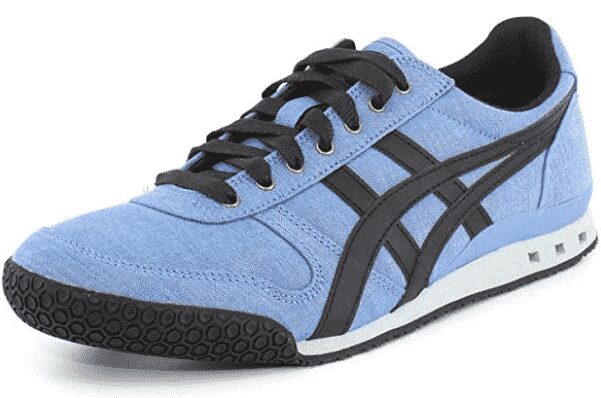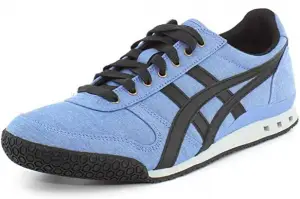 This classic looking shoe has an upper combination of mesh and nylon or maybe a canvas material which depends upon which color you are going to choose. The mesh provides great breathability throughout the shoe.
The soft padded collar provides further cushioning. The flex channel in the midsole provide further cushioning. The flexibility of the shoe is also no match.
This beginner parkour shoe has traditional lace-up closure. There is a leather pattern on the lateral sides, which shows you the Asics logo.
This shoe is also made with animal-safe grade products.
Sole of Ultimate 81 Shoe
This shoe has two-tone EVA midsole while the rubber outsole further keeps your traction with the ground nice and steady. The traction pattern is small circles that look pretty decent.
There are no hard plastics in between the sole, and it runs as single piece sole from tip to toe of the shoe. Although, the outsole does get slippery on wet surfaces.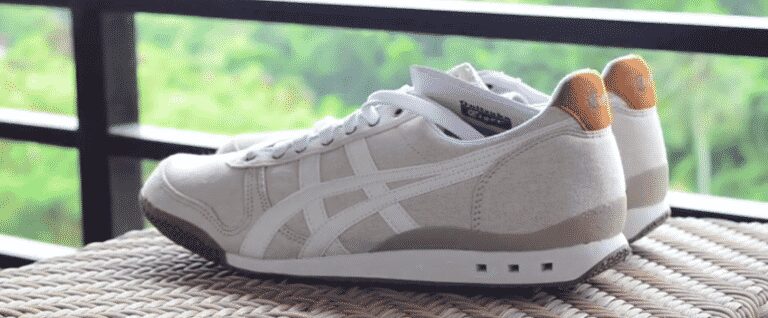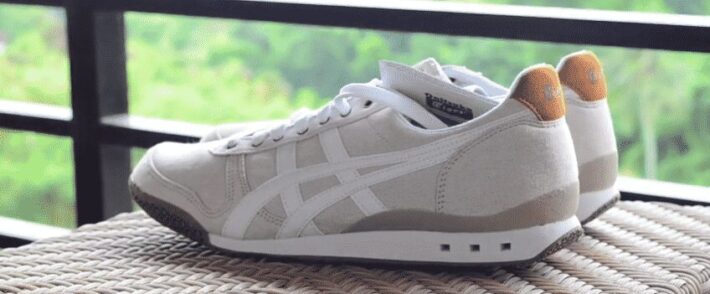 Right after the mid-portion of the insole, in the heel area, the insole is a bit up to get a good grip on your feet. This shoe is also good for playing outdoor basketball.
Overall Review of Ultimate 81 Shoe
In short, this sneaker is bang for the dollar with a decent design and performance. They were once ranked as best parkour shoes. So what are you waiting for?
3. Adidas HVC2 Wrestling Shoes
If you are the fan of flat sole parkour shoes than this Adidas HVC2 wrestling shoes can be a good choice for you. This shoe has only 1 design but it is available in over 7 colours. It is not only good as parkour shoe for beginners but it is also categorized as one of the best wrestling and power lifting shoe.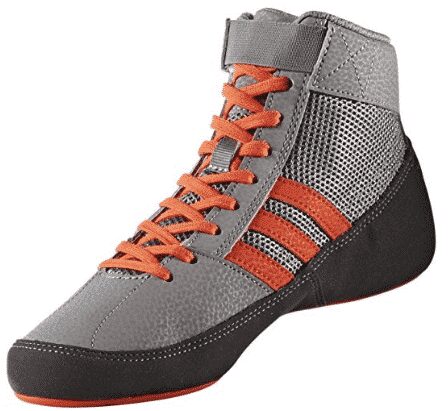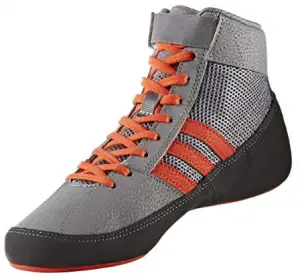 This shoe is famous as a wrestling shoe because of the rubber you find on the side of the shoe, which helps in jumping and moving quickly.
This shoe is made with high-quality leather and suede. The material of the shoe provides you maximum stability possible. The upper mesh and the suede also help in keeping your feet fresh.
The unique feature in this shoe is its ankle strap which is not present in any other shoe of this list.
Frequently Asked Questions
Here are some of the most asked questions about best parkour shoes for beginners. Howeever if you are already an expert in parkour than you should check out these free running shoes..
Which shoe is best for stability in Parkour?
If you are looking for stability, then there is no match for Adidas HVC2 Parkour shoe.
Can wrestling shoes be used for parkour?
Yes, wrestling shoes can be used for parkour. Adidas HVC2 is its best example.
How to choose parkour shoes for beginners – buying the guide?
If you are a beginner, then you should consider the following things while choosing a parkour shoe.
Make sure your shoe has enough cushioning to prevent you from injury.
Grip and Stability are excellent.
The shoe must be lightweight.
If your shoe has all of these properties, then you can buy that shoe.
If you have still any questions left, then please feel free to share it with us in the comments. In case, if you are just starting out parkour then you should read some parkour books first to get a better idea of what is parkour.
Also, you can take a look at some other models that are suitable for beginners: