Shoes are the one thing in which every parkour must invest for better training. Split-toe parkour shoes provide that extra grip required during this sport. They are made by many brands including Nike split-toe shoes but the following are more affordable and durable than those of Nike.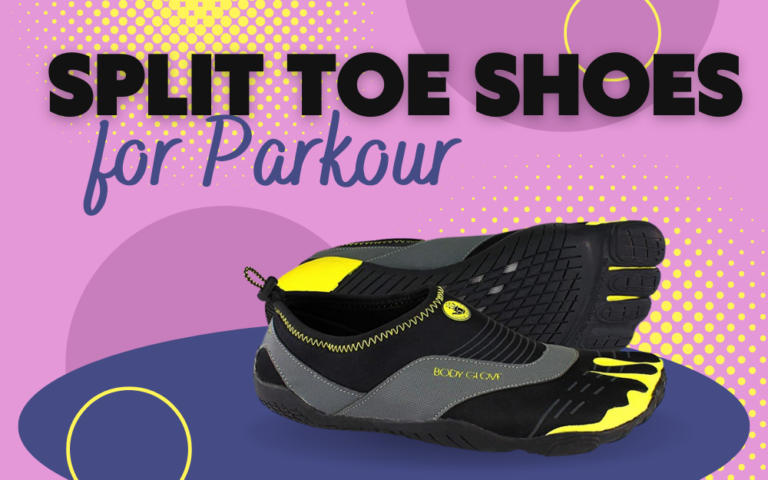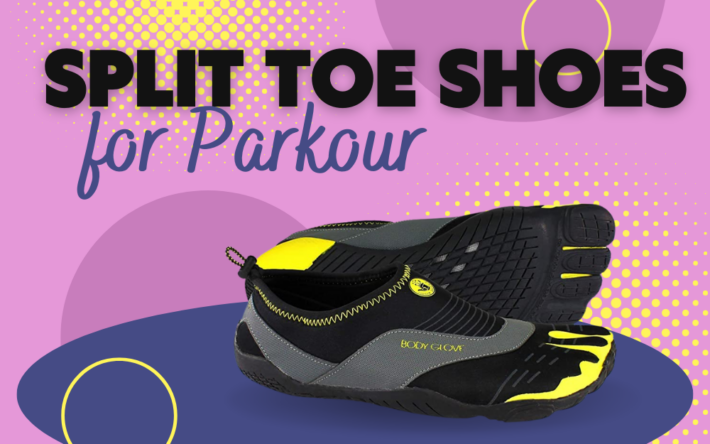 One usually gets confused by seeing hundreds of different types of parkour shoes available in the market. This is the reason we made the list of best parkour shoes. But if you want something different and unique than you can try these ninja parkour shoes.
Barefoot parkour shoes and split-toe shoes are usually considered as the same type of shoes but they little bit different, which is explained in the frequently asked questions. However, Ninja and split-toe are the same types of shoes, and both are good for parkour.
Split-Toe, Ninja or Tabi parkour shoes are different names of the same type of shoes. The shoes listed below are among these three types.
5 Best Split-Toe Shoes for Parkour
1. Body Glove Men's 3T – Best Shoe for Parkour on Beach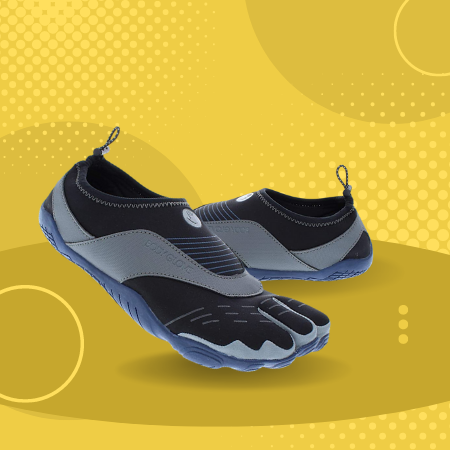 The 3T Body Glove shoe is a split-toe parkour shoe design for the best performance in the water. All of its four styles provide efficient performance and comfort both on land and water. This shoe is perfect for parkour, sailing, fishing or other water sports.
Design and Performance
This split-toe and the minimal amount of cushioning in the insole provides a maximum articulation of the toes, and at the same time, it also protects your feet. If you are willing to do parkour on the beach, then this shoe can be a great companion for your next beach trip.
The design of the 3-toe pocket system is under the neuroscience research for better performance of your whole body. The 3-toe is also more comfortable to wear as compared to a 5-toe pocket shoe system.
Water Proof Parkour Shoe
This shoe has an Integrated Draining System which allows water to flow out from both the outsole and insole. This IDS further increases breath-ability and decreases shoe drying time.
Reduced Sole Height
The 3T Body Glove features a thin sole to give a barefoot feeling. The split-toe design also provides balance.
Traction Pattern on Outsole
The shoe is also very flexible so it can move as your feet moves. This shoe grips your feet becoming a part of them. The elastic lace-up closure minimizes time and effort in wearing the shoe.
The shoe has a well-designed traction pattern. Friction is is usually less in water, so the traction pattern provides maximum grip and resistance possible.
Overall, Body Glover Men's 3T is an excellent choice for parkour on wet rocks and wet surfaces. The material of the shoe is fabric and rubber, which provides maximum dexterity.
A bit odd in its name, O'Neill Superfreak is the second split-toe design shoe which is also suitable for water sports. However, it differs from above in its material type and closure design.
The material of the Shoe
This shoe is made with neoprene rubber rather than fabric. Compared to standard shoe fabric, neoprene rubber is much more durable, water-resistant and affordable. It is usually slippery in the wet environment, but the material in this shoe is modified to provide maximum grip with no slipperiness.
Fancy Shoe Design Closure
This shoe lacks the traditional shoe closure and is featured with the adjustable hook and look front strap for added security. This can be excellent protection in the case of surfing or volleyball at the beach.
The split-toe is deep enough to provide proper support and balance. The exterior is also padded with a fluid foam to prevent injury and provide cushioning. The water draining is also efficient due to small holes for venting on either side. Sand gets in some time, but a little wash can remove it quickly.
The durability in these shows is more than expectations. You can expect at least a year if you are a regular user. The outsole rubber may get a bit rubbed off, but as a whole, the show holds well.
Overall, the shoe designs feel like thick socks around your feet, holding them tightly but comfortably.
Many Reviewers recorded the issue of the smaller size of the shoe. However, we would highly suggest you go with the exact size of your feet.
3. ZEMGEAR 360XT Minimalist Split Toe Shoes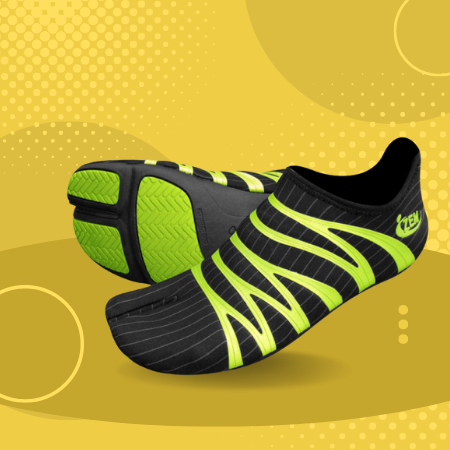 ZemGear is a quite known brand for making split-toe shoes in the market. Their design and meager weight make them perfect for action sports like parkour and free running.
Weight and Design
The shoe design is flexible and lightweight, being only 2.6oz. The flexibility helps in running on uneven surfaces while lightweight helps in the smooth running of the shoe.
This shoe is made with PORON material which makes it compressible and flexible. It helps in parkour by absorbing shock sudden jumps. It is similar to running barefoot, which is far better than thick soles with excessive rubber.
Because of the material used, shoes are also very flexible, which makes it extremely comfortable. Although, it is flexible, yet is tight for big feet. If you are obese than the front of the shoe might be too tight for you to run in it.
Outsole
The outsoles are Light Phylon and Gecko-Grip, which are famous for their grip and extreme durability. This shoe gives you complete control over it and removes the fear of slipping or losing traction.
The outsole of the has rolled edges which prevent friction and tearing of shoe, making it last longer.
Air Jog V is the first ninja split-toe parkour shoe with an airbag for shock resistance. This shoe is among the top ninja shoes. Let us see what makes it special
First of all, this shoe has a modern-looking design to give the fit feeling. This shoe covers your feet about two inches above the ankle.
Durable Rubber Sole
The best thing about this shoe is its rubber sole. It is an incredibly lightweight shoe with an improved non-slip rubber. Also, the bottom is attached in such a way to prevent peel off at the front of the shoe. The thickness of the sole is also enough to make it more durable.
These are super comfortable. You feel like you have your feet in the soft cloth. Also, they are available in a wide range of sizes so you can select your exact piece of shoe for yourself.
This shoe has a velcro closure so you can close them quickly as compared to a hook.
5. Fila Skele-Toes – ParkCour Shoe for Women and Men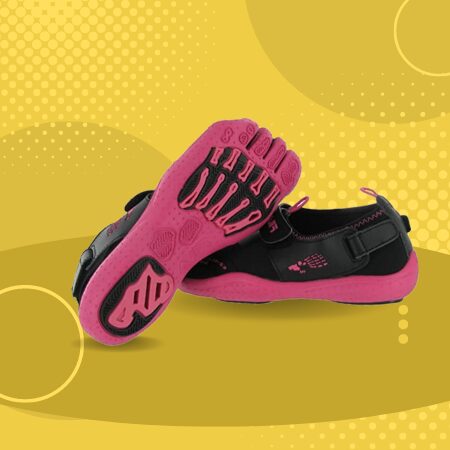 This lightweight shoe is specialised for those who love to hike or go for a free run in nature. These are called Skele-Toes, which is a term made initially by Fila.
The rubber sole prevents your feet from jagged rocks as well as from sand. This shoe is completely waterproof so you can run on a wet track without any worry. The slide drainage feature will also remove any entered water from these slip toe parkour shoes.
This shoe feels like a glove on your feet. Please select an exact size for yourself if you want that snug feeling around your feet.
This shoe is available in two colors. One fits for women, and the other is best for men. The shoe design includes a breathable fabric on the top with a breathable mesh on the sides. It is more of barefoot parkour design than a split-toe parkour shoe.
This shoe is very adjustable due to a strap at the top and as well as at the heel of the shoe.
FAQs about Split-Toe Shoes
If you are looking for answers to your questions related to the above topic then here they are already answered
What is a Split-toe shoe?
Split-toe shoes have a separation mostly between thumb and other fingers. Split toe shoes are better to control our balance while running.
Why should you buy these Shoes?
If you want to get more control of your feet, then you should try split-toe parkour shoes. They are each to wear and feel more like you are wearing nothing. Try to get a lightweight and thin but durable split-toe parkour shoe, and you will love wearing it.
Difference between tabi shoes and split-toe shoes?
There is no difference between both of them. Split toe shoes used by Ninjas are called as Tabi shoes.
Are tabi shoes comfortable?
Yes, they are very comfortable and highly recommended for training and especially parkour training. They have more room for toes which makes them cozy for your feet.
I hope your all questions are answered above. If there is still any question left about best split-toe parkour shoes, then you can leave them in comments. Our best choice is Body Glove Men's 3T. Tell us which shoe you like the most.
You can also take a look at some other models available on the market: