I know how hard it can be to find a shoe that fits your feet. So, if you are looking for glove shoes for running, then here is the review of Merrell Trail Glove 4, which is the best Merrell's barefoot running shoe.
This shoe is especially good if you are interested in doing parkour on rough terrain or you can just wear it during your next trail run.
Review of Trail Glove 4 by Merrell
If you are in a hurry, here is a quick review of the shoe. A detailed review of this shoe is also present below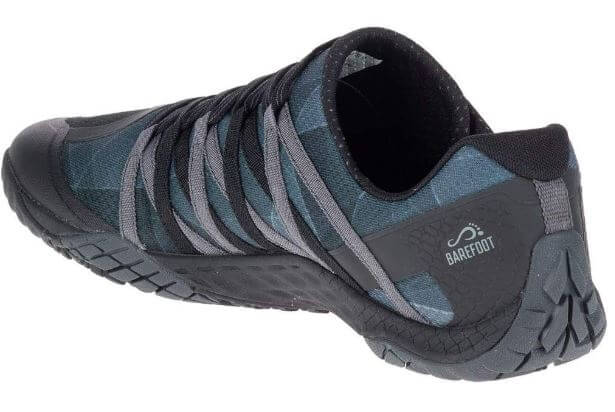 Let us do an in-depth review of each of its parts starting from its design
Upper Minimalist Barefoot Design
Trail Glove 4 has a synthetic mesh on the upper side for breathability. This mesh maintains ventilation in the shoe and also helps in the absorption of sweat and moisture.
For further designing and strength, TPU overlays are present on the shoe which extends from the eyelets to all over the side of the shoe.
This shoe has a lace-up closure and gives sporty look from the front. In terms of colors, it is available in black, blue sports, green, grey, white and other variety of colors.
Fits like a glove
As visible by its name, Merrel Trail Glove 4 fits like gloves on feet. It is possible due to streamlined shoe design and cushioned paddings in the tongue and collar of the shoe. This shoe keeps the traceur's feet in place and provides them the needed cushioning.
It gives the snug feeling which you would expect from a barefoot running shoe. It also prevents internal movements because of the efficient lace-up closure system. Actually, there is no separate tongue in this shoe but the part of the upper extends from the sides to the front acting as the tongue. It is also padded for cushioning and fitting.
Although, this shoe is fit to feet yet its toe box is wide enough for comfort. The length of the shoe is also best for minimal trail runners.
Midsole Cushioning
This shoe has a light and long-lasting cushioning due to the compression-molded EVA foam in the midsole. This makes the shoe extremely light-weight.
It has M-Select Fresh in the midsole which keeps the foot fresh and prevents any microbial activity. It also removes odor and is water repellent. This means that your feet will remain calm, clean and fresh in this shoe.
Just beneath the midsole and before the outsole is the Trail Protect Pad for pressure division in the whole shoe. It also protects the runner's feet from rough and sharp objects.
It is a zero drop shoe which means that there is not enough cushioning in the heel area. It is the same as in the mid and toe box. Still, the cushioning is enough to support you on rough roads or during aggressive training.
Durability
The synthetic mesh on the upper is durable enough to survive the hardest parkour drills. However, the outsole of the shoe is protected by the Vibram TC5+ which is responsive and flexible as well. Its rubber material is abrasion-resistant and provides grip on rough trails. Being very light-weight, it also doesn't add much to the weight of the shoe.
The biggest issue you will find in the barefoot shoes is the durability of the outsole. The manufacturer companies try to achieve the maximum barefoot feel possible and thus end up making thin and penetrate able outsoles that don't last long. However, Merrell Vapor Glove 4 solves the issue by using Vibram TC5+ which keeps it thin, responsive and durable.
Bungee-styled lacing system
First of all, the laces have a bit of elastic material that is why they are known as the bungee laces. Secondly, each lace is separately tied to the eyelets so that the runner can maintain which area of the shoe will be tighter. We can also say that these are the grippest parkour and running shoes ever.


The whole idea behind this shoe is to give you control over your footwear. Once you have control over your shoes, you can perform better in sports.
Merrell Vapor Glove vs Trail Glove
Do not confuse this review with another shoe's review with a strikingly similar name. That shoe is Merrell Vapor Glove and is different then Trail glove which we reviewed in this post.
Merrell Vapor Glove is a true Merrell barefoot running shoe while Trail glove is a bit less like a barefoot shoe. Trail Glove is focused on the road running and it provides more protection as compared to Vapor Glove. You can use Trail glove while driving as well.
There is a huge difference in design in both the Merrel Trail Glove 4 and 5 in terms of design. Version 5 tends to be more modern and version 4 is a bit minimalist. There are TPU overlays in Trail 4 but to a limit while in trail 5 these cover half of the sides of the shoe.
In any case, we would suggest Trail Glove 4 over the Vapor glove as it is more versatile and a nice replacement to your casual parkour shoes.
| | | | |
| --- | --- | --- | --- |
| Brand | Merrell | Model | Trail Glove 4 |
| Weight (grams) | 230g | Loaded Drop(mm) | Zero |
| Category | Barefoot Parkour Shoes | Gender | Unisex |
Further Details of Merrel Trail Glove 4
Summary of Shoe's Review
In short, it is a barefoot running shoe focused on shoe fitness, durability, light-weight and suggested for those who like glove shoes for running.
It is also a good shoe for kids but if you are just starting parkour then you should select beginner parkour shoes instead of going for barefoot parkour shoes.