If you're looking to buy a box where you'd put your shoes, you're probably wondering about what are the average shoe dimensions?
Generally speaking, the length of an average shoe box is between 33 and 35 centimeters or between 13 and 14 inches, depending on whether it's a men's or women's shoe box we're talking about.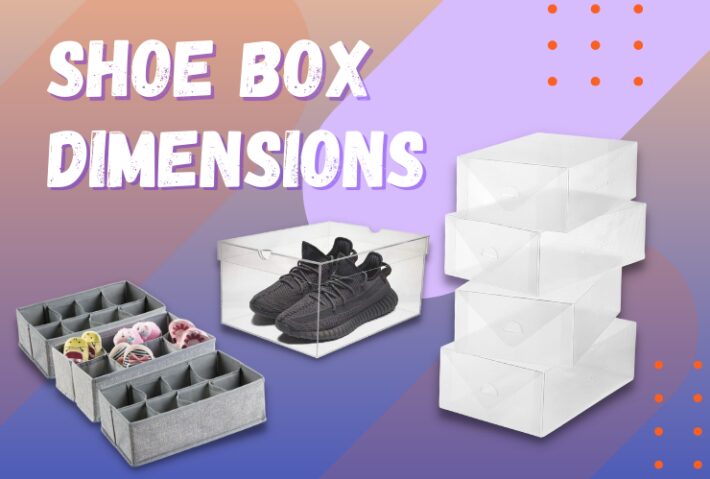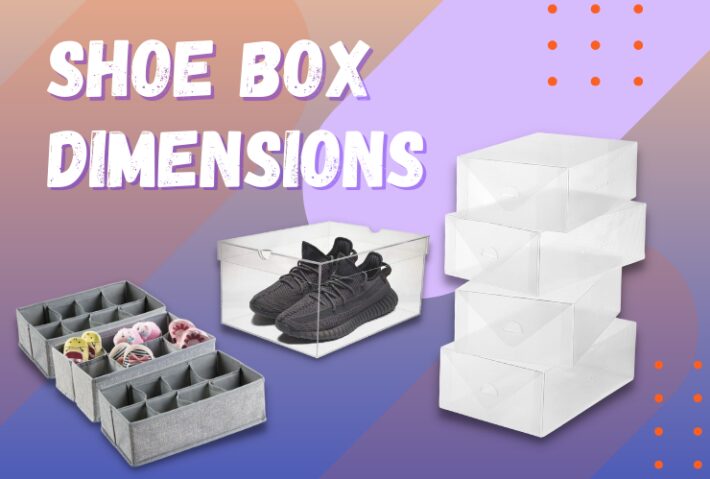 Men's shoe boxes are usually about 25.5 centimeters wide (10 inches) and 12.7 centimeters high (5 inches). In comparison, shoe boxes for ladies' footwear are usually 19 centimeters wide (7.5 inches) and have a height of approximately 10 centimeters (4 inches).
Furthermore, average shoebox dimensions for toddlers are about 18 centimeters in length (7 inches), 13 centimeters in width (5 inches), and approximately 5 centimeters in height (2 inches).
Of course, it all depends on many different factors, including the shoe box manufacturer, the size of each individual shoe, its height, and so on.
Shoe Box Dimensions for Men
When you buy shoes, they come packed in a box made of cardboard. This is convenient from the manufacturer's point of view, but it's not a too good solution for storing your shoes for a long time.
The reasons for that are numerous, starting with the fact that the shoe box you get with a brand new pair of shoes usually isn't too spacious. An average Nike shoe box dimension is 35 x 25 x 13 centimeters, which is 14 x 10 x 5 when measured in inches.
If you have a large foot, your shoe might too big for such a box. Furthermore, if you're buying winter footwear, such shoes are guaranteed to be chunky. Sure, the shoe salesperson will have no problems packing the shoes in the average-sized shoe box, but you probably will.
If you plan to use the cardboard shoe box for storing your shoes, you are guaranteed to have trouble putting them inside. You need something larger, which would not put pressure on your shoes. Actually, an ideal shoe box needs to have enough space to let your shoes breathe!
This is why our advice is to buy a special shoe box designed for men's shoes. This way, you will ensure your shoes are stored in a safe place, thus ensuring they're going to serve you well for a long time.
And if you don't know how to find an ideal shoe box for men's shoes, we're going to help you!
OnDisplay Luxury Acrylic Shoe Box (Tall/XL) – Best Shoe Box for Chunky Men's Shoes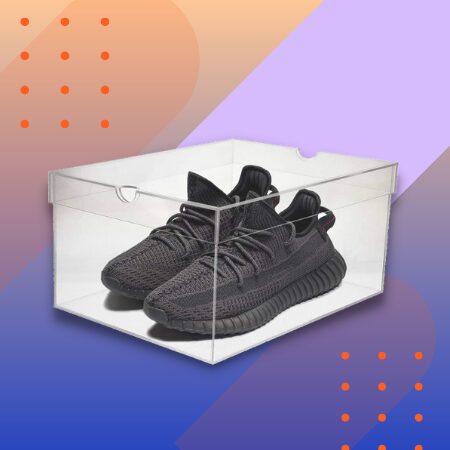 The box is made of ultra-clear acrylic, a transparent material that allows you to clearly see what's inside the box. So, if you're planning to buy many shoe boxes to store all of your shoes, OnDisplay Luxury Acrylic Shoe Box does seem like a perfect choice – you'll be able to see which shoe is in which box!
Of course, that's not the only reason why buying OnDisplay Luxury Acrylic Shoe Box would be a smart move. This box is built to last, meaning that once you get it, you won't have to buy another one in ages.
Another reason why OnDisplay Luxury Acrylic Shoe Box is a good option for men's shoes is that it's ventilated. There are two laser-cut openings near the top, which will provide air ventilation to your shoes, keeping them fresh.
Shoe Box Sizes for Women
When it comes to ladies' shoes, they're usually much smaller and much more lightweight than those shoes made for men. And because of that fact, the shoe boxes for women's footwear are usually much smaller.
Actually, the average size of women's shoe boxes is 33 x 19 x 10 centimeters or 13 x 7.5 x 4 inches. What this means is that you will probably be able to fit in your shoes in almost any kind of shoe boxes.
However, what you might not realize is that the material of which the shoe box is made can have a great impact on the longevity of your shoes.
The thing is that fashion shoes are usually made of delicate materials, which can easily get damaged. And that's why you need to be very careful when choosing where to store them.
The shoe box you pick needs to be rugged and safe so that the shoes can't possibly get damaged during transport. At the same time, the box needs to provide proper ventilation. The shoe box also has to be transparent so that you wouldn't have to do any guesswork on where your favorite shoes are.
Finally, the shoe box you're planning to buy also needs to be pleasing on the eye, especially if you're planning to keep it nearby.
Whitmor Clear Vue Women's Shoe Box – Your Best-Buy Option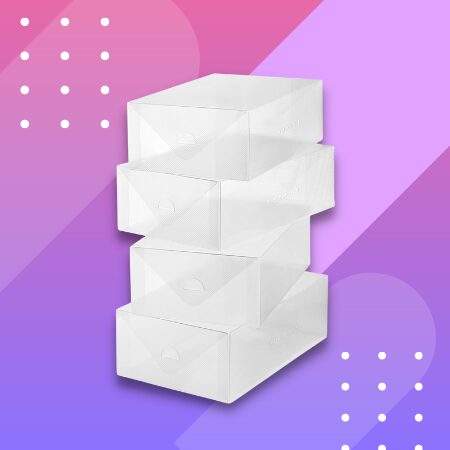 Everything seems great about these boxes, starting with the fact that you will get four of them for the price of one. That said, the shoe boxes are incredibly affordable.
Of course, being cheap does not mean being cheaply-made, at least not in this case. These boxes are made of top-quality plastic and are guaranteed to serve you well for a long time.
The plastic we're talking about is a transparent material, which will enable you to see which shoes are in which box.
The containers also have small vent holes that will keep your shoes ventilated and the best thing is that the boxes are made in a way you can stack them one on top of the other.
And when it comes to dimensions, each of the four shoe boxes is 30 x 19 x 9.5 centimeters or 11.75 x 7.38 x 3.75 inches.
Average Shoe Box Dimensions for Children
What's the average dimension of children's shoe boxes? It's almost impossible to say because the feet of a child grows bigger every day.
And this is exactly the reason why you should look for a shoe box with compartments of different sizes. This way, once your child outgrows the shoes, you will not need to get a new box; you'll be able to use one shoe container until your kid becomes a teenager.
mDesign Soft Fabric Dresser Drawer and Closet Storage Organizer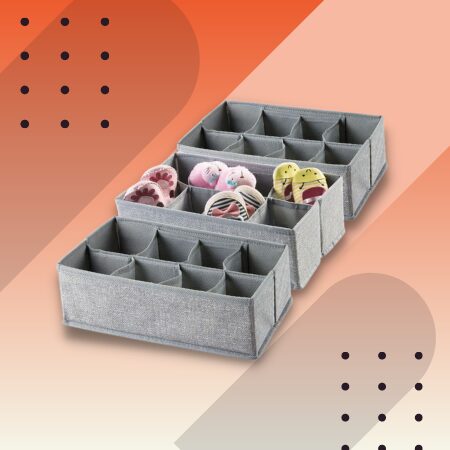 If you decide to buy this shoe organizer, you will get three boxes, each with eight separate compartments. What this means is that this is a pretty reasonable offer money-wise.
But, that's not the best thing about it. This box is made of soft fabric, meaning that you will be able to adjust the size of each compartment. And that means that you will be able to store shoes of different sizes.
And once your kid starts wearing shoes that can't fit in any of these compartments, you won't have to throw it away. You will easily find another use for this drawer.
It can be used for storing many other things, including socks, underwear, t-shirts, and other clothing items. You can also use it for storing your makeup, jewelry, and many other things.
Check out some other boxes from Amazon also: