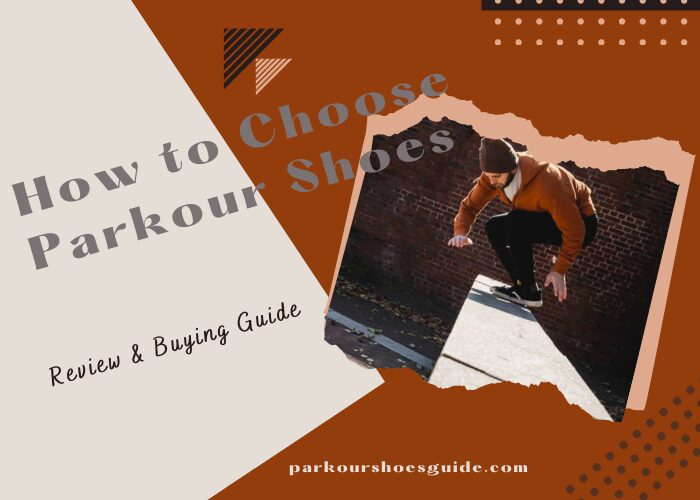 You might have thought what shoes are good for parkour? Choosing shoes for a particular sport can be a difficult task because it requires specific qualities that must be present in them and which only an expert can tell you. Here we have listed at such eight conditions to look for next time so you can choose parkour shoes yourself without the help of an expert.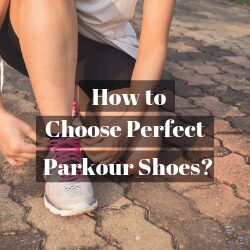 Parkour is an extreme sport, so you must be wearing such shoes that would help you run faster, have a better grip, and are shock-absorbing. Also, shoes must be durable and have good quality.
These are essential points because even when review experts from our team try tyoo review any shoe, they look for these qualities first. Each of the points is noticed, and then based on points, we calculate an overall rating for each shoe, and then we create a list to share with you.
All of the reviews we share with you are un-biased, and our team members test each product. So, if you are wondering about the quality of any shoe, mention it in the comments, and we will review it for you or check our already list of best parkour shoes.
Now let us talk about those qualities
How to Choose Parkour Shoes?
If you do not like reading long content, take a look at our infographics
1. Go for Flexible Sole with Average Thickness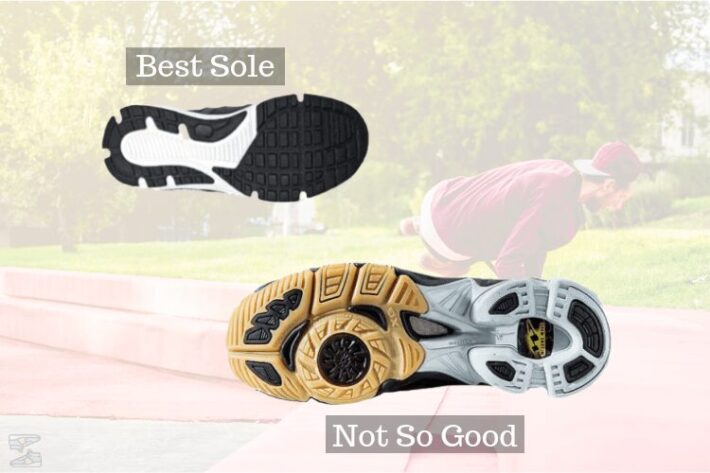 The first and most important thing you will be looking for is the sole of the shoe. When you land, you should be able to feel the ground. For this, the sole of the shoe must not be skinny and must not be very thick. Although soft and thick may have a cushioning effect, but you may lose your balance, which you would never want to lose. It is because if you are unable to adjust your correct position, you would also be not able to correct parkour moves.
The sole of the shoe must be in one piece. Some of the bottoms are usually glued below shoes, often to look beautiful and with no other benefit. So, If the tread has joints or designing is in such a way that it has many separate parts, then they will tear off with time, especially when you will be running or jumping on hard pavement such as asphalt.
Flat soles are great for parkour, make sure it has ridges in it so you can have enough friction. Pattern along the length of the shoe is okay, but If they are along the width, then there is the danger that they will rip off while performing intense exercise.
In short, it is better to choose a sole, which is in one piece and is thin enough that you can feel the ground when you land.
2. Select Light-weight Shoe
The weight of your shoe must be light. Although parkour shoes are a bit heavy as compared to regular footwear. But you should try to get shoes as lightweight as possible. Otherwise, you won't be able to jump high as you will feel something pulling you back. When you wear shoes, you should feel like it has become a part of your body. You should not need any effort in lifting your feet. Such a shoe will be the right choice for you.
3. Always look for a Breathable Air Mesh
Most of the people forget this point while buying a parkour shoe. It does not matter in which climate you live in if you are performing an extreme sport, Air Mesh should be present in your shoe. When you are running, air mesh allows air to pass to your feet. Also, it avoids the odor from producing in your shoes.
While choosing parkour shoes, make sure your footwear has breathable mesh so it can keep your foot cool and dry. You should keep this point in mind when choosing parkour kid shoes because their feet need much more air than of adult ones.
4. The grip of Shoe must be Good
You have seen ridges on the tires of your cars, have you ever wondered what they are for? These designs are there to provide friction between your body and the ground. Usually, barefoot shoes have a good grip and it would be an injustice not to mention Merrell trail glove 4 which is especially meant for amazing grip.
When you are running or jumping from a building, friction must be present to avoid tipping over when you land. Otherwise, you will move forward on landing if there is no friction between your shoes and the ground.
Make sure that the sole of the shoe is not entirely flat and has a vertical design or ridges on it.
5. Arch Support, Flexibility, and Cushioning should be appropriate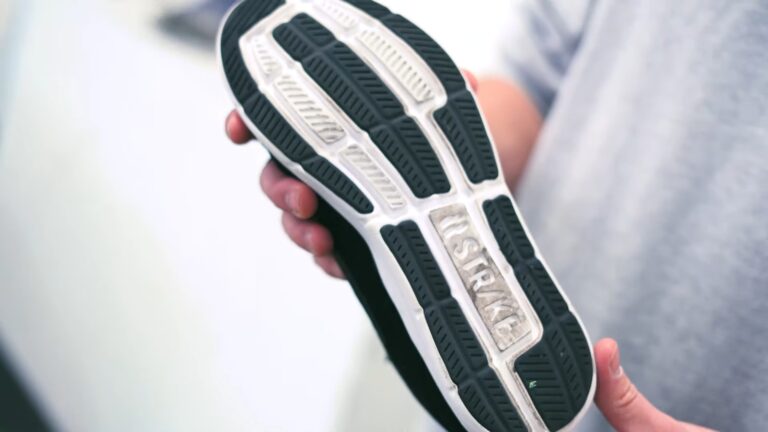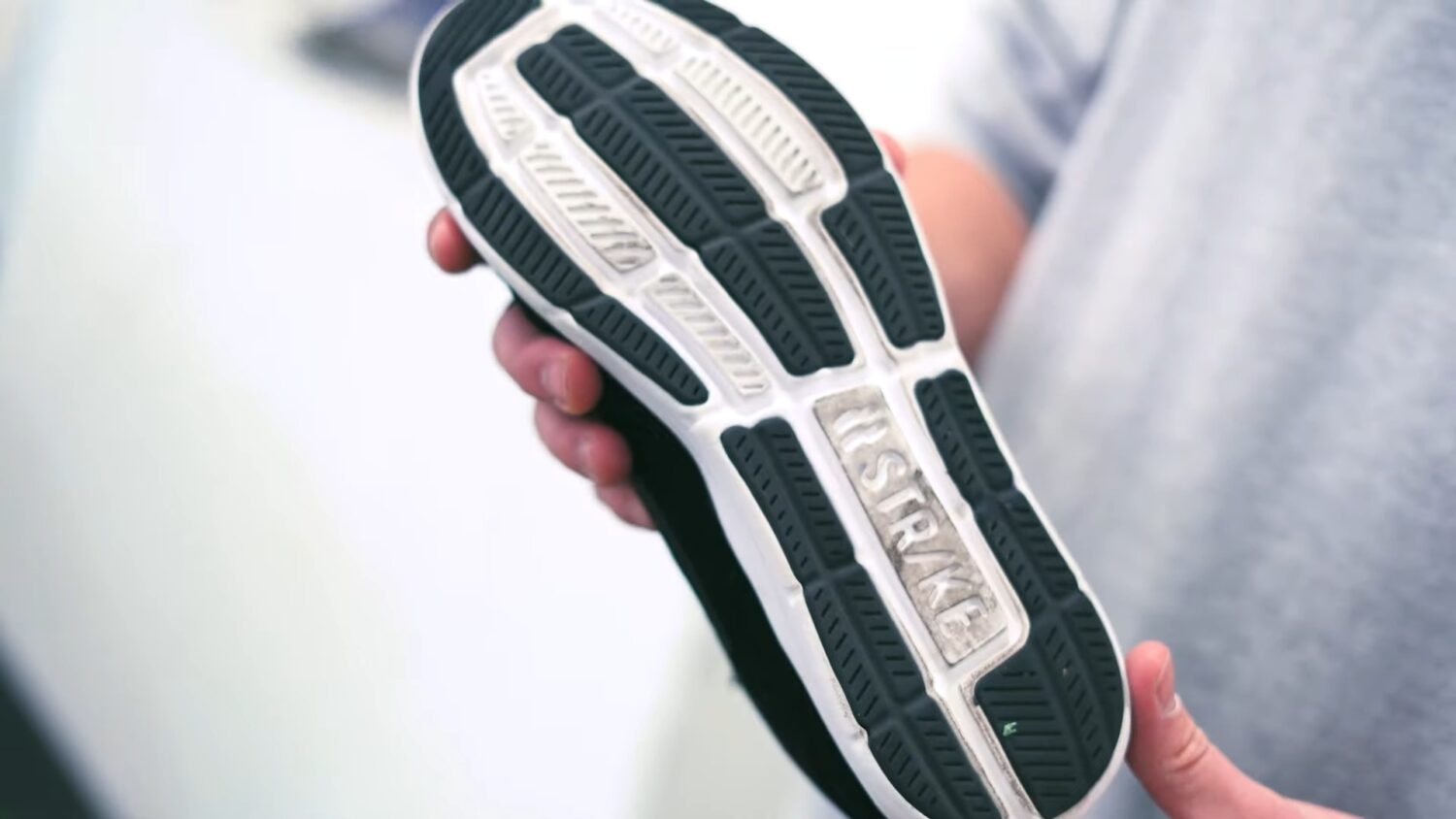 It doesn't matter what; you can never compromise in the comfort of your feet. Make sure that sure shoes can cover your ankle and are comfortable.
Falling is frequent while practice, so a little bit of flexibility will prevent you from having damage. The flexibility of the soul should also be in between because a hard sole will become an obstacle on uneven ground.
While running, arch support must be present in your shoes. Otherwise, wearing shoes for just 10 min will cause pain in the sole of your feet.
If you are a beginner, you can go with shoes having good foam density . In contrast, We will suggest you choose shoes with less foam.
6. Select Minimal Shoes
Minimalist shoes in our experience are much more comfortable than regular running shoes. Avoid heel, but if you want it, then it is up to you as it does not matter that much. Although the flat sole will help you to feel the ground below your feet without any effort.
7. Durability should be a minimum of 6 months
Check for the rubber quality at the bottom of the shoes as well as the material on the top. Minimalist shoes are more durable; that is why we recommended them above others. Durability comes with a cost, and if you are looking for cheap shoes, you will get synthetic rubber shoes. Such shoes usually don't last long. If possible, get leather shoes with a rubber.
If you ask our opinion then parkour brands do make some durable shoes. Especially, Nike parkour shoes and Adidas shoes for parkour are famous for their long-lasting quality materials.
The rubber of the shoe must not be affected by sunlight or moisture. It should be made with such material that performs well on rocky or wet surfaces. It should be able to keep your feet moisture-free.
8. Go for normal Cost
Compromise or Compensate, the cost can be an issue for some people. That is why we have created a list of best parkour shoes within affordable prices. Most expert parkours buy shoes at average price because if you regularly do the sport, you will have to purchase 2-3 shoes per year. If you are scared of the price then you might like to check cheap parkour shoes.
It is recommended to buy average cost shoes with all the other qualities that are mentioned above. It is because, if you run daily with your shoe, its sole will not last more than six months, it doesn't matter how expensive it is that shoe. So try not to put too much burden on your pocket and choose parkour shoes for an average price. The best example of these normal cost shoes is Asics Gel-Venture 6.
Example of a Perfect Parkour Shoe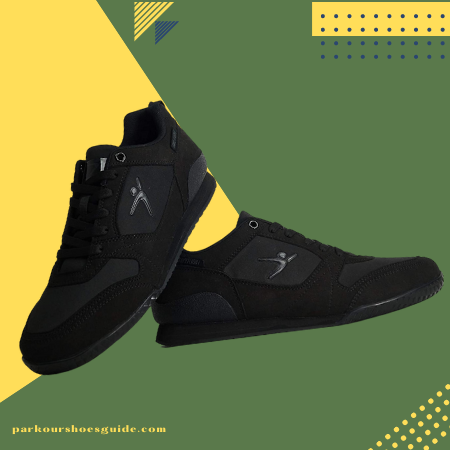 If you are still having trouble in selecting a shoe for yourself then check out our extensive guide on parkour shoes. I would also suggest you take a look at the parkour pants as they are also an important part of parkour gear.
In short, you have to choose parkour shoes that have low weight, thin soles so you can feel the ground below you with maximum responsiveness, minimum cushioning, breathable mesh, a good grip, arch support, flexibility so you can do parkour on uneven ground, maximum durability and all of that at a very affordable price.
When buying your next shoes, try to keep all the above points in your mind. If you have any questions regarding parkour shoes, you can leave them in the comment and our team will try to answer it.
Here are some of our recommendations for the best parkour shoes. Check it out: