Are you new to the extreme sport of Parkour and looking for a shoe that will not hurt your heels on landing from a high jump? Well, there are many Asics Parkour shoes, but specifically, Gel venture 6 is suitable for parkour and freerunning. It will keep you healthy and will help you in free running as well.
Asics has a variety of shoes to choose from, starting from the stylish sneakers for women to a wide range of heavy-duty sport sneakers for men. However, Gel-Venture 6 is in-between these two ranges. It is a stylish shoe for running with an extra comfortable insole and protective outsole. Let us dig deep into how good is the Asics gel venture 6?
Asics Gel-Venture 6 Review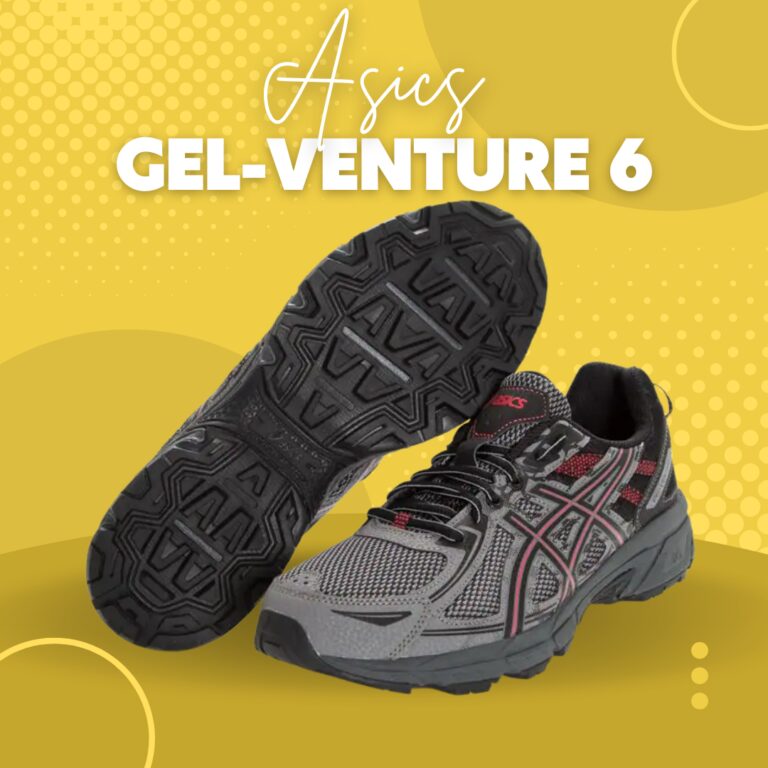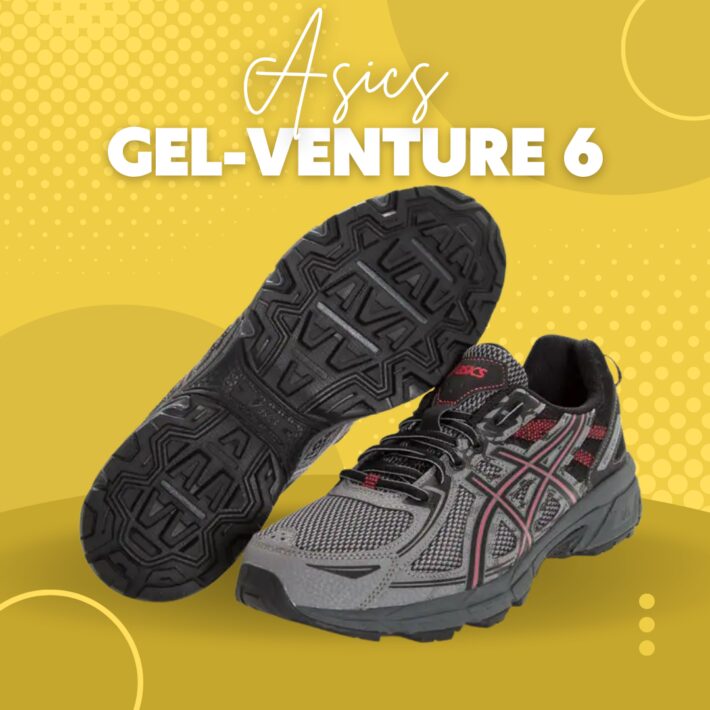 This shoe came out recently and thus got the latest styles of the market. Apart from design, there are many properties embeded in the shoe that makes it suitable for running. First, let us start with its design.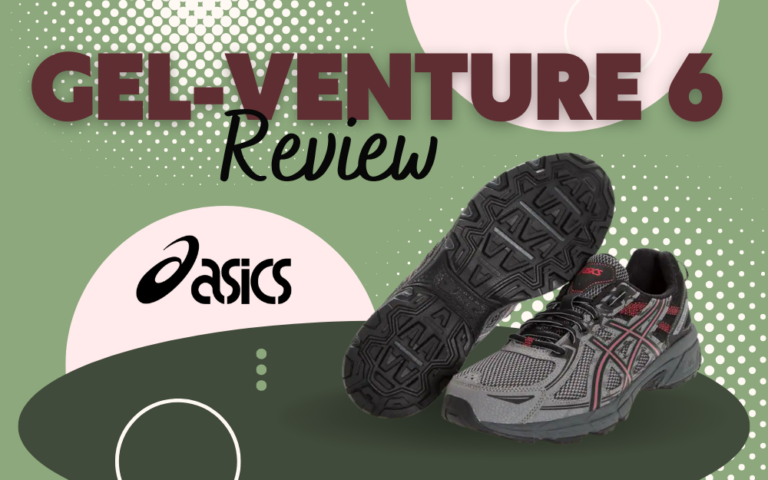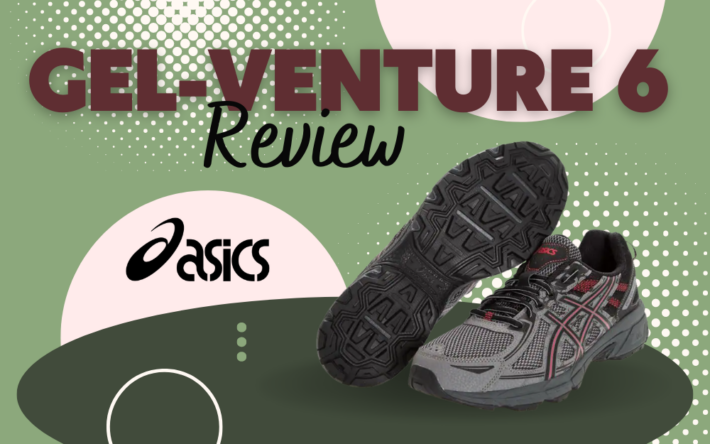 Stylish Shoe Design:
This shoe is primarily known as a trail running shoe, and you can find that touch in its design. It is designed to keep your gait neutral unless you turn your feet inside while running. Its design is also maintained with a weight distribution ratio to prevent over-pronation and over-supination.
As it is a trail running shoe, so even if you are going on a steep road or walking up a mountain, it will push you to go up rather than pulling down. It is beneficial in Parkour as a traceur has to climb up the walls, and this show will help him in that.
Because of its design and features, this shoe serves as a versatile shoe. It is perfect for jogging, morning walks, running, long-distance hiking, Parkour, and climbing. You can even go cycling or driving in the shoe.
If you take a look at the above picture, you will notice that there are less leather and more nylon material on the exterior. It also prevents friction and protects you from the light impact on your feet. There is also a cage of the striped pattern of the brand logo on the sides of the shoe.
If you are thinking about how fast does this shoe dry? Then, do not worry. The exterior of the shoe is engineered to remove moisture and maintains the breathability of the shoe.
If you are one of those traceurs who put too much force on the upper part of the toe, then there are chances that it will be peeled off because it is made of nylon.
Midsole and Cushioning
It feels like running on a Gel in this shoe. The experience of running and jumping in it is beyond amazing. The insole is designed to absorb the maximum impact from fall or jumps. However, it won't feel overly soft or foam-like while running. It also comes with a 10mm drop.
It keeps your feet in place due to the heel collar and prevents your feet from slipping during movements. There is also extra padding on the sides to further support your feet and provide cushioning and comfort. However, most of the cushioning come from the Asics Gel Technology in the insole. It also protects the spine upon each impact.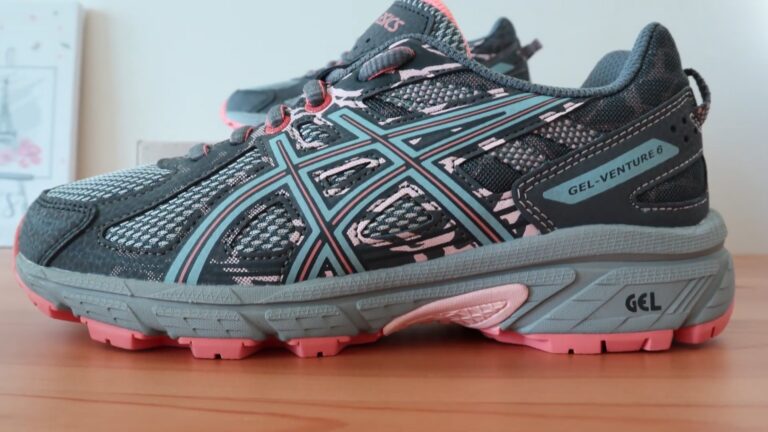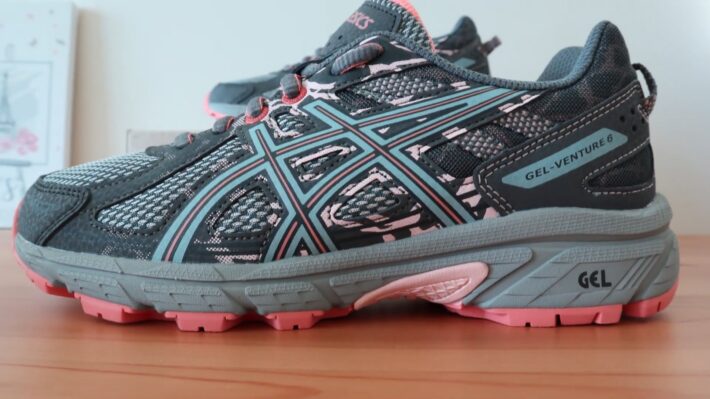 Shoe Sizing (True to size?)
This shoe is true to its size and fits well. It means that you should go shopping for this shoe in the evening rather than in the morning. It is because your feet are a bit smaller in size when you wake up, and you will end up buying a tighter shoe.
If your feet don't fit in the shoe, then you can adjust laces, or you can remove the removable sock liner. You can also remove it to add any orthotic sock liner to meet your needs.
Laces:
Asics Gel-Venture 6 uses laces of standard size and length, and there is nothing unusual in them. The only downfall I noticed is that it has no lacing hole near the collar of the shoe. It might not be an issue for you as long as your midfoot is of average size. If your midfoot is very narrow, there are chances that you will have extra space in the midfoot area.
Stability
This shoe has a moderate arch which will work for most of the people. It further promotes balance because of its outsole, which prevents twisting action while running. If you had a previous ankle injury, then this shoe is stable enough to put you back on the running track.
The striped pattern on the exterior also maintains stability by preventing slips on muddy trails. As always, I would never suggest you do freerunning in a wet environment.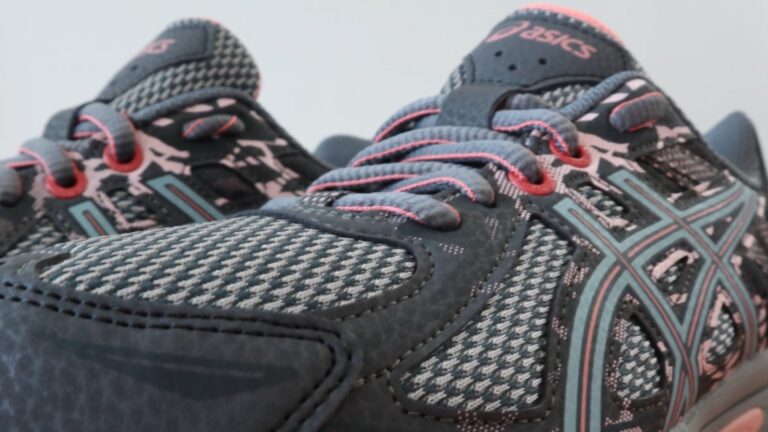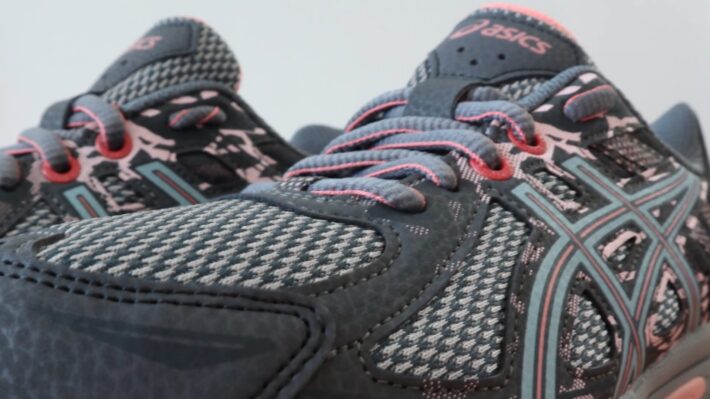 Pronation and Outsole in the shoe:
The outsole of the shoe is strengthened by the solid support bar that stretches across the midfoot. Because of the deeper traction pattern outside, it will help you in precision jumping and landing. It is engineered with the idea to provide grip on climbing the wall or running up on a hill.
Sometimes, benefits come with a few insignificant disadvantages. Just like the traction pattern on the bottom of its outsole. It is deep, which is meant to provide grip, but at the same time, small pebbles can get stuck in it and cause disturbance and there is no solution to this issue. This shoe receives extra traction from the reverse lugs, which will help in both up-hill and down-hill movement.
The material of the outsole is abrasion-resistant rubber, which will prevent wearing and tearing of the shoe. It has further AHAR outsole rubber present on special parts, which are usually susceptible to damage from running.
Comparison with Other Asics Parkour Shoes
Gel Venture 5 vs. 6: It is much better than five as it has the latest features, AHAR outsole, and Gel Pad, which help in parkour.
Gel-Venture 6 vs. 7: If you wish to compare this shoe with Asics Gel-Venture 7, then there are likely chances that the latter will win, but it won't suit anymore for Parkour. It is because, Gel Venture 7 is more stylish, easy to worn out, and less durable as compared to Gel Venture 6. In short, we can say that 7 is modern while six is for heavy-duty.
| | | | |
| --- | --- | --- | --- |
| Brand | Asics | Model | Gel-Venture 6 |
| Weight (grams) | 255g (8oz) | Heal-Toe Drop(mm) | 10mm |
| Category | Running Shoes | Gender | Unisex |
Asics Gel Venture 6 Review Summary: Asics Gel-Venture 6 is a suitable fit for a cushioned parkour shoe because of its trail-specific and shock-absorbing outsole. The outsole is abrasion-resistant and thus prevents the shoe from getting old during extreme training. The arch support in the shoe is adjusted to provide you with maximum health benefits, which is also the motto of the Asics footwear company. In short, Gel Venture 6 is the most cushioned parkour shoe by Asics, and considering the low price and high quality, it is a steal price.
Did I miss any cons? No, this shoe has no cons, given its meager price. The only downfall one can think of is the absence of a rock plate in between the midsole and outsole, which prevents sharp objects. But, as I am suggesting this shoe for Parkour rather then trail running, then this downfall won't be an issue for you either. Still, if you are not a fan of Asics Parkour shoes, you must checkout Adidas Parkour shoes.