Want to start working out at your home and get into shape? Here's what you might be looking for. A doorway pull up bar provides you with the best opportunity to multi-gym either at home or at your workplace. These pull up bars at home doorways are a great addition to your home gym.
Doorway pullup bars are revolutionary because of the fact that these bars are not only used for pullups but many other exercises like pushups, dips, and sit-ups. Mainly, the purpose of these doorway pullup bars is for upper body strengthening.
It is designed specially to fit in your doors. These include many different types of bars that are budget-friendly and portable. They are trouble-free to install at doorways and simple to use.
Doorway pullup bars provide athletes and gym freaks a chance to bring gym at their homes and not only for them but also it is best suitable for teenagers and adults of any age who wants to work out at their own pace.
1. Anxen Pull-up Bar For Doorway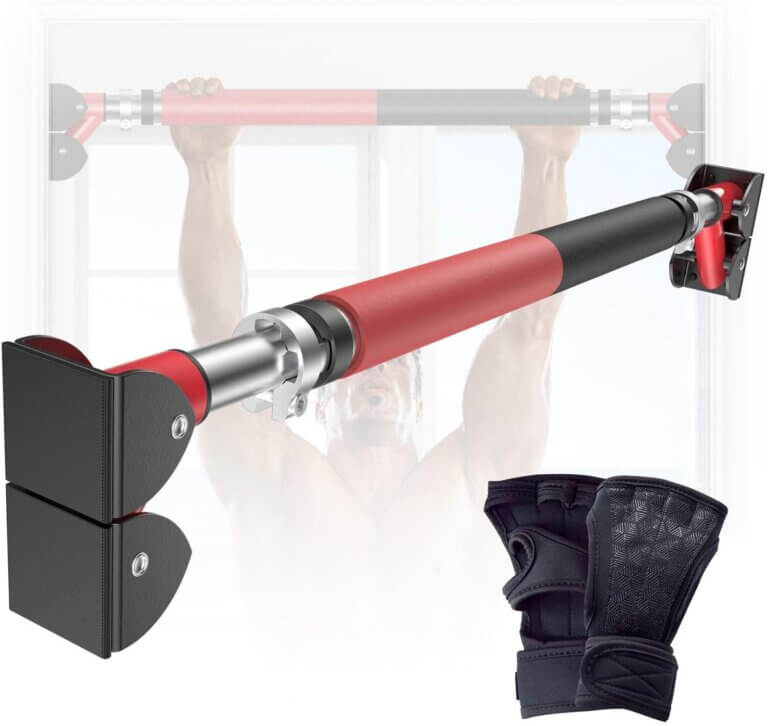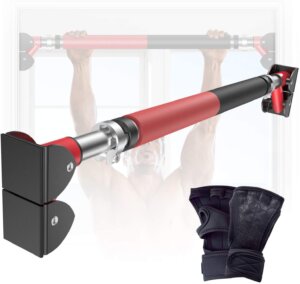 It is one of the best and top-notch door pullup bars today. The premier quality of Anxen is that its installation is easy and does not require bolting. We don't have to bother screwing it to the walls or drilling instead the rubber/silicon pads on both ends of the pull bar will cause friction with the doorway frame resulting in holding it up.
These rubber pads are non-slip pads and get attached fairly strong enough that it doesn't cause any mishap or tragedy while exercising. Non-slip pads are four in number, so they do not detach very easily and are undamaging to the doorway frame.
The rod and the sides of it both are made up of steel. The length of the bar is adjustable with the anti-lock buckles to prevent it from rotating or unhooking. It has a unique design structure i.e. triangular to help support the doorway pullup bar.
The two-way metal locking metal buckle ensures no slipping. Anxen can bear the heavy body weights too and makes it comfortable for you to hang for pull-ups/chin-ups. It is a heavy-duty workout bar and most importantly this pullup bar has a rubber sheath on it which might be helpful for those who have slippery or less grip in their hands/palms.
In addition to that, it comes with a pair of gloves to make your hands grip more tight and strong. The rod itself is stable and well made.
One of the amazing qualities of this pull-up bar is that it does not require any screwing and gets attached to the doorway frame by its rubber pads on the sides only and also by the extra addition of triangular-shaped structures to provide support.
2. Iron Gym Pull Up Bar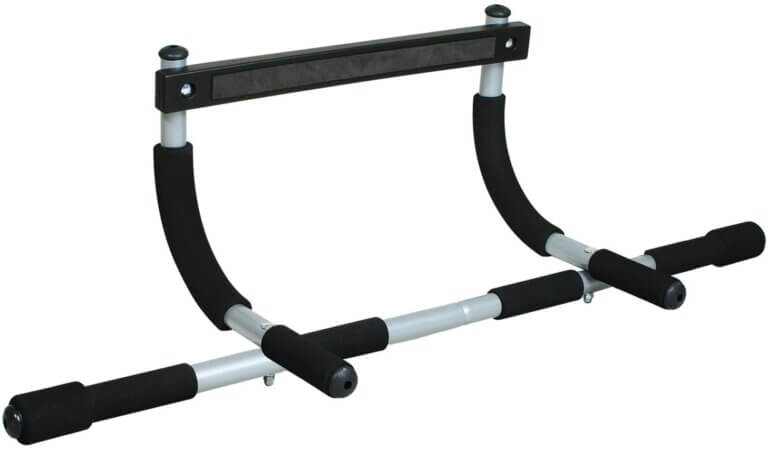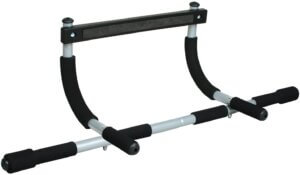 This pullup bar has three positions to hold on to while working out and these are confined grip, neutral grip, and wide-ranging grip. It is a multi-gym equipment that guarantees to build various body muscles and provides solidity. This pullup door bar can easily be installed and removed swiftly.
Iron gym pull up bars have the capacity to lift a weight of 300 pounds or less. All its gripping areas are covered with soft foam. Like our first product, iron gym pull up door bars also do not need to be screwed in or fixed permanently. It can be removed from the doorway once used.
It has great strength and a nice looking design. Iron gym bar has made it to the best sellers because of its effectiveness in its usage. This bar causes no damage to the wall or doorway frames at all. They are more professional type pullup bars.
With this equipment, we can perform many different exercises like crunches, dips, abs workouts and leg raises when doing push-ups. Its unique design wraps around your doorway frame and gets fixed in it without the fear of being displaced or slipped. This equipment is wholesome for those who want to strengthen up their upper body.
This multi-gym equipment is worth buying because of its latest and finest additions. Buying this iron rod would mean bringing a gym to your home.
3. Auaaq Pull Up Bar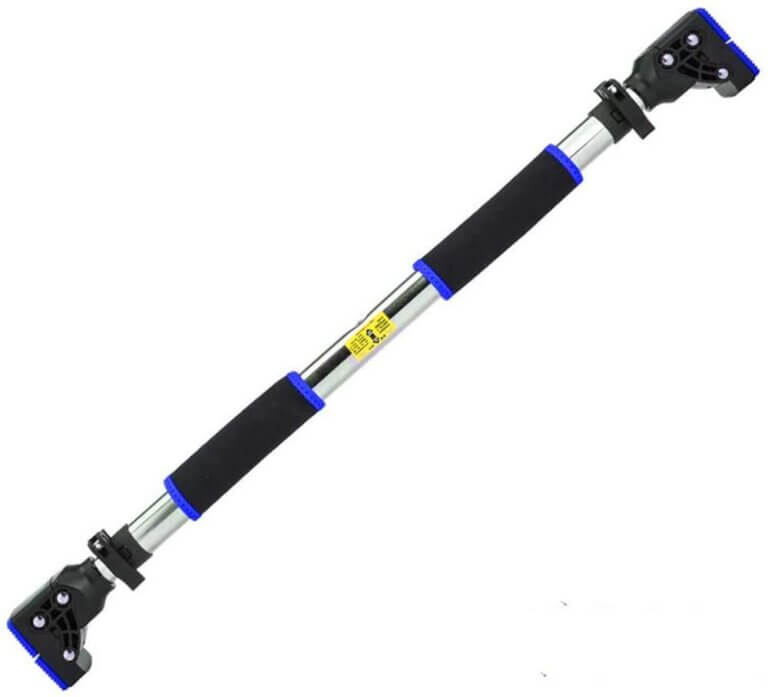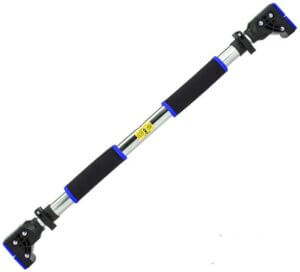 This pull up bar is tough and so supports a heavy workout at home. It can not break as it is made up of steel. It has an adjustable length to fit in any doorway frame as its rod can extend upto a certain limit. This extendable telescopic rod then extends and adheres to the wall or door frame's surface.
It has a great strength to hold up a heavyweight of an adult and still won't come to pieces. For its stability it has weight-bearing braces, these are used when doing push-ups, chin-ups, etc and also has non-weight bearing brackets designed to perform sit-ups.
Auaaq pullup bars have padding on their handles for the sake of comfort and to neglect the hand exhaustion. They can also be removed when done exercising. It requires no drilling or punching holes but instead is easy to install and to workout with.
It is best for exercises and heavy workout plans for every day. It is tough and rigid enough to accommodate a weight of 300 pounds. One of the best pull-up door bar companies includes Auaaq pull-up bars because of their efficiency and liability.
4. Garren Fitness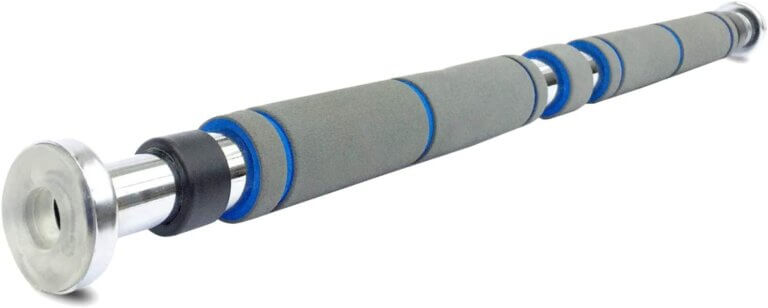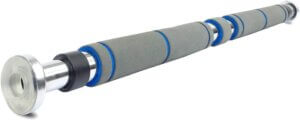 It is one of the best straight pull up door bars and can be used by both males and females. This workout tool strengthens the arm muscles and likewise neck, shoulder, abdomen, and leg muscles. It is legitimately a multi-gym workout equipment. It provides an easy grip with the foam on its rod all over. It has a very decent design and is lightweight.
Like other straight pull up bars, this brand also has rounded ends to stick to the walls. It comes with 2 heavy-duty mounts and one intermediate duty mount. These mount kits have various nuts to tighten up or move to places whenever needed either according to the exercise or the doorway.
It can fit in doorways ranging from 28-36 inches wide.
This bar can bear much heavier weights and will still not break as it is made up of steel. It is one of the longest pull-up bars and has premium quality. Here, the soft and comfortable handgrips are almost all over in the middle of the pull-up bar.
Check out our in-depth review of the best pull up bars for the apartment.
5. Onetwo Fit Pull Up Bar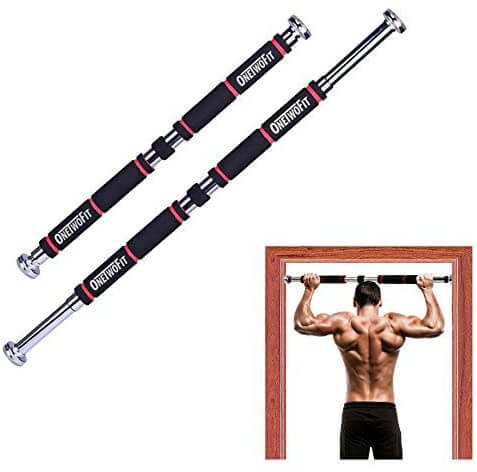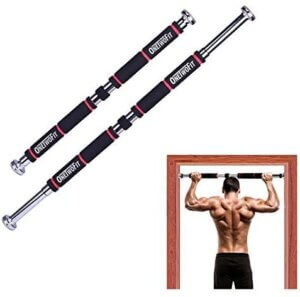 It is a heavy-duty pull-up bar and is excellent to do your exercise anywhere in the office, home, or in the garage. It is made up of thick cylindrical steel and can hold up a weight of 300 pounds or more.
Unlike other brands, its foam has a thickness of 5mm and has got 3 layers. These foaming layers are meant to provide resistance against palms, absorb hand sweats, and to provide a non-slip grip. It has a fitted door thickness of upto six inches.
It is mounted between the doorways with screws and braces. This bar has the ability to stay firm while performing chin-ups or pull-ups. It is very much strong enough for a workout. It can be used for bodybuilding, health fitness, gym, and training.
It is ideal to buy when you desire for an amazing and pleasing workout experience. It lasts long and is stable to workout with. Furthermore, the non-slip grips provide its user with peaceful long workout sessions.
6. Sunny Health And Fitness Pull Up Bar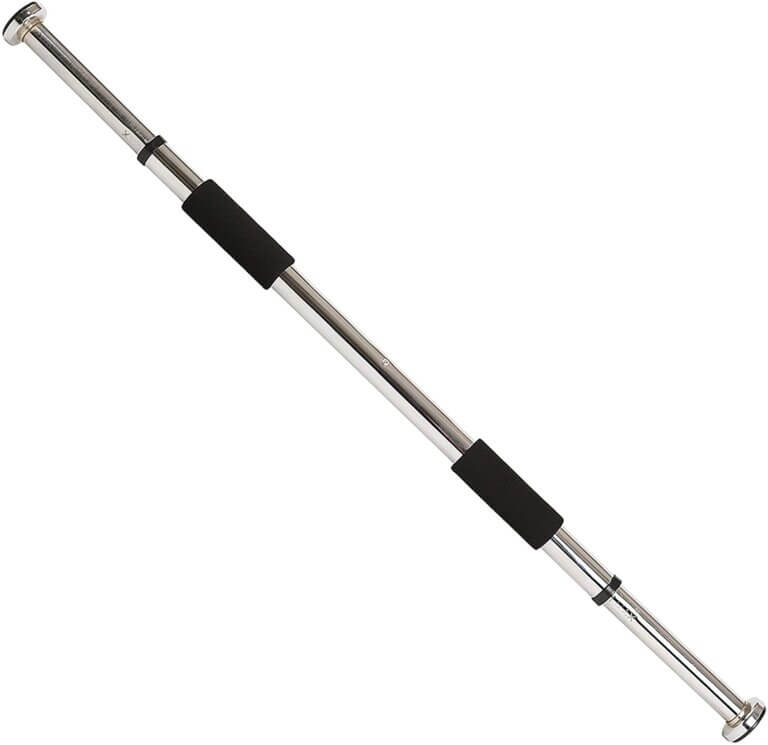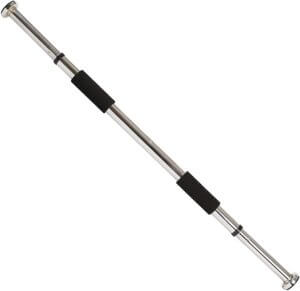 It is a tough workout straight pullup bar which promises fitness and strength. It is extremely adjustable and has padded handles to neglect any discomfort. This pull up doorway bar has easy installation and when installed properly with the given instructions it can lift upto a weight of 220 pounds.
It is strong and has weight lifting brackets for maximum stability during exercise. Both the side ends of this rod have rubber stuck to it for better adherence to the wall or doorway frame.
Sunny health and fitness pull up door bars just like the wind, is very simple and non-time consuming to install at homes and likewise very trouble-free and unchallenging to remove. It is available at very affordable rates and with the best quality.
This pull up bar also has padded handles to minimize pressure on hands and any other type of discomfort or irritation. It includes two bracket sets, one which is used for pull-ups and the other set of brackets for sit-ups.
It is a pull-up bar that is inexpensive and attaches to the wall or doorway frame strongly. This has easy installation and removal mechanisms.
7. Prosource Fit Multi-grip Pull Up Bar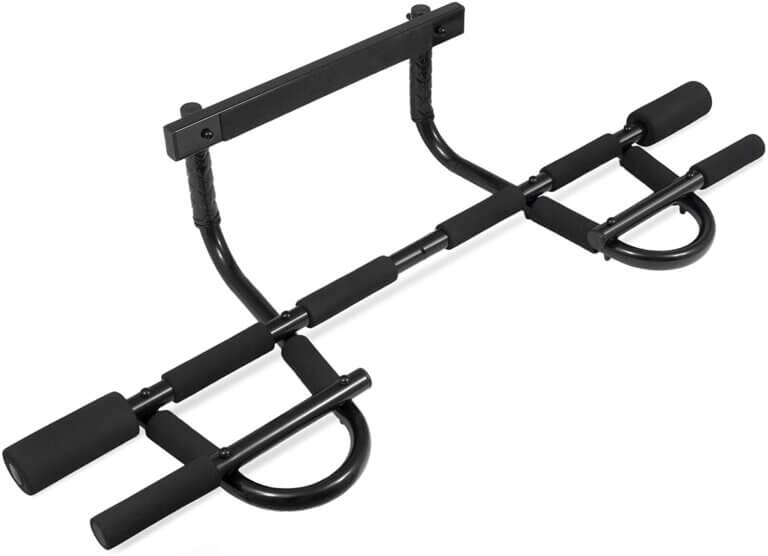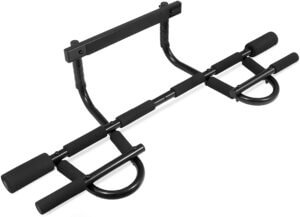 This pull up bar is multi-functioning which means that we can do a lot many exercises other than pull-ups. These include chin-ups, sit-ups, push-ups, leg raises, and dips.
This pull up bar provides all the support and strength while exercising. It has many handles with foam for comfort. These handles are twelve in number and are used for wide, neutral, and narrow upper body gyming. For further protection of the doorway frame, it has two optional foam covering to safeguard the outer handles.
It is a perfect piece of equipment for fitness at home. For its installment, this rod just needs to be fitted in the doorway and therefore has an effortless installment procedure. It is made up of steel and has a lifetime warranty, so lasts long!
This pull up bar also made it to the top best pull up door bars because of its efficient working and affordability.
The pros of this pull up doorway bar are overcoming the cons meaning that cons can be neglected and pros to be considered more. It is the best and safest gyming device one can have when at home or want to bring your gym with you wherever you like.
8. Ultimate Body Press Wall Mount Pull Up Bar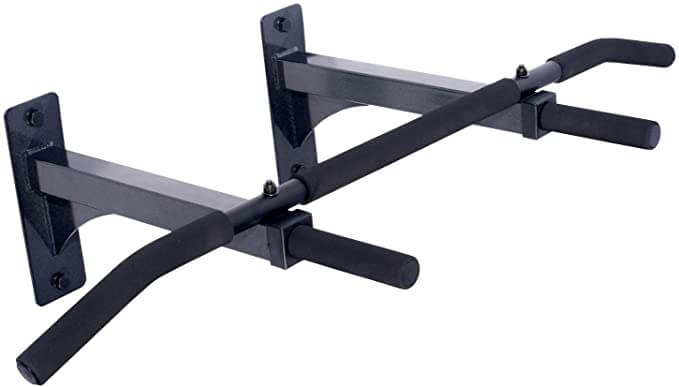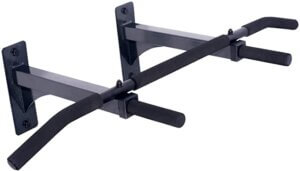 It is a wall-mounted pull-up bar with four padded handles. The handlebar is 42 inches wide which is used for wide grips and expanded exercise options. For narrow gripping exercises, 2 handles in the front are present to perform pull-ups. The bar is made up of steel to perform and ensure strong heavy-duty exercises and bodybuilding.
The foam's thickness due to layering is done to avoid any irritation or discomfort during the exercise. It has proper instructions on how to install at home with its packaging. The bar fixes easily and without any trouble in a 16-inch doorway frame.
This brand promises an excellent workout every day with a 10 years warranty. This bar can hold a weight of 300 pounds. It can last tough workouts and demanding exercises because it is built for such heavy-duty.
It is screwed in the wall which means that there are no chances of it to fall down during the exercise. It is made exceptionally strong and sturdy for heavy workouts and gyming at home.
Besides the tricky installation, it is a simple and perfect equipment to workout with at the home, office, or in the garage. This bar has everything a person could be looking for in a gym at home. It can be used for bodybuilding, training, and tough exercises.
9. Perfect Fitness Pull Up Bar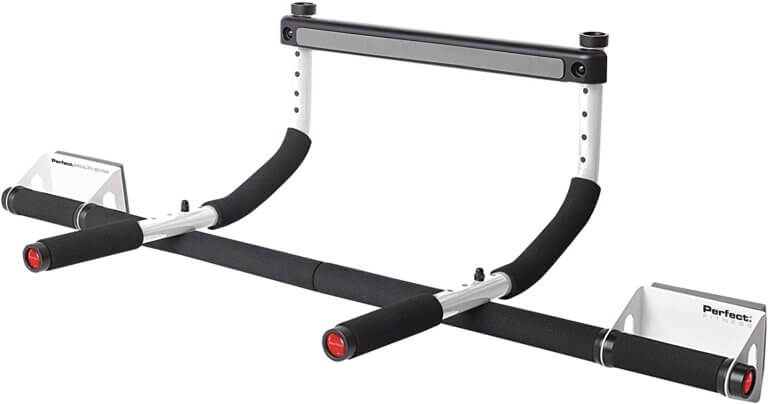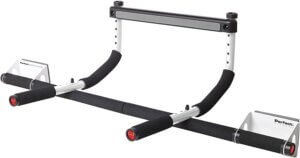 It is a multi-functional gym doorway pull up equipment that can also be used for chin-ups, sit-ups, and dips when turned over on the ground. It has padded grips for comfort and easy training exercises. It can lift weight upto 300 pounds. Perfect fitness pull up bar can be fixed into a doorway frame of 33 inches for upper body strengthening and much more.
It has a distinguishing feature which is an ergonomic expanded grip for different hand placements. It has a simple design with no screwing or bolting. The addition of perpendicular handles enables pull-ups with intensity and more stability.
The bar provides you with an opportunity to enhance your workout exercises by placing it on the ground. It also provides extra stability while performing pushups and dips. The padded handles make it easier to hold onto the pull-up bar. It has an unchallenging assembly and installment in the doorways.
It is an all in one gyming equipment and has every capability to perform any type of workout exercises.
10. Stamina Door Gyms


This pull-up bar is made up of steel and has numerous gripping handles for upper body workouts. It has a different and unique feature which is a rock climbing handholds for the sake of arm strengthening and establishing hand grips.
It fits into the doorways of standard size and is not adjustable. Like its assembly, its installment is simple. It has padded hand grips for a better grasp. This bar like all other non-screwed pull-up bars is mobile and can be removed.
It is strong and stable. Its construction is indestructible as it is made up of sturdy and heavy-duty steel. It offers many gripping positions for different exercises. For the prevention of damage to doorway frames or walls, it has a padding of plastic and foam on the handles.
This bar is best for wider pull-ups and other tough exercises. It has curved U-rings for a fine grip and stability. Other than pull-ups, it serves as great equipment to be used for floor exercises like pushups and dips, etc.
Buyer's Guide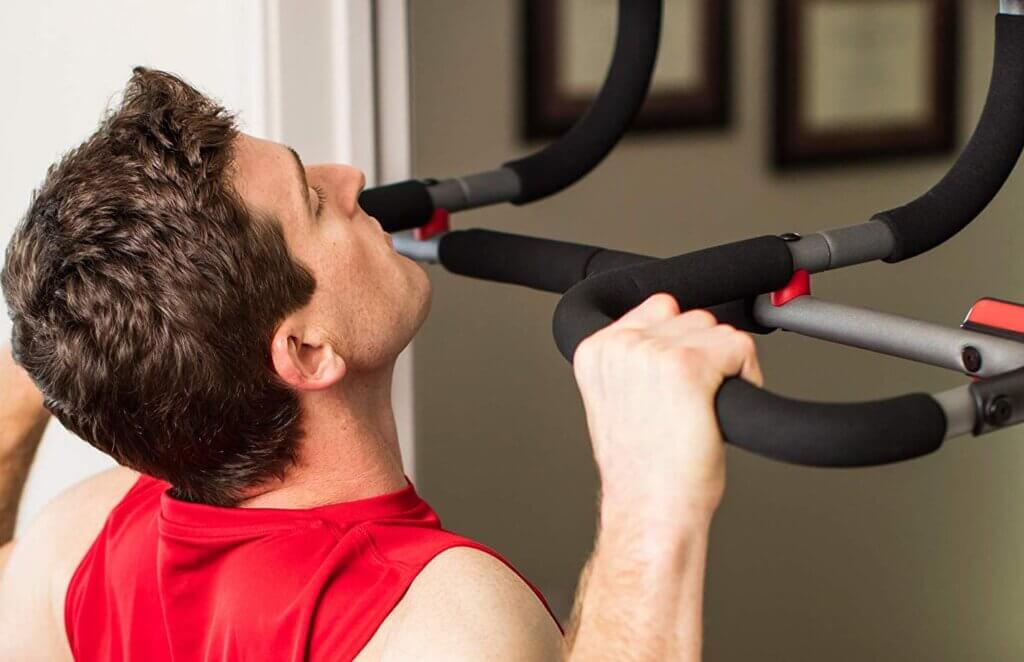 Want gymming equipment for home that will prove itself best in every fitness, bodybuilding or training exercise? You are just in the right place then. Many pull up bar companies are producing the best pull-up door bars which are as easy to install and remove as A.B.C. Pull up bars offer us a perfect combination of different gym exercises and workouts at home. They are easily accessible and inexpensive in comparison to fitness clubs.
We can perform a variety of exercises with these pull-up doorway bars e.g. sit-ups, push-ups, abs, leg raises, behind neck pull-ups, chin-ups, dips, band-assisted chin-ups, climber pull-ups, and many more. Basically, these pull up bars are used for upper body build up. It works by pulling yourself up with the help of the bar and then performing the assigned exercises as told by your trainer.
There are a variety of pull up bars that are easy to use and set up. Their best quality is in its simplicity and affordability. Many best designs of the pull-up doorway bar are being manufactured for the use of gym and fitness freaks. These designs include wall-mounted and non-mounted pull-up bars which mean that some of them will be permanently attached to the doorway or wall once installed and can not be removed while others will be portable and mobile. Likewise, we can have a variety of designs for their handles. Some brands are very versatile when comes to designing. They manufacture a single pull-up bar with five to six grip options whereas, some brands stick to only one.
The prices of the best pull-up bars range from cheap to expensive ones. One of many unique designs includes a triangular pull-up bar that comes with adjusting, folding, and easy storing properties. Generally, all pull-up bars are lightweight and have easy installment processes. Having one of these would make you feel active and motivated all the time.
Instead of buying the best pull-up door bar, one should prefer buying the ones that are worth their style and effort. Wall-mounted pull-up bars should be considered more if you want a less pricey bar with simplicity. As they are good in use and there won't be any compromise in its quality. Pull-up bars can prove themselves a great addition to home gyms for routine exercises.
FAQ'S
Are pull-up bars worth buying?
Yes! Pull up bars are worth buying because it makes you physically and emotionally fit. Using pull-up bars will help you improve your lifestyle by staying active and efficient. It also works on body muscles and strengthening.
Are pull-up bars safe on the doorway?
Any kind of pull-up bars are safe on the doorways because they come with padded handles. Hence, this cushing prevents doorway frames from damaging.
How much weight a pull-up bar can hold?
A pull-up bar can hold a weight of 300 pounds.
Watch this tutorial and learn how to properly install a pull bar into the doorway:
Conclusion
Pull-up bars are safe to install in any doorway frames or walls without being afraid of its breakdown or damage to the surface of its installment. They can easily lift up a weight of 300 pounds and still stay strong and long-lasting. These are made from steel and metal therefore, they are unbreakable. They are available in markets with fair prices and are worth a try.
We hope that you have liked our article and got to know enough details about the pull-up bars. If our top picks weren't enough, check out some other models available on Amazon: