Chronic back pain is no stranger to the majority of us. In fact, we could say it is a disease of the 21st century and ranks as the number two reason for visiting a doctor, right after upper respiratory conditions. More than 85% of people have experienced severe back pain at some point in their lives for many reasons.
Besides a sedentary lifestyle, physical and mental stress, long hours at the computer, or lifting heavy weights at the gym, your feet and improper footwear can also cause back pain. Most people wouldn't think this is the case, but there is a connection between your feet and your spine.
While walking, running, and jumping, your feet are under immense strain. The force exerted on your feet depends on the activity you are engaged in, but it can be up to five times your body weight. If your foot cannot absorb that shock properly, due to the shoes or 'flat feet,' you will most likely develop back problems.
Therefore, instead of avoiding a nice hike in nature or your favorite sport, take another look at the shoes you wear daily and find out if you are unintentionally hurting your back.
The 10 Best Shoes For Back Pain
1. Brooks Pure Flow 7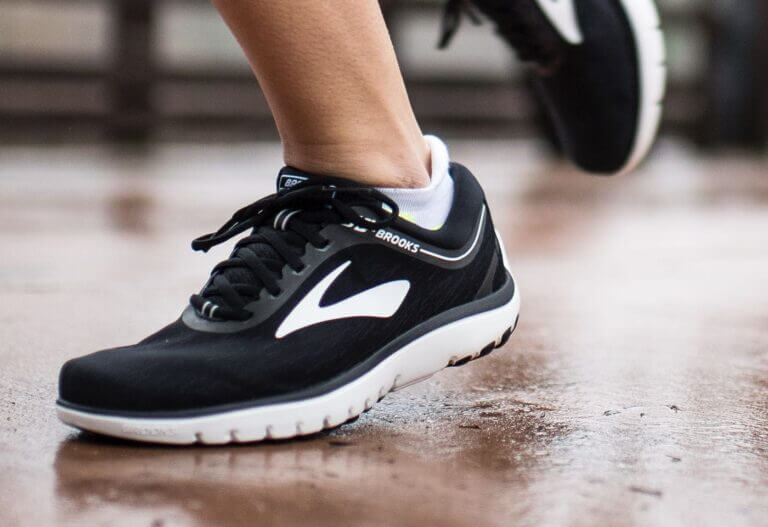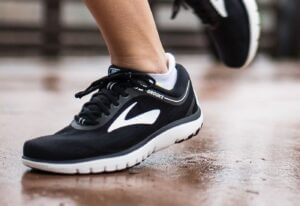 The Brooks Pure Flow is a lightweight and flexible running shoe for women with BioMoGo DNA midsole cushioning. Thanks to its flexible sole, it perfectly adapts to your step. It distributes the impact of your body for a soft feel underfoot.
Rounded heel and close-to-foot fit support the joints and allow your feet to feel cozy and free.
It's a perfect shoe for jogging, hiking, and generally everybody who spends a lot of time on foot, like nurses and shop clerks. Its clean and fresh design won't overwhelm you, and you can wear it to work.
However, it has a slightly narrow fit, so you might need a size bigger. This model has a bit thicker sole in comparison to its predecessors.
2. Skechers D'Lites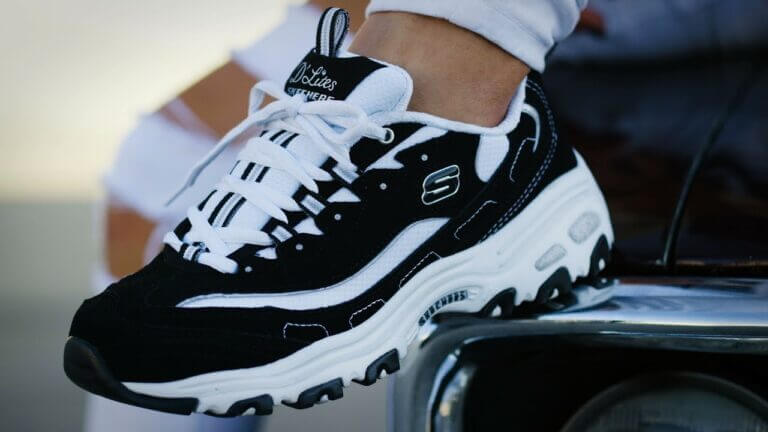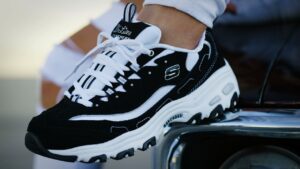 Another shoe that delights the ladies. It's signature sporty design comes in a wide variety of color combinations. Skechers D'Lites has a familiar sneaker silhouette, and its unique design makes the foot look smaller.
Air-cooled memory foam cushion insole and flexible rubber outsole deliver the comfort Skechers is known for. The internal 1.25-inch wedge adds lift and support.
This sneaker tends to run a little large, so shop this model a half size down for a perfect fit.
3. Vionic High Tide Sandal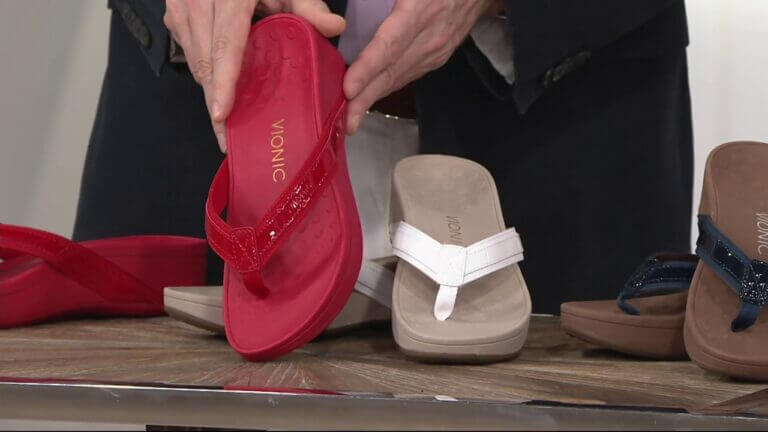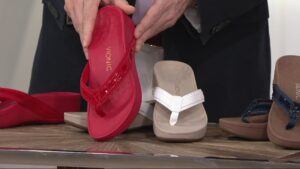 Women's Vionic Hightide sandal provides all-day support. It's a cute thong sandal, perfect for hot summer days when you want your feet free.
It has EVA dual-density mid-sole and bio-mechanical orthopedic footbed, which reduce pressure on your ankles and knees. Its footbed has a subtly raised dot design that helps with traction.
The only downside of this stylish thong is a slightly higher arch, so it takes some getting used to.
4. Skechers Go Walk Max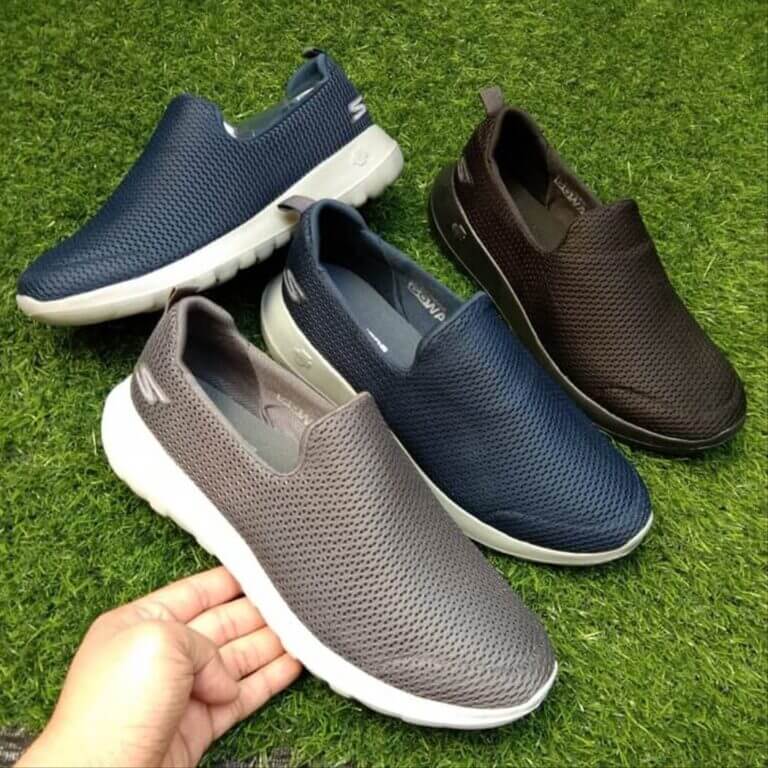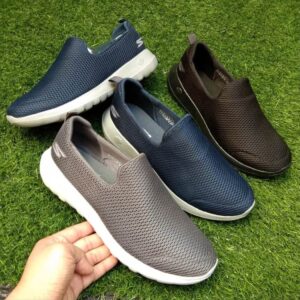 This elegant slip-on is an ideal walking shoe for men. Go Max comes in black, navy, green, gray, and khaki and is designed with materials specifically for athletic walking.
Its lightweight mesh fabric toe and heel panels provide ideal fit and stability and let your feet breathe. Its top-level outsole and mid-sole cushioning provide great comfort and make the walk all the more enjoyable.
Thanks to the light mesh fabric, this easy-to-put-on shoe feels breezy and weightless, but you might want to check the forecast before taking them for a walk. The rain might ruin the fun.
5. Gravity Defyer Running Shoes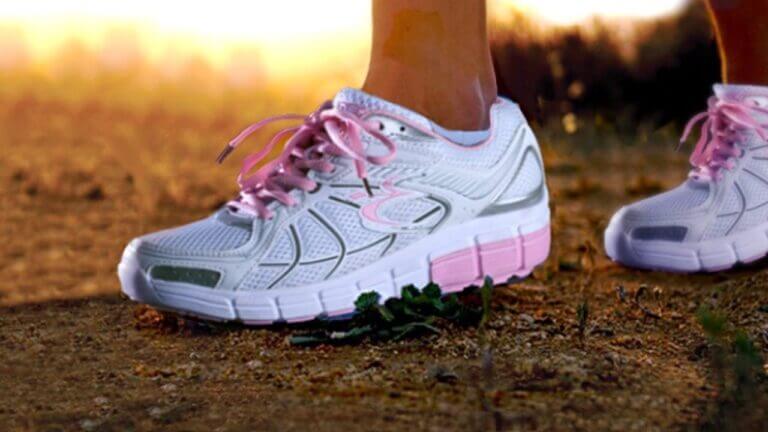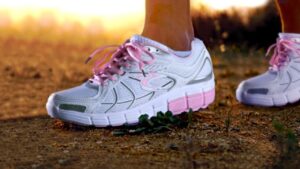 The secret of this unisex shoe is in its VersoShock rocker sole, with springs that absorb harmful shock, so you don't have to. Gravity Defyer makes the concrete feel like clouds.
It is a proven pain reliever with rigid midsole and heel cup to support those who suffer from Plantar Fasciitis. It is also arthritis and diabetes-friendly, whit extra room for toes, and removable orthotic insoles.
It is a beautiful sports shoe for both men and women. Due to its sporty design, they might not be appropriate for other occasions other than casual.
6. Git-Up Slippers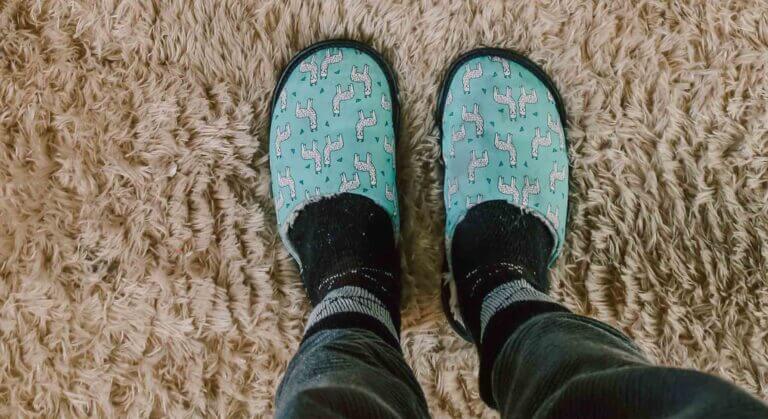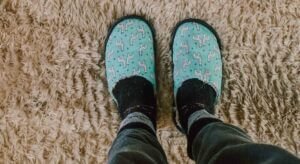 Git-up slippers deserve their spot in the top 10 shoes for back pain. You need to feel comfortable not only while doing sport or working but also while doing chores.
They have a thick memory foam sole for maximum comfort. They are made of environmentally friendly materials, hand and machine washable. The flexible hook and loop design make it easy to adjust to any foot width perfectly.
When it comes to these slippers, the only disadvantage is that you can't wear them during hot summer days.
7. Clarks Linvale Loop Pumps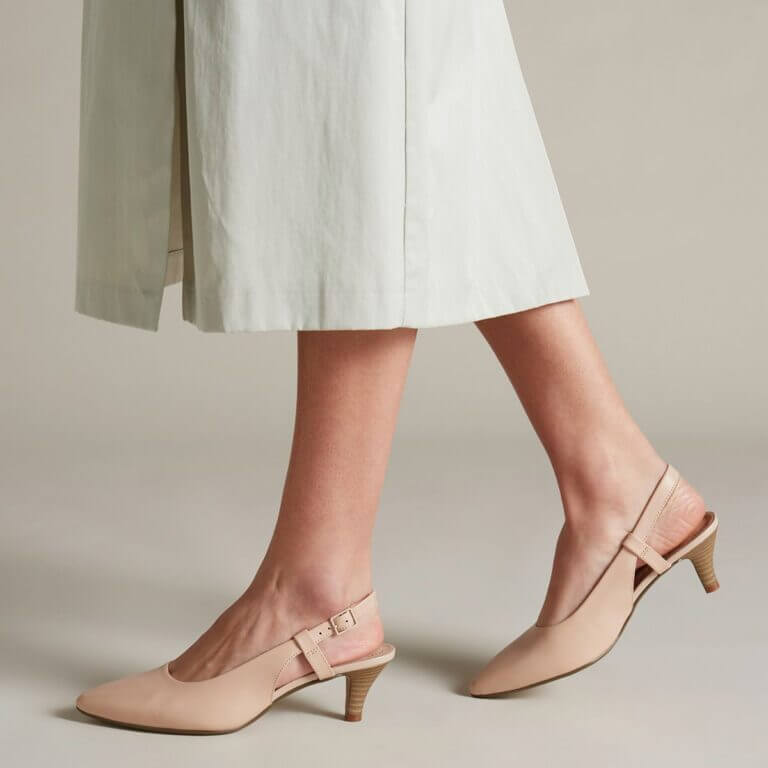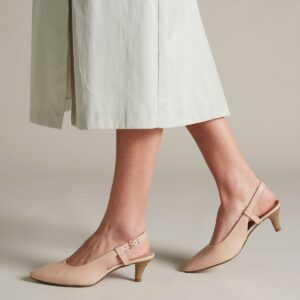 If you are looking for a sophisticated, classic style shoe, Clarks is a smart choice. This leather low heel shoe with OrthoLite footbed and soft cushion padding will provide supreme underfoot comfort.
Its cute and classic design makes the shoe suitable for various occasions, and it will allow you to move in comfort while looking elegant at the same time.
Even though it has a kitten heel, if you have arthritis or Plantar Fasciitis, this shoe might not be for you.
8. Dadawen Platform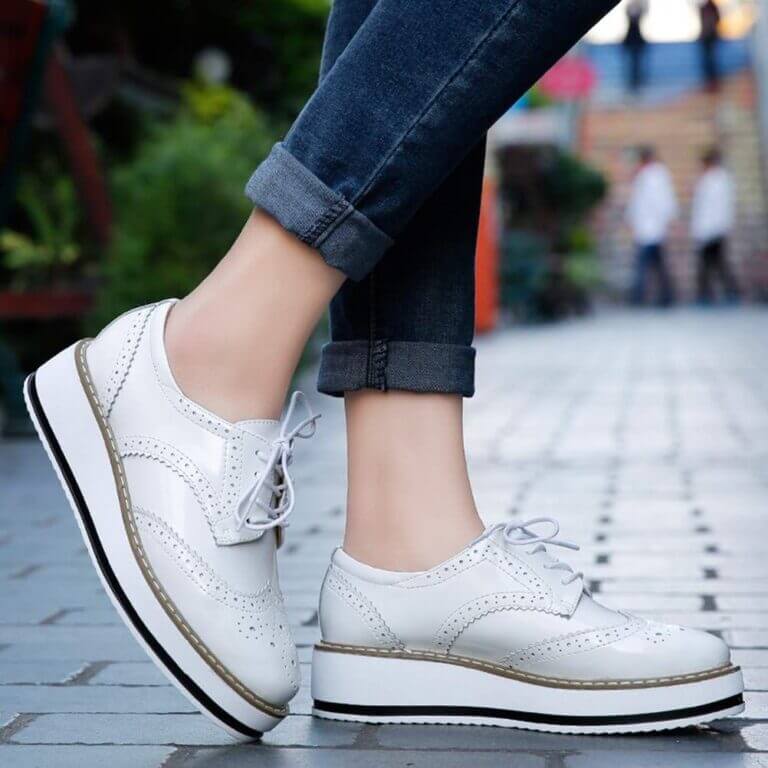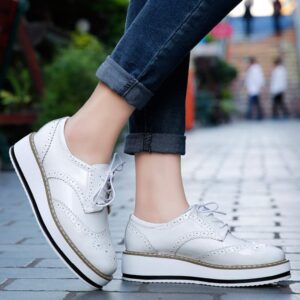 If you are in quest for a high-quality, beautiful, and comfortable shoe, Dadawen is your go-to. These charming and ever-green leather pumps are ideal for every weather and every occasion – dating, working, a night out, or a daytime tea.
Their sturdy chunky heel and ultra-soft footbed will bring you confidence and support with every step.
Although cute and comfy, they tend to be a bit tight. Therefore, if you have wider feet, go for a size bigger.
9. Rockport Fashion Sneaker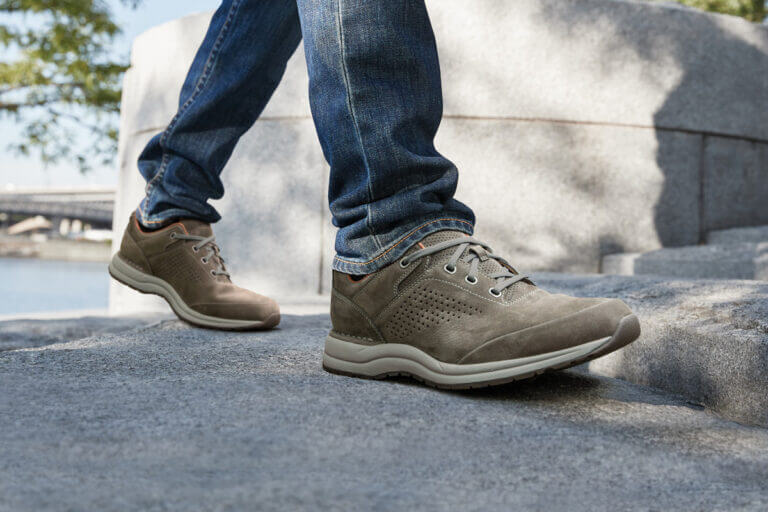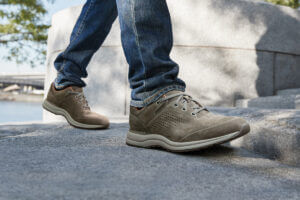 With its modern and lightweight design, Rockport brings comfort and flexibility for men on the move.
The memory-foam cushioning adjusts to the shape of your foot and helps reduce legs and muscle fatigue. At the same time, the Strobel forefoot construction provides you with flexibility.
It's a great shoe for those with wide feet because it runs a little large.
10. Soul Naturalizer Oribella Sandals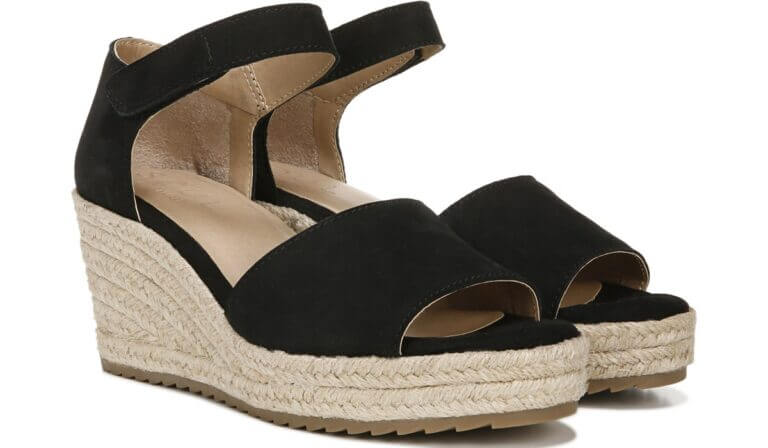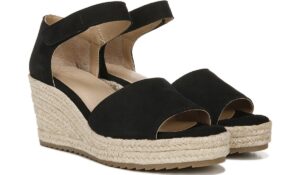 These sweet and stylish wedge sandals are crafted with a soft leather upper. Women's Oribella sandals feature a bit of stretch in the straps, so you can easily slide into them.
Their hook ankle straps ensure smooth adjustability. Inside is the super-soft leather lining that feels like a blanket against your feet. The footbed memory foam padding provides plenty of comforts. The rubber outsole is textured for traction.
Another great classic that comes in black and mauve, and is suitable for every occasion.
How to Choose the Right Shoes For Back Pain?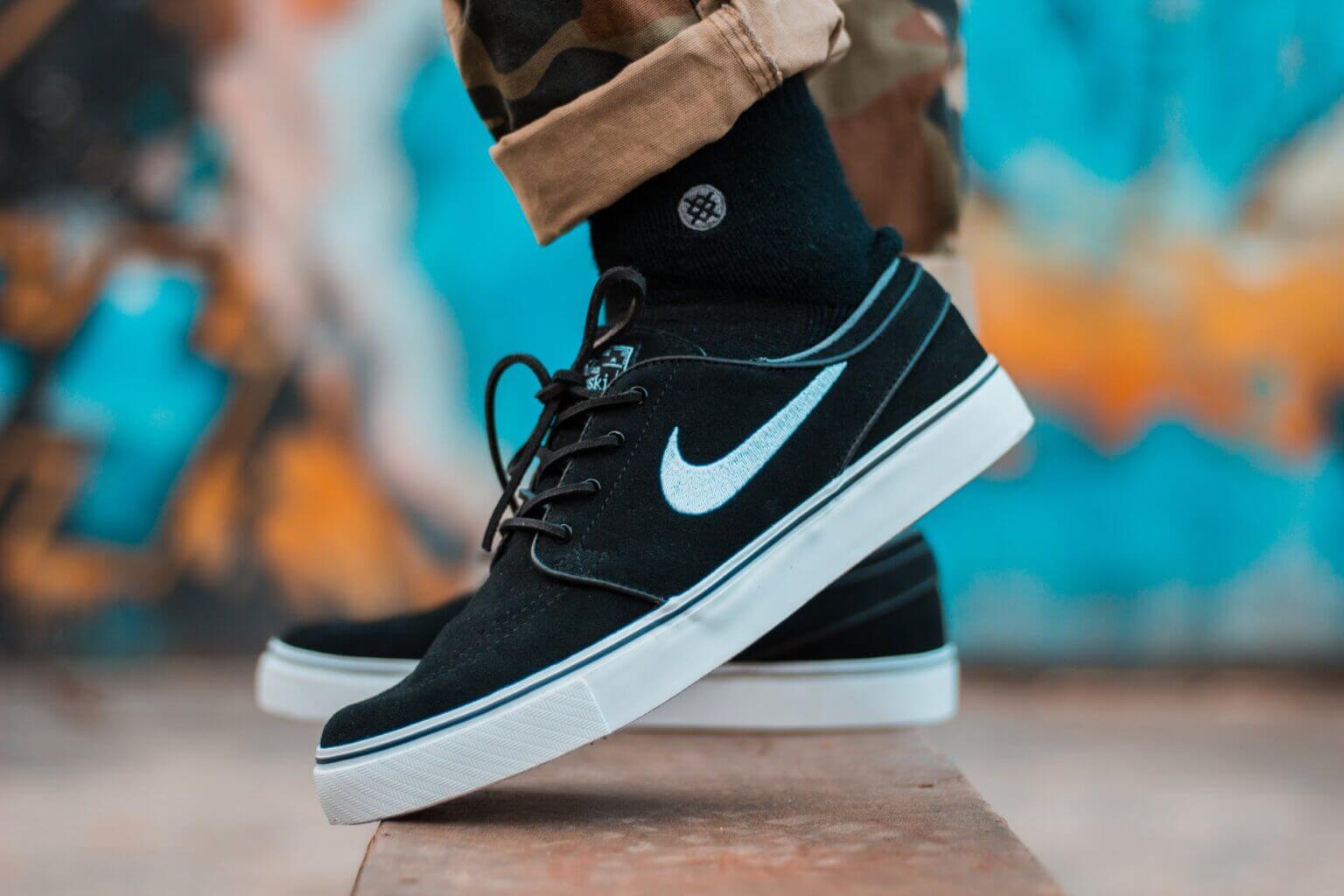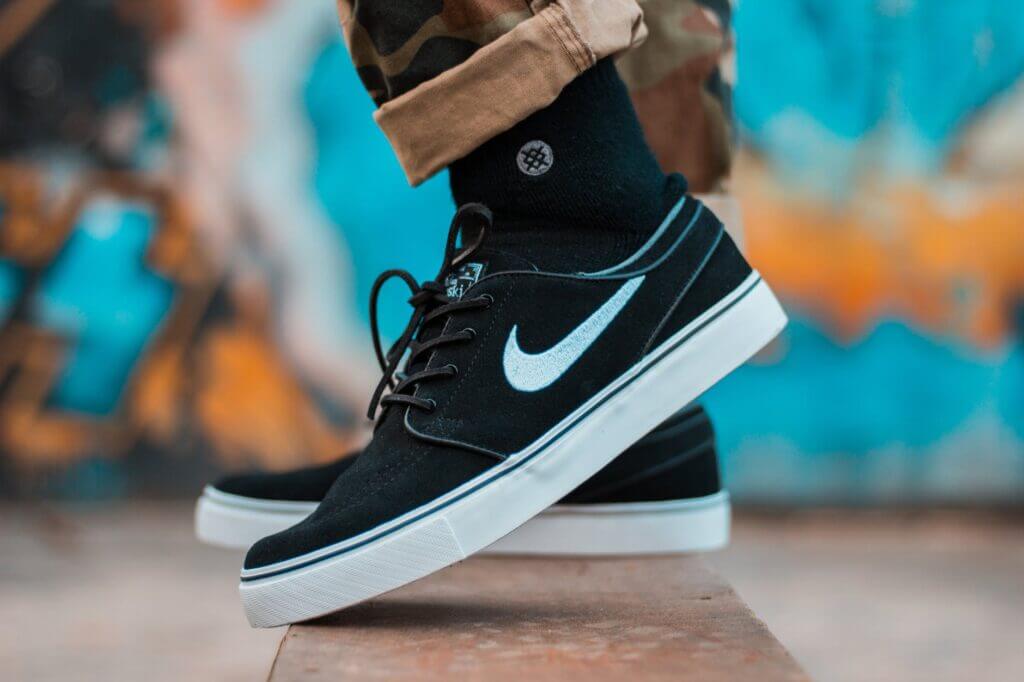 As we already know, shoes are important for back pain, because feet are the base for the whole body. They need proper support while walking, running, and even standing. To compensate for the lack of adequate support of your feet, you might adjust your posture and disrupt your spinal alignment, leading to chronic back pain. You also need shoes that are flexible and absorb the foot's impact when hitting the ground to avoid problems with your ankles, knees, and hips.
In the long run, a good pair of shoes will stabilize your feet and improve your posture. Well-aligned gait and posture prevent back pain and muscle strain and allow your muscles and joints to work properly.
However, if you're experiencing pain for longer than a couple of days, you should see a doctor to eliminate other possible causes.
If your shoes are indeed the source of your back issues, you might want to consider heading to the shoe shop and replacing them.
But how can you tell if a shoe is a good fit for you or not? Here is a short guide that will help you find that perfect shoe:
Consider shoe cushioning – Cushioning is there to disperse the impact and minimize stress on your back. The part of the shoe that absorbs the force of impact is called the mid-sole. It is located between the outsole, the part of the shoe that touches the ground, and insole, which is directly under the foot. If you have a high arch, you should go for softer cushioning. On the other hand, if your arch is lower, you will do better with firmer mid-soles that improve motion control.
Pay attention to the arch support – The arch support of your shoe should be in line with the natural arch of your foot. You can have either a neutral, high, or low foot arch. To establish which arch type you have, dip your feet in the water and then step onto a piece of cardboard. The footprint will show your arch type. If the middle part of your footprint is halfway filled in, it means you have a neutral arch, and you should choose shoes that have a firm mid-sole in the back of the shoe. If your footprint is completely filled, it means you have a flat or low arch, and it's likely that this is the cause of your back pain. Choose shoes with a straight sole and good motion control. If your arch footprint is only one third filled or less, then you have a high arch. A high arch can also cause excessive muscle strain because it cannot absorb shock well. To alleviate the shock, pick shoes with a curved sole and cushioning.
Steer clear from high heels and flip-flops – Many women wear high heels because they make legs look elongated, and they simply look good. But wearing extremely high-heels can lead to severe back problems. While walking in high heels, your whole body's weight is transferred from your heels onto your toes. Your chest moves forward, which puts your spine out of alignment. It also puts tremendous pressure on your muscles, leading to lower back pain and other issues.
If you still can't give up on your fashionable high heels, try these tips:
– Avoid heels higher than 2 inches;
– Don't wear them for extended periods of time;
– Try out comfortable high-heel insoles.
On the other hand, shoes that are too flat, like flip-flops, can be just as damaging as high-heels. Flats don't provide any arch support, which results in heels, ankles, knees, and back pain.
Find the right fit – Your shoes need to fit perfectly in both length and width. Otherwise, you may change the way you walk hurting your back. Here are some tips on how to choose the right fit:
– More often than not, one foot is bigger than the other. For this reason, it might not be a bad idea to measure your feet before buying shoes;
– Our feet slightly expand as the day passes by, so it is important to go shopping later in the day;
– Make sure you have some space between your longest toe and the top of the shoe, at least half-inch;
– Don't buy shoes if they don't feel comfortable right from the start. You might think they will get broken in overtime, but until they do you will be in pain;
– Check if there are any seams, tags, or anything else inside the shoe that might bother you on the long run;
– Examine the soles of the shoes, and make sure they are sturdy enough to provide stability, and flexible enough to provide proper impact absorption.
Consider orthotics – You can benefit from orthotics or arch support inserts if you have flat feet or high/low arches. They provide cushioning and shock absorption. You can have them custom-made, or purchase them. If you opt for the latter, here are some tips:
– Choose rigid orthotics if you have flat feet or low arches. To test its firmness, push down on it with your thumb. If it moves under pressure, it's not firm enough.
– Soft and flexible orthotics are suitable for high arches. They still need to have a bit of firmness to give you excellent support.
– Another way to test them out is to stand on them to see if they provide enough arch support before putting them in your shoes.
Orthotics are an excellent choice for those who have a hard time finding comfortable shoes or those who suffer from arthritis. However, it might take some getting used to.
To Wrap It All Up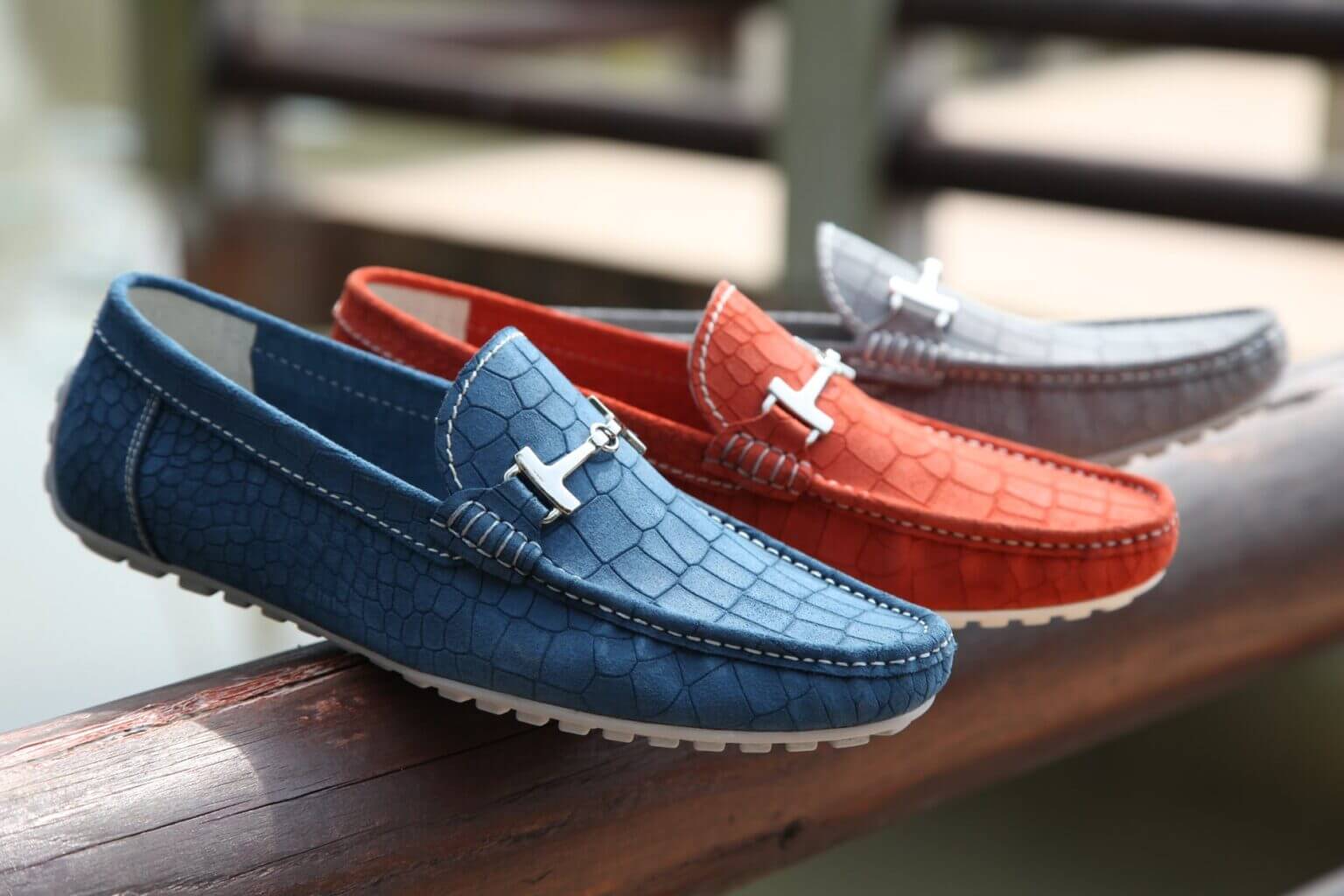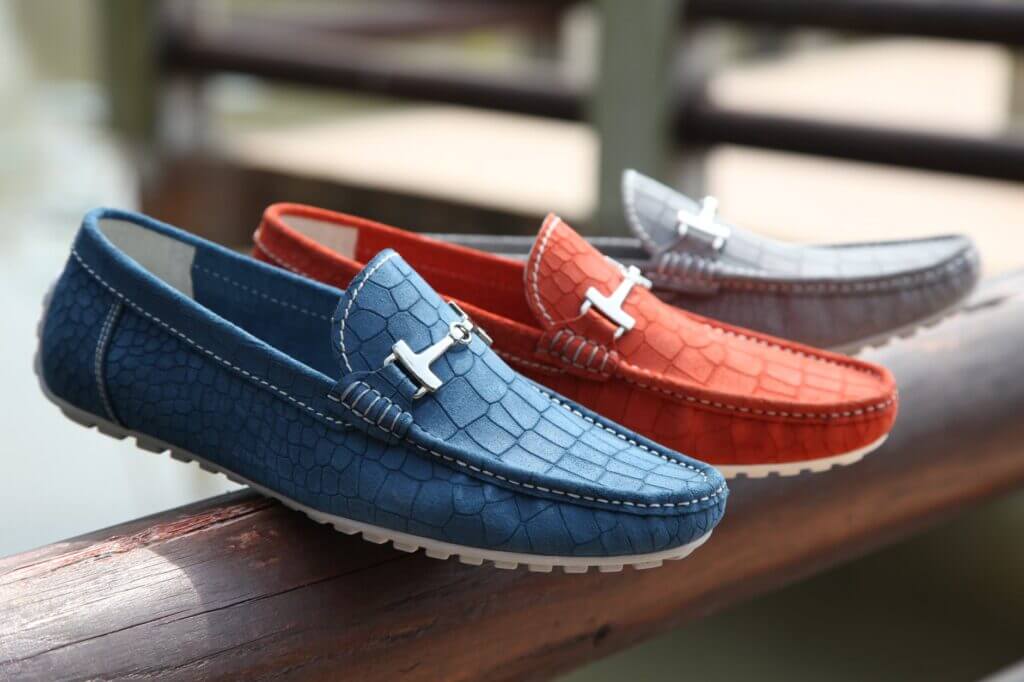 Buy shoes only for maximum comfort; don't buy them just because they look pretty. Your shoes affect the way you walk and your posture, leading to various back issues. There are plenty of options out there, and you can look stylish and chic, without necessarily hurting your health. Be creative and find the right choice that will make both your feet and your back happy.
FAQs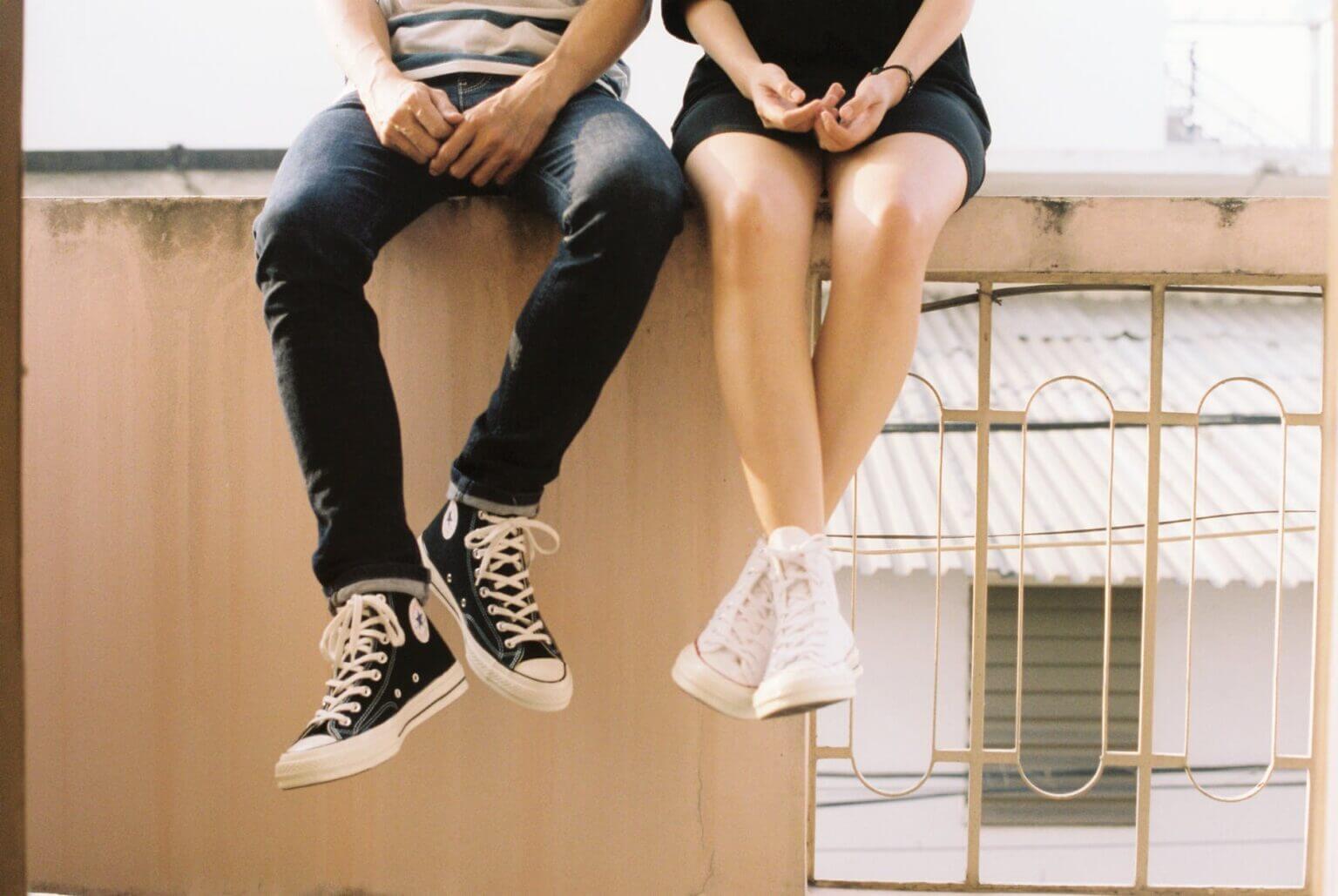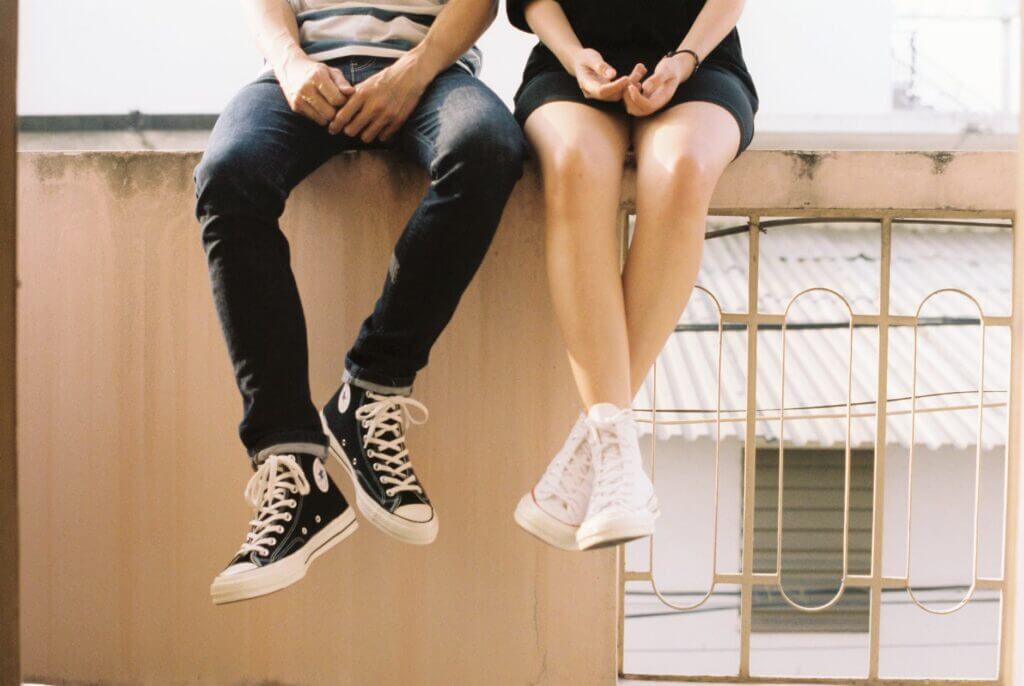 Q: Can shoes help back pain?
A: If your back pain is due to your feet, shoes with orthotic insoles can help alleviate the pain. They provide arch support and prevent hyper-pronation, and can help align your back and legs properly. Some shoes already have good cushioning in them, which reduces the impact when the foot hits the ground, reducing the stress on your back.
Q: What is hyper-pronation?
A: Hyper-pronation occurs when too much bodyweight is on the inside of the foot, resulting in the ankle bone to turn inward, while the rest of the foot turns outward. Flat feet are the common cause for this condition.
Q: What is Plantar Fasciitis?
A: Plantar Fasciitis involves inflammation of the tissue that connects your heel bone to your toe, and it usually results in heel pain.
Q: Is walking barefoot bad for your back?
Your feet are more complex than you think. Walking barefoot on soft surfaces like carpets and grass can feel good. However, walking barefoot on hard surfaces can damage your ankles, knees, and back. This is especially the case with flat feet.
Q: How do you know when the lower back pain is serious?
A: In some cases, back pain can signal a serious medical issue. Contact your doctor if your pain doesn't improve with rest, and if these symptoms follow your back pain: numbness and tingling in both legs, high fever, stomach pain, and loss of bladder control.
Q: How should I sleep with back pain?
A: Sleeping on your back with a pillow under your knees can relieve back pain. The pillow is important because it keeps your spine neutral.
Q: How do shoes affect my back?
A: Wearing ill-fitting shoes don't give you proper support and can throw off your posture. It creates stress on your, muscles, ligaments, and tendons, and affects the way your spine absorbs shock. In the long run, it makes your spine less effective and leads to chronic back pain.
Q: How can I relieve back pain?
A: You need to keep moving, find a comfortable position when resting, try heat and ice. If none of these work, try simple pain medication.
Before you go take a look at these models available on today's market: