Can't find the exact parkour shoes for kids? No Worries, here is the list of 5 parkour shoes for youth in 2023.
Parkour is a great exercise and hugely beneficial if it is started at an early age. If you are a kid who has just begun parkour, then training this in an ordinary shoe can be a mistake. Parkour shoes are made especially for intense exercises, and you should select a parkour shoe for your child.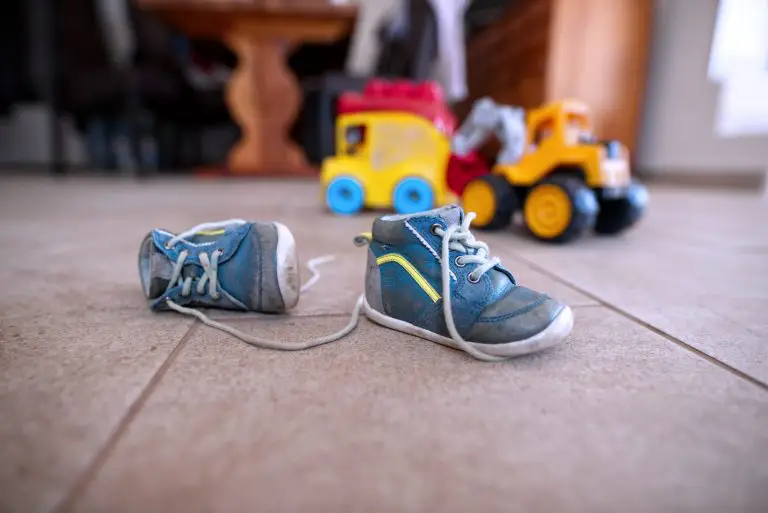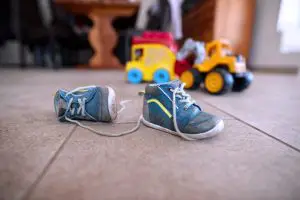 If your child is very young, then you should go for Feetmat Parkour Shoe, but if your kid is above eight years, then you should go for Onitsuka Tiger. If you are still in doubt then you can check this extensive buying give about parkour shoes for youth. Finding a perfect shoe size for the youth's feet is difficult. So, the shoes presented below are suitable in both size and type for youth. They are free running and parkour shoes.
I am going to give you a review of the five best parkour shoes for kids and help you buy the parkour shoes which you will find comfortable and acceptable for your exercise and also you can wear them in a routine.
Best Parkour Shoes for Kids
1. Onitsuka Tiger Unisex Ultimate 81 – Shoes for Children
The first shoe we are going to review is Ultimate 81 by Onitsuka Tiger, which is a Unisex Parkour shoe for kids.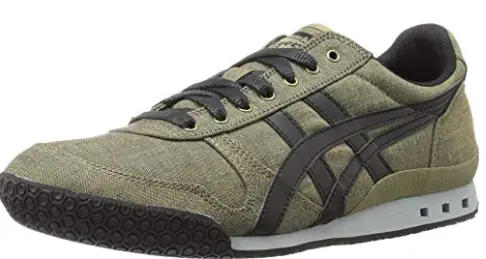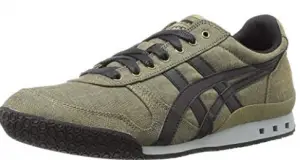 Outsole:
The sole of the shoe is decent and very much flat, which means you are going to get a good grip. Traction pattern in circles which looks suitable and satisfactory. Also, the sloe is one piece sole; therefore, it is not going to tear off early and will last long.
Now let's talk about the midsole and upper part. The midsole has a material that is more than a foam. There are holes in the heel area, which will provide you with impact protection and to cushion.
The upper part is a canvas. Canvas has a sand color, and this shoe features a lace-up closure.
Heel Area and Cushioning:
There is a TPU base on the heel area which provides support during jumping. There is leather running on the lateral and medial area, which shows the Asics logo. It is different, but it is comfortable and enjoyable.
You can wear them anywhere at any time with any jeans and shorts so they will not trouble you in choosing good shoes which match with your dress. You can wear them to a mall or a party or even to your office these will still be decent.
It is also present in different sizes so that you will not face any size problem and also it is present in different colours and contrasts so that you can pick your kid's favourite colour scheme.
2.
Feetmat Boys Parkour Shoes – Waterproof Kids Sneaker
On number two, we have Boys Hiking Shoe by Feetmat. It is available in four colours on Amazon.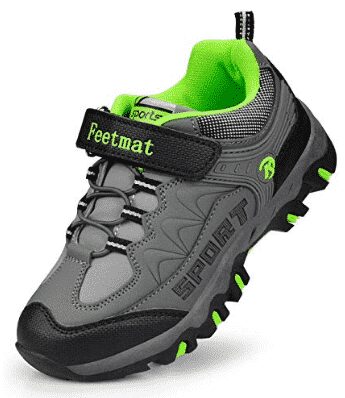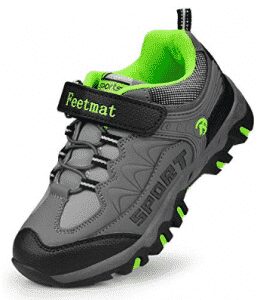 It's sole is synthetic and also rubber sole. It's only is TRP non-slip, which will protect your kid from falling while running or playing and will protect him from harm and injuries, thus ensuring your kids maximum safety. High flexibility and new upgrade, more comfortable to wear. Non-slip outsole with flex grooves for anti-skid, natural motion, and traction.
The upper is made of knitted durable PU material features sturdy and adorable. And make it possible that the feet freely breathe when to run or walk so that your feet don't smell due to sweating. Your baby needs a pair of casual ventilation shoes at all seasons, let the baby's feet enjoy the natural. High flexibility and new upgrade, more comfortable to wear.
Anti-collision Toe Cap protects kids' feet from rock or hard objects while walking and playing. Elastic band and hook and loop design provide convenient, comfortable to wear and take off so your kid will not feel inconvenient in these shoes thus enjoy wearing these.
 Its waterproof ability will keep your kid's socks, and feet dry so while wearing these your kid can also play in-ground and as well as in water.
These sneakers are also present in a variety of colours and designs; thus, your kid will love wearing them. Your kid can wear these shoes while doing many activities, like playing hiking and running. Also, these are of low cost so you can purchase these easily for your kid on his birthday or Christmas.
3. New Balance KJ775 – Youth Running Shoe
In the end, we have KJ775 by New Balance. This shoe is for both big and little kids.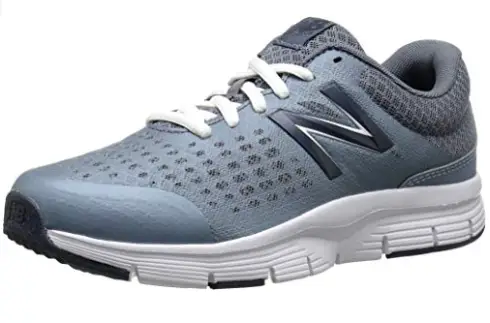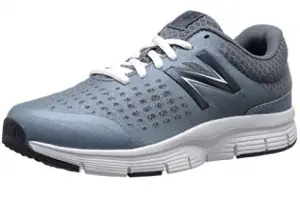 Its midsole is lightweight but durable, which is satisfactory. The involvement of rubber components in the outsole, which helps protects against wear and tear, is very evident. It has a rubber sole and a neutral platform.  Multi-flexibility pairs of the midsole with synthetic mesh create a lightweight and agile shoe.
It is flexible and light yet long-lasting and durable. The shoe's upper built is highly breathable, and the no-sew overlays offer a comfortable foot coverage. It is effortless to wear and fits perfectly. A suitable inner fabric, as well as a padded collar and tongue,  ensures a non-irritating experience for the foot. It is almost made of synthetic material.
Its price range from low to normal (not high price) so it can be purchased easily. It has a reliable upper coverage. It is an excellent choice for regular exercise and races. These are good at holding feet. These provide enough space for your kid's foot growth.
It provides excellent arch support during exercise. The wide toe box offers an outstanding balance. It has a lace-up closure. These are lightweight but have a speedy performance. It has filamentless welds that help reduce forefoot irritation.
The meshed panelling keeps feet fresh. It has a mesh and synthetic upper. Its contrasting features gives it a fresh and crisp look so that your kid look fabulous while wearing them while going to school or playing in the ground.
4. QANSI Kids Shoes – Slip on Style Shoe
If your son is a little older he might want to keep up with the style. This shoe by Qansi is updated with the latest trend of slip-on style.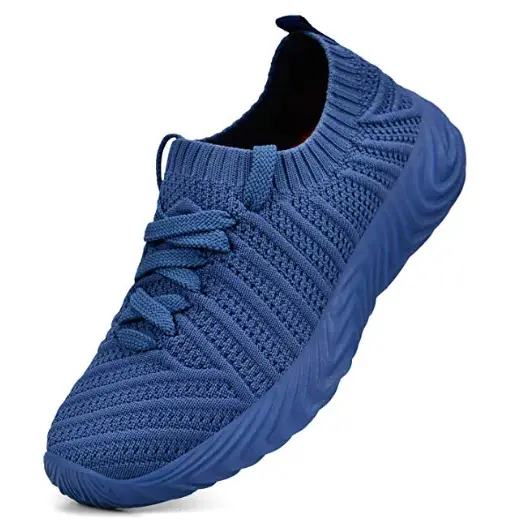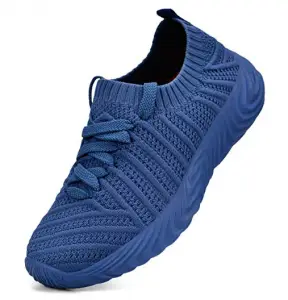 Both children and parents equally like these shoes because children do not need to wear socks and parents have no need to remind their kids again and again about socks. This shoe comes in various colors which makes it perfect for both boys and girls.
It has a breathable knitted top which makes it modern looking and lightweight. You can wear it easily with or without socks. You get grip and flexibility from high elastic MD outsole. The shoe design works well in every type of environment and on every occasion such as going to school or swimming.
The range of sizes presented by Qansi is also incredible. You can get one shoe in various sizes for big kids or small kids.
5. Nike Free Rn – For Big Kids
Your kid is big and you are not able to find an exact size with good quality yet? No worries, Nike has got your back with its latest shoe. The sole is smooth on the edges but still, it provides you excellent grip and flexibility.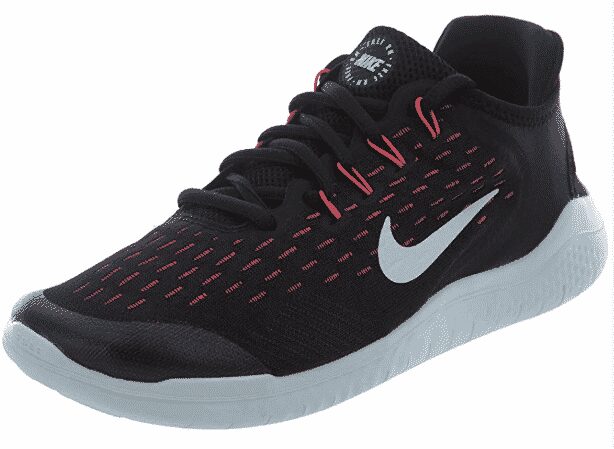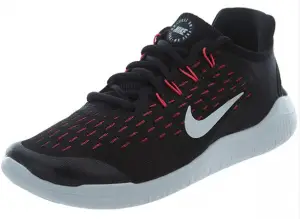 Nike shoes are excellent for both parkour and free running. This shoe by Nike is one of the most popular Nike styles for running shoes. You can wear these shoes the whole day long as they will provide you the necessary cushioning and stability.
Overall, this shoe is great but many users reported that it was a bit high prices as compared to other shoes. This is because it has big sizes as compared to other sizes and is also from the brand.
The size of the shoe is further adjustable with the help of the removable foam from inside.
How to Find Parkour Shoes for Kids Feet? – Buying Guide
The primary concern of parents is to choose perfect shoes for the kids. Now we're humans, and how humans learn to adapt to the hard ground is by bending their knees, by leaning forward, by putting their foot more below them. So if we put our children in these really, really stiff, overly constructed shoes, we lose all of those cues and the ability to walk properly.
So let's take a simple analogy, and say we wanted to take a young child and protect them from a very hot stove, or very sharp glass. And so we put a big, thick glove on their hand.
Now the problem is
They're never going to learn not to touch that hot stove but
If you took that glove off in five to ten years, you've lost a lot of ability and muscle control with the fingers, and it's the same thing with our feet.
So let's look at a few things that we look at when we're recommending footwear for children.
Select a Shoe that Matches Curvature of Child's Feet
First, one may seem pretty obvious, but it's essential to find a shoe that matches the shape of your child's foot. Now if you look at any young child's foot, they're generally going to be the widest at the end of the toes. But if you look at most footwear for children, it's usually broadest at the base of the toes which can cause a real pinching of the toes and lead to misalignment down the road.
When you go to buy a shoe, take out the insole and try it barefoot on your child. If their toes are splaying over the sides, try to find something that may be a little bit more square and stays wider up towards the end of the shoe.
Buying shoes that are too long, this is a problem that we see a lot. Now especially if you're buying something that is overly constructed, these shoes have these little ridge lines which make the shoes bend at a specific spot, and if the child's toes are too far back, the shoe won't turn in the right place. Just try to mimic the child's barefoot when you're buying shoes.
Also, our feet are pretty miraculous in that they bend, they stretch, and they move in all kinds of different ways to be able to distribute forces properly when we're walking or running. So if a shoe is very, very stiff, we take away the foot's natural ability to be able to do that. So again, looking for footwear that's minimalist, flexible is what we want.
Choose Perfect Size
You would never want to return the shoe of your kid because of the wrong size. So, better to choose a fit version first. Here is a chart for kids' shoe sizes by age for parkour boots.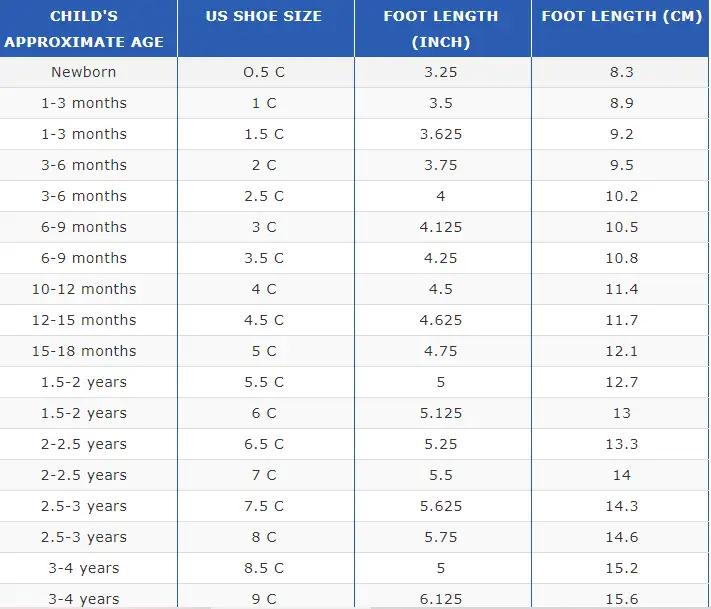 Avoid Stiff Toe Spring
The next one is a toe spring, and toe spring is just the elevation from the toe to the ground at the front of the shoe. Now ironically, why this is important is that if you have a shoe that's very, very stiff, they need to put that rocker sole at the front to help the foot move correctly.
But we don't want our child's toes up in the air all day. We want our child's feet to develop appropriately and want their toes to be engaged. So again, we want to keep those shoes reasonably flat, and we want to eliminate the shoe being curved up at the front along with the stiffness.
Children's feet are not that strong to bear soles with less cushioning. That is why highly recommend parents to choose parkour kids' shoes with excellent cushioning.
However, here is further guidance on choosing parkour shoes or if you are willing to try something totally different then split-toe parkour shoes might catch your attention.
That is all for Kids' shoes. I picked these shoes with significant research. Share your honest reviews in the comment box.
Take a look at some other interesting models available on today's market: