In sports like parkour, it always feels better to feel the ground under your feet. Barefoot Parkour Shoes help you to achieve that responsiveness and give the best feeling of being barefoot.
These shoes are specially designed for free running, parkour, trail running, cross-training, and nearly all types of exercises. Here is a complete list of the best barefoot shoes and all of them are the best barefoot designs of 2023.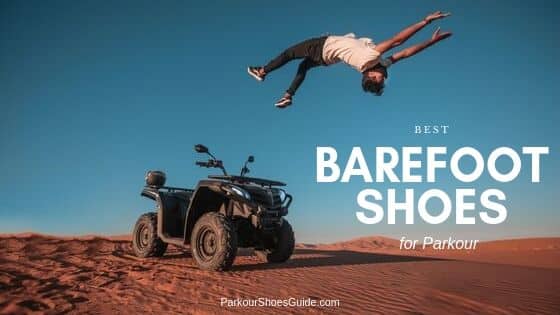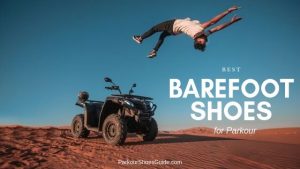 Best Barefoot Parkour Shoes 2023
1. Voovix Men's – Best Barefoot Parkour Shoe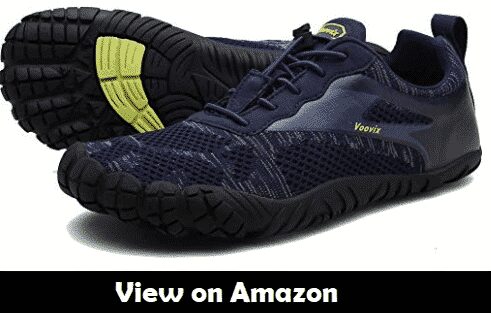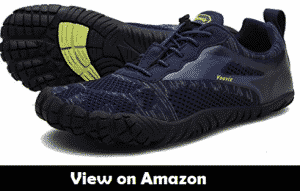 The first in our list of barefoot parkour shoes is Voovix barefoot shoe. It is a versatile barefoot shoe that can be used for parkour, free running, hiking, cross-training and outdoor walking.

Various Designs:
Voovix is available in many colors, and all of them are barefoot designs. Majorly, there are two designs. One is with lace-up closure, and the other one is buckle closure. It is always suggested to buy a lace-up closure for parkour training as it gives you much more fitness as compared to buckle or slip-in closure.
The usual design consists of a breathable mesh at the top made with fabric while the remaining part of the shoe is made with high-quality rubber. The material of the shoe is lightweight to improve your speed while running.
Sole of the Shoe:
The outsole of the shoe is made with a lightweight yet strong rubber. It has a pattern on its surface to provide maximum traction while running or hiking. Being very thin, the rubber sole is also soft and flexible. This makes the shoe ideal for uneven surfaces.
The insoles are removable as per you feel comfort.
Let us take an overview of all the merits and demerits of this Voovix Men's Barefoot Shoe
2. Oberm Men's – Trail Running Shoes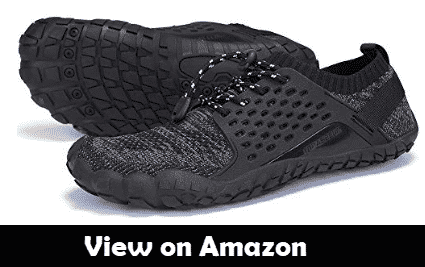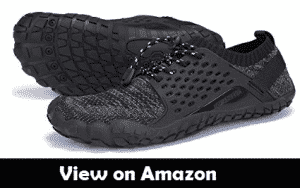 This barefoot parkour shoe is made by Oberm for Men. They are made with totally animal-free products which means no leather and they are also waterproof. So, you can wear them in water with no worry but of course, for not very long.
Wide Toe Box:
The design of Oberm Men's Trail Runnings shoes is nearly similar to all other shoes. It gives a wide toe box for the comfort of your toes. Uncompressed toes surely help in gaining balance.
They are available in more colors as compared to other shoes. Some of them are very cute and can suit your taste.
Removable Sockliner:
Oberm also has a removable sock liner so if you want to get the more barefoot feeling you can remove the sock liner.
3. WHITIN Unisex – Multipurpose Barefoot Shoe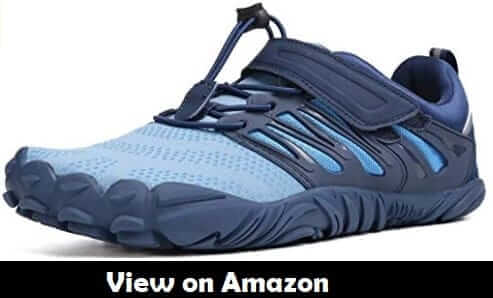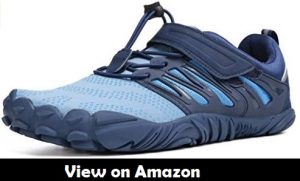 Whitin Unisex is the most budget-friendly in our list of the barefoot style shoes. Let us find out that it is worth the money or not…
Barefoot Design:
The design of Whitin shoe is different from all others on this list. First of all, it is a unisex shoe, and its colorful designs also make it a great women parkour shoe. Secondly, it is a multi-purpose shoe, and you can use it anywhere except in water.
It has two types of closure, Hook-and-loop as well as lace-up closure for a perfect fit. The design of the shoes is also made for zero drops to gain maximum balance and posture advantage.
They are not exactly waterproof but drain very well so you can wear them in light rain.
Low Price:
Although they are very inexpensive yet you will find that they are made up of very high-quality material. They are like an introduction into the world of barefoot shoes.
4. INOV-8 Men's Bare-XF 210 V2 – Barefoot Sneaker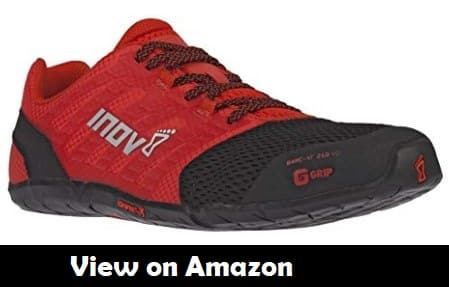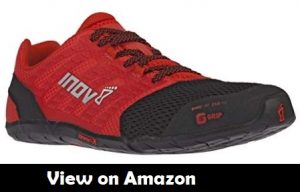 Inov-8 are the most unique barefoot sneaker. Its design is unique as compared to any other shoe we have talked about on our list. So let us first take a look at its design
Unique Design:
Inov-8 has a very beautiful design with a very low-top from arch. Its design is more like a streamlined shoe but is only available in a few designs and colors. On the top, there is a knitted fabric acting as a breathable mesh, while, on the bottom, there is sole extending from the back to the nose of the shoe. This coating will prevent your footwear from friction on sudden stops.
Strong and Thin Outsole:
The outsole is made with a good quality rubber. It is 3mm thin to provide you maximum feedback from the ground, but at the same time, it also provides grip to the ground and covers the maximum surface area.
Fitness like Non Other Shoe:
Their streamlined design fits like a glove on your feet. The fitness of the shoe gives you the flexibility to easily use this shoe on a treadmill or for CrossFit training.
5. Merrell Men's Vapor Glove 2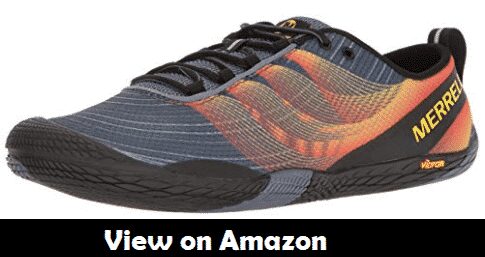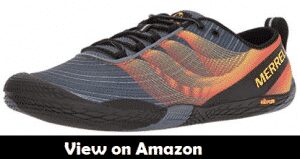 Merrell Men's Vapor Glove is all about the fitness of the shoe. As the name suggests, this shoe fits on your feet like a glove. It is one of the most bought barefoot shoes for parkour on Amazon, so, let us see what is so special about this shoe.
Suitable for Every Sport:
Merrell Men's Vapor glove is designed to be worn during every type of sport. Whether you are playing basketball or going for a run on a hill, this shoe can be a perfect choice. Although, I noticed that it comes in only four designs which are not a good thing. Each of these designs is mesmerizing.
Zero-drop Sole:
Merrell did a great work in making the zero-drop footbed. Its sole is skinny and super sensitive so you will get the maximum feeling of the ground under your feet.
Now, let us take an overall look at this shoe
6. SUOKENI Men's – Barefoot and Water Shoes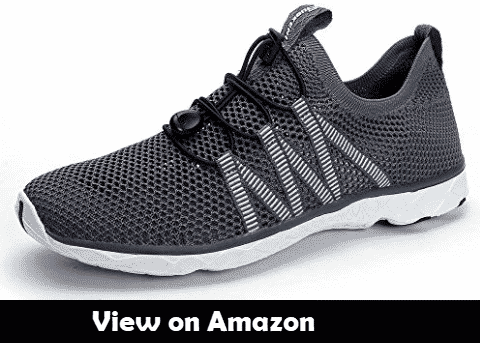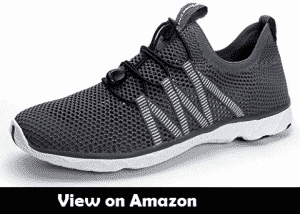 If this is your first time trying a barefoot shoe then it is always suggested to choose a shoe in-between everyday designs and barefoot designs. SUOKENI Men's Barefoot shoe is not a completely a barefoot shoe then let us see why this shoe made into this list.
Everyday Shoe Design:
The only thing that separates this shoe from other barefoot shoes is its usual design. These shoes are made, especially for wearing on the beach, so they are waterproof. The upper part of the shoe is made with a totally breathable mesh. This mesh is connected directly to the sole of the shoe at the bottom. There is no rubber on the upper area of the shoe even for the laces holes.
Extremely Light-weight:
While jumping, you would never want the weight of the shoe pulling you down. Lightweight shoes reduce the stress on your feet.  SUOKENI Men's Barefoot are second to none in being light-weight.
Overall this shoe is recommended to any person who is going to try barefoot style for the first time. This shoe will give you feeling of barefoot and your usual sneaker. After that you can go with a complete barefoot parkour shoe from this list.
7. SIMARI Men's – Barefoot Parkour Shoes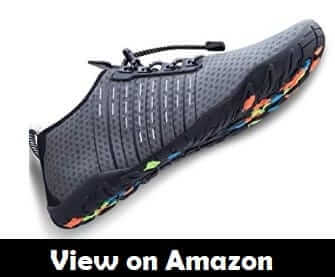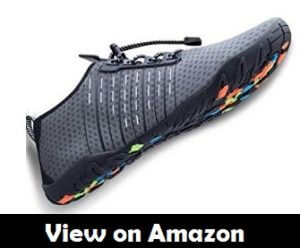 SIMARI is also a versatile barefoot parkour shoe with the most number of designs than every other barefoot parkour shoe in our list.
Design:
As I said, the shoe is available in many designs, so you have many choices in that aspect. Generally, talking about the material of the shoe. It is made with comfortable fabric with small orifices for breathability. If you do not like those netted breathable mesh, then you would surely like the design of this shoe.
No-tie Laces:
This shoe comes with no-tie laces. Especially happiness for those people who hate tieing laces. Also, lace-up closure is suitable for fitness. But, no-tie laces save time providing the same fitness level.
Durable:
From rivers to muddy trails, you can wear these shoes in any type of environment. They provide great traction and also dry up super fast. So, you can wear these shoes while fishing and boating.
In a hurry? Take a look at this winner of our 10 hours of research picked after looking at each possible aspect.
Buying Guide of Barefoot Shoe and FAQs
Barefoot parkour shoes are a good choice for parkour beginners but there will be few things which you will be missing in such shoes. Let us talk about benefits and dis
Things you will get in Barefoot Shoes
Fitness: These shoes are totally fit to your feet and become one with them. They give you a sense of confidence while doing parkour.
Reflexology: Outsoles of barefoot shoes are very thin. These thin soles put pressure on your nerves which helps in reflexology.
Things you will be missing in Such Shoes
Arch Support: Yes, there will usually be no arch support in a barefoot shoe. However, if you wish to have arch support, then you can get extra insoles and add them inside your shoes.
FAQ's
A Final Advice
I hope you found this list quite useful and also selected a new shoe for parkour. If you do not like barefoot designs that much then you can check another list of mine on best parkour shoes and if you are tight on budget then check some cheap parkour shoes. Also, keep in mind that barefoot design is similar in look yet totally different in structure from split-toe parkour shoes.
Check out these models also: