Are you a cycling junkie but not a professional cyclist? It probably has got you wondering if you really need to pay for cycling shoes or non-cycling ones are just fine, whether or not those make any difference? In case you are thinking about what difference the two have, cycling shoes have cleats at the bottom that clip in with the pedals for firmness.
Another difference is the closure system they have; cycling shoes have straps that are attached to the pedal. However, you might be relieved to know that if you are not a professional cyclist, you don't need these features that can potentially be a hindrance sometimes. If you are an ordinary road cyclist, or even if you sometimes like to get a bit intense with your pedaling sport, you are good to go with non-cycling shoes as well. In fact, those can also be more comfortable than cycling shoes.
That might have got you wondering which noncycling shoes exactly do you need, unless you instantly assumed that any regular shoes would do, because no, ain't the case. Don't start to worry about that either; the research is done, verdicts are revealed. All you gotta do is go through the list of the 7 best non-cycling shoes for cycling elaborated below, and hopefully, you will find the right pick for you. Even if you don't, there is a buying guide to give you the knowledge about what you need to look for if you go to buy a pair for yourself.
Top Non-Cycling Shoes
1. Under Armour Charged Assert 8 – Best Non-Clip Bike Shoes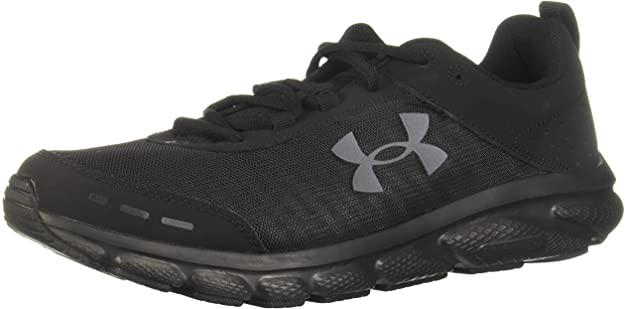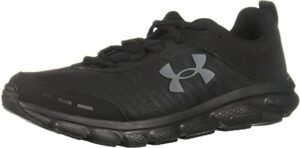 Under Armour Charged Assert 8 makes one the best non-cycling shoes which you can use for cycling; for starters, that's because they are highly breathable. With their synthetic sole and mesh upper, these shoes are breathable, allowing air circulation and avoiding sweaty feet, ideal for cycling on hotter days. The synthetic sole also makes the shoe lightweight, weighing only 0.62 lb, allowing free and easy foot mobility while cycling.
The leather overlays are durable and provide stability to the foot, keeping it secure in the midfoot. Charged Assert 8 offers the right mix of flexibility and cushioning. The compression-molded foam is utilized in the midsole, which provides superior cushioning hence a comfortable and secure ride.
The sock liner is EVA-rubber-like plastic with heat and cold resistance, cushions the step, gently absorbing it. Coming to the outsole, it is solid rubber providing additional shock-absorption, resistance to slipping and abrasion, also flexibility and durability. The shoe is going to last pretty long with the leather overlays, cushioned midsole, and tough rubber outsole, withstanding the impacts.
Pros
Lightweight and flexible
Durable
Comfortable
High breathability
Available in a wide range of colors
Cons
Weak arch support
Not going to last longer for trekking
Under Armour Charged Assert 8 can surely be your best companion for cycling. However, make sure you don't wear them on rough surfaces like hiking and trekking; they are not made for that. Otherwise, they are well-ventilated, durable, lightweight, and flexible, all the features you need for a superior cycling experience. Then there is enhanced cushioning, absorbing the impacts and making the wear comfortable. Also, they come in a pretty wide range of colors, and they are for both men and women.
2. ASICS Men's Gel-Venture 7 – Non-Clip Cycling Shoes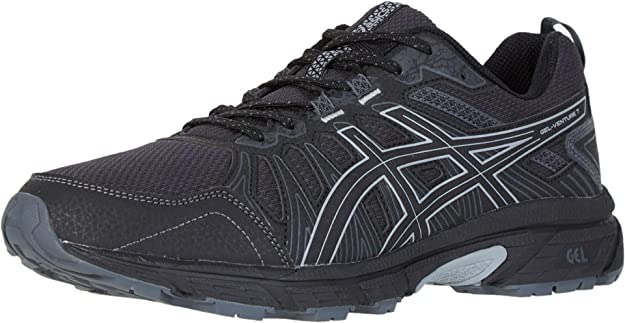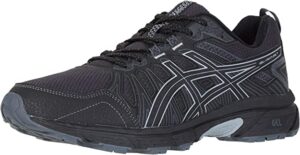 If you don't like compromising on rough terrains and want your shoes to be capable for rough sports as well along with cycling, ASICS Gel-Venture 7 might be just the pick for you. The mesh inculcated in the upper makes them breathable. The rubber sole is tough and durable but also flexible and comfortable, allowing you smooth movement while pedaling.
ASICS Gel-Venture 7 features an outsole that is designed for rough surfaces. The outsole has reversed lugs-lugs facing backward in the forefoot and forward in the heel, which provides uphill and downhill traction on demanding surfaces. The shoes come with removable insoles, but it's best to keep those in because the arch support is not so strong.
The outsole of the shoe features the popular ASICS' AHAR (ASICS High Abrasion Rubber) technology. Material formulated by ASICS is used in these shoes for optimal abrasion resistance. AHAR is utilized in specific areas of the outsole of these shoes for high resistance and durability. The rearfoot of the shoe features the technology; one more feature ASICS is popular for. The cushioning system in the heel absorbs impacts and shocks, making the shoe comfortable and secure.
Pros
Breathable
Durable
The tough and solid outsole
High cushioning with the gel technology
The Gel-Venture 7 by ASICS are designed ideally for rough and uphill trails, but they are also suitable for cycling. The breathability, flexibility, and durability of the shoes make them one of the best for cycling as well. If you are out on the look for non-cycling shoes that can accompany you on rough terrains and also for cycling, you will find these perfect, especially for the affordable price they have.
3. Vans Atwood Trainers – Best Non-Clip Mountain Bike Shoes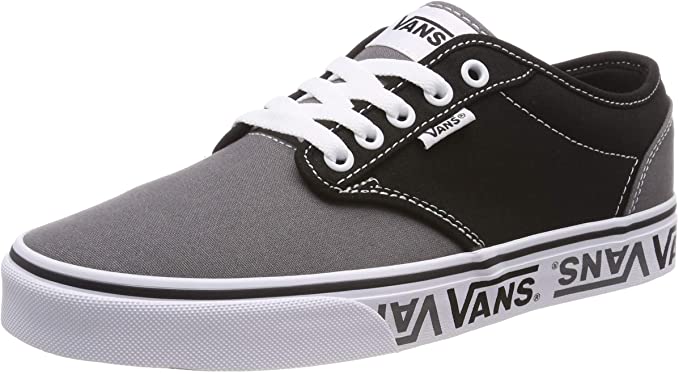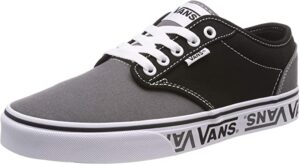 These Vans Atwood Trainers also make a great pair for cycling because of the host of amazing features it offers, like grip, durability, and comfort. The outsole of these shoes is made out of gum rubber which is typically known for its suppleness, softness, resilience, and abrasion-resistant. Hence the shoes provide comfortable wear with a secure feel on slippery surfaces.
The shoe provides spd cleats fitting; that is, the outsole has holes embedded in it which fixes with the studs on the pedals and gives a fixed and secure ride. The outsole is also flexible, allowing you easy and free pedaling. The gum rubber outsole also offers great comfort and placement of your foot.
The upper of the shoe is of canvas, which is highly breathable and lightweight. Your feet will not be weighed down either due to being soaked in sweat or because of the weight of the shoe. The breathability of the shoe prevails regardless of the weather. The canvas upper also makes the shoe low maintenance, it is pretty durable, and you don't need to worry about having them ruined with a stain or something. They are also water-resistant.
Pros
Lightweight and flexible
Breathable
SPD cleats fitting
Abrasion-resistant
Cons
Weak arch support, better if used with insoles
Not for trekking on harsh terrains
These non-cycling Vans Atwood Trainers offer the necessary features which make the shoes suitable for cycling. They are light and flexible, providing a free and easy cycling experience. The pliable gum rubber outsole is slip-resistant, durable, resists wear, and offers great comfort, fit, and flexibility. The spd cleats fitting enhances the grip of your feet on the pedals. Breathability is offered by the canvas upper. Make sure not to use these shoes on rough surfaces since they are not designed for those.
4. Adidas Women's Cloudfoam Pure Running Shoe – Best Shoes For Cycling Without Clips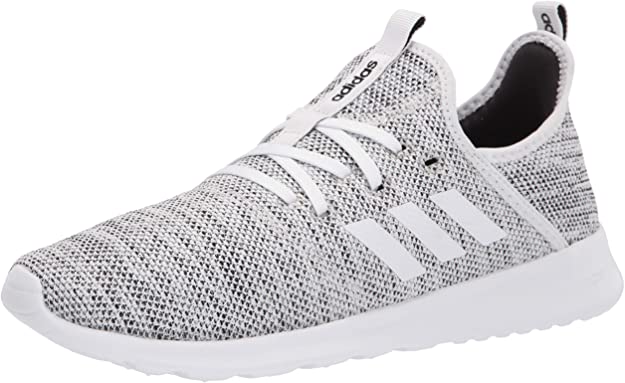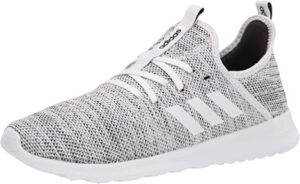 These Adidas Cloudfoam Pure Running Shoes for women are undeniably among one of the best noncycling shoes used for cycling for women. They are incredibly lightweight, breathable, and provide a perfect and comfortable fit for women, making them a great pick for cycling. The rubber sole is resistant to slip and abrasion and offers amazing grip and durability.
Hence they guarantee a secured and controlled ride. Adidas utilizes its well-known Cloudfoam Technology in the insole of these shoes. A compound made from EVA, the Cloudfoam insole is soft, plush, and provides great in-shoe comfort, making you feel like walking on clouds. This insole is lighter than a regular insole, thus making the shoe incredibly lightweight.
Furthermore, the shoe has a textile lining, which provides breathability and further enhances the comfort of the fit. With the Cloudfoam Technology and breathable textile lining, these shoes immediately adapt to the form of the shoe giving a snug and well-fitted feel. The textile lining gives the feeling like you are wearing socks.
Pros
Extremely lightweight
Highly breathable
Available in a pretty large range of colors
Good arch support
Extremely comfortable with the soft, snuggly fit
Cons
Not made for trekking and hiking
So it must be pretty much clear why these shoes are listed as one of the best non-cycling shoes for cycling. They offer amazing breathability, comfort, and grip, along with having the lightest of weight; the weight ranges from 0.44 lb to 0.55 lb, according to the size. Since they are running shoes originally, so definitely unsuitable for hiking and trekking. These Adidas Cloudfoam Pure Shoes come in the widest of color range and can go with any of your outfits.
5. Five Ten Men's Freerider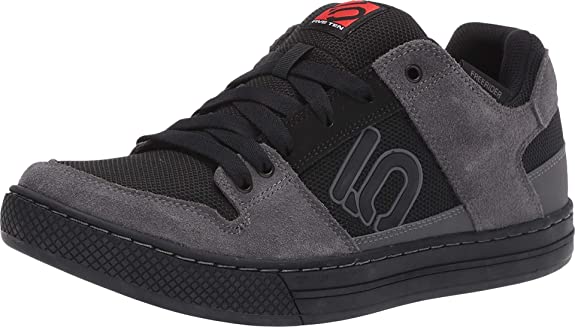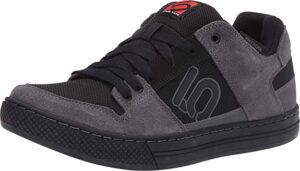 Not exactly non-cycling, but these shoes are the best pick if you want your shoes to be able for cycling as well as hiking. Since almost all of the running shoes, including those listed above, are only suitable for cycling and not for hiking or for rough surfaces, these Five Ten Freerider MTB Shoes feel like a must-add on.
You are all set, whether it's mountain biking or rock climbing, with these tough and incredibly durable Five Ten Freerider MTB Bike Shoes. The sole of the shoe is stealth rubber, which explains the outstanding durability and grip of the shoe. The sole can withstand pretty high roughness, so you can freely use them for hiking.
The stealth rubber sole provides an ideal grip, which is further enhanced by the dots on the tread. Hence the shoes offer an amazing friction grip on the pedals, so you don't have to worry about the shoe slipping off the pedal while cycling. The upper of the shoe is textile and leather, which makes the shoe breathable. They also offer lasting comfort after long hours of use.
Pros
Outstandingly durable
Comfortable
Tough and long-lasting sole
Breathable
Provides high grip
Five Ten Freerider MTB Shoes are an ideal pick if you want your shoes to accompany you to cycling and to a bit rougher sports. They fit well those with wider feet and have a shock-resistant toe box as well. They are heavier than ordinary running shoes and also more expensive, but the durability and comfort pay off.
6. Nike Women's Air Max Bella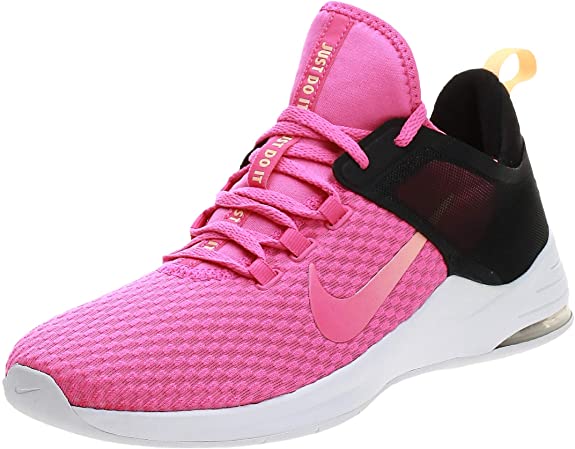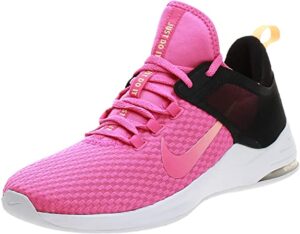 These trainers, Women's Air Max Bella by Nike, are super convenient and comfortable. Along with that, there is a number of other features that make these ones of the best non-cycling shoes made for cycling. Let's start with how lightweight they are, only 0.51 lb, allowing easy pedaling and making your feet feel free and unburdened.
Not just light, but they also make your feet feel airy with the breathable mesh upper, hence cool and comfortable for hot summer rides. The bootie construction loop at the back makes putting these shoes on and taking off easy and quick. The tread of the shoe has holes, which allows it to fix firmly on the pedals providing grip and a secure ride.
The laced of the shapes are joined with the strap, so you get a secure locked-in fit. There are air units embedded in the bottom of the shoe that offers cushioning and shock absorption from the impacts. Thus this pair for women is super comfortable and well ventilated; to top that, it has a stylish look and popping color.
Pros
Breathable
Comfortable
Lightweight
Nice arch support
Holes on the tread offer good grip
Cons
Not suitable for rough sports
Nike Women's Air Max Bella Sneakers are suitable for cycling, training in the gym, and running. They provide incredible breathability and comfort, along with being lightweight. Though they are not built for harsh surfaces and rougher sports, they will not last at those; for cycling, they are among the best.
7. Merrell Women's Moab 2 Vent Hiking Shoe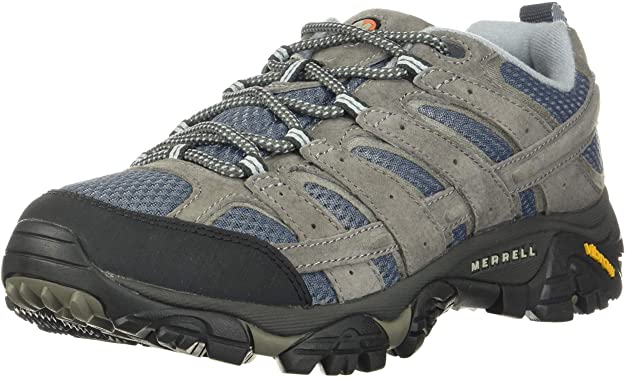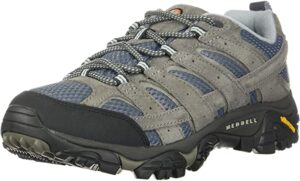 This pair, Moab 2 for women by Merrell, is a pick for those who want their shoes to be a bit tougher and have combined features suitable for hiking and cycling. They are originally made for hiking but make a great choice for cycling too. Their most worth mentioning features are their durability and longer-lasting.
These shoes utilize the materials of genuine suede leather and mesh. Hence they offer flexibility, durability, and breathability; your feet will not be weighed down with sweat. They can also accompany you on wet rainy evenings since they are also water-resistant. The shoe has a Vibram sole, which is considered to be the highest of all sole qualities.
This sole is uniquely designed to merge foam and rubber, hence have the best qualities of both materials. It provides the softness and suppleness of foam and durability and grip of rubber. Hence the shoes offer an incredible blend of traits like a robust grip, don't fear your shoe slipping off the pedal, toughness, and cushioning.
Pros
Extremely durable
water resistant
Breathable
Comfortable
Nice arch support
Suitable for brutal terrains, for hiking
Cons
A bit on the heavier side
Can get warm on hotter days
Merrell Moab 2 makes a great choice for demanding sports along with cycling as well as the mix of some incredible trits. They are breathable as well as water-resistant, though, on hotter summer days, they can get warm because of the lining. In the durability compartment, this pair aces the suede and mesh construction, and the Vibram sole, which is designed for rough sports and terrains, lasts for years and years. Their durable build does make them a bit on the heavier side.
How to Select the Best Non-Cycling Shoes for Cycling?
Cycling is a great sport and fortunately not so demanding, that is, neither in terms of skills nor in terms of shoes. Besides cycling shoes, you can use some other sports shoes for cycling as well. Although, as easy as it sounds, you can't exactly buy any noncycling shoe and wear it for cycling; in fact, never do that unless you want to experience blunders.
There are some extremely crucial factors you need to consider before buying a non-cycling shoe for cycling. It depends on your preferences and requirements for the most part, but the basic knowledge provided in this buying guide is definitely worth going through.
Comfort
This one is obvious; of course, you need your shoes to be comfortable while cycling so you will not experience cramped feet after some time into the task. That is especially important if you cycle for long periods. One thing to ensure your shoes is the right size; always to double-check the size.
Trapped feet will not do you any good, right? Neither will feet rocking inside the shoe. If you are 8.5, don't end up buying 8 or 9; get the exact fit for your shoes to be comfortable. Never buy the shoes without trying them on, or if you are buying them online, get the exact measure of your foot. You can also use the official size chart provided by the manufacturer. Be particularly careful if you have wider feet; some shoes are made for narrower feet and won't be the right fit for those with wide feet, and vice versa.
Breathability
Another important factor to consider is the breathability of the shoe; you don't want your cycling time to be interrupted because your foot is slicked with sweat. That is specifically crucial if you ride in an area that is hot, sweaty, and hot feet can be extremely uncomfortable. So make sure that the shoes you buy offer high ventilation.
Running shoes that have a mesh upper are highly breathable; they allow airflow in and out of the shoe so your feet will not get sweaty. If not entirely of mesh, some shoes that have a more durable build also have both leather and mesh, at some crucial points, utilized in the upper. You can compromise on that if your area is not so hot. The point is, allow your feet to breathe inside the shoe to prevent it from feeling like it's on fire, so your performance doesn't get hindered as well.
Durability
You should consider your shoes' durability depending on the surfaces you are going to pedal on. Like, on rough trails like a forest or similar off-road trials, your shoes should be more durable. If you are going to ride on a road or smooth surfaces, you can settle for a bit less. Check the shoe's construction carefully before buying to get an idea about its durability.
Running shoes with mesh uppers are ideal for road pedaling since they are not so appealing in the durability department. While some pairs have leather integrated with mesh, as mentioned above, those are quite durable. Mostly, running shoes and trainers are not exactly known for their durability, but these are lightweight.
Hiking shoes that are designed for rough terrains mostly offer incredible durability since they have to withstand the roughness of the surface, but they are on the heavier side. Soles of the hiking shoes and those made for rough sports are also more durable than those of the running shoes, so those are nice if you know that your pedaling can get rough. Otherwise, for smoother and not so demanding pavements, running shoes and trainers are nice.
Sole
The sole of the shoe is responsible for the traction and grip, which is extremely important to be there in your shoes since, I assume, you would never want your feet to keep slipping off of the pedals. The sole should be slip-resistant, providing high traction for a secure and controlled ride. As in cycling shoes, the sole also needs to be stiff, unlike regular shoes whose soles are not so tough.
Soles that are tough provide the necessary energy to bounce back when you hit the pedal, so you won't waste your energy and, in turn, get exhausted soon. Most sports shoes also have foam implemented in the tough soles to provide shock absorption. Some trainers have holes in their treads that clip in with the metal studs on the pedals providing a firm grip of your foot on the pedal.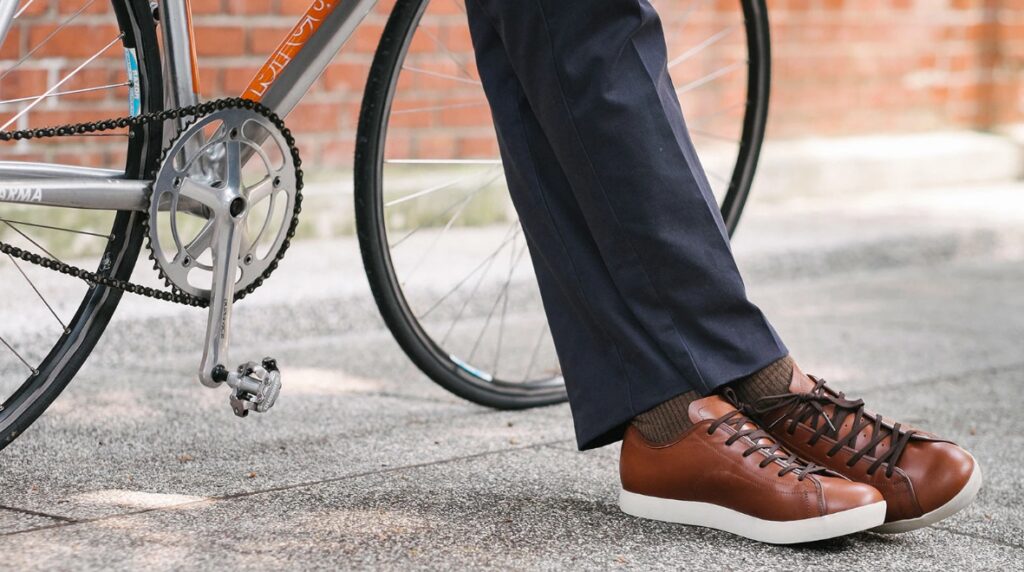 FAQs
Can I wear running shoes for cycling?
Running shoes are fine for cycling if your ride will not get rougher and intense, like if you are just doing it as a hobby. Even if you cannot afford cycling shoes or just don't want them, you can sue running shoes.
Do I need special shoes for cycling?
If cycling is a major part of your workout schedule and you do it for longer periods of time, then investing in a pair of cycling shoes is definitely worth it. These shoes have stiff soles which clip in with the pedals and give an effective reading experience for longer times.
Do cycling shoes fit any pedals?
Some of the shoes are designed for both two-bolt and three bold pedals, but some are specially designed for one or the other. You need to check out that feature in the product description to make sure the shoes you are buying are compatible with your pedals and cleats.
Conclusion
After going through this article, your search for a non-cycling shoe that you can wear for cycling must have ended. Even if it's not, you must be much more definite about what you need and want to buy. The list mentioned in this article covers all the variants of non-cycling shoes that are suitable for your rides as well, including men's and women's. The top three picks are :
Under Armour Charged Assert 8 because it's lightweight, flexible, and comfortable. ASICS Men's Gel-Venture 7 because of its high cushioning and durability. Vans Atwood Trainers because it offers incredible abrasion resistance and has spd cleats fitting.
I have tried to include shoes for different sports, from trainers to hiking shoes, so you find one fitted to your demand. The buying included in this article will guarantee you have a smooth shopping experience, without any mistake or regret later on.
Take a look at these shoes also: