Every good shoe deserves the best shoe waterproofer to help protect it from damages. The damages may occur from little drops of water, dirt, snowflakes, or liquids in the workplace. You may not know it, but they may drop on your shoes unexpectedly and leave a lasting effect.
Waterproofers will help to protect your shoes from the possible damages that may occur during this process. They will also help your shoe to last longer and maintain quality.
"Good shoes take you good places." It's important to take care of your shoes and keep them sparkling for a long time. (We never know where our shoes may take us. Right?) Therefore, a good maintenance culture is necessary.
So, the best maintenance tip for your shoes would be to get a good waterproofer spray for them.  This product will keep your shoes new always no matter what. However, you can't pick any brand you see in the market. Look out for the following factors first.
Best Waterproof Shoe Sprays
This article on best waterproofing spray for your shoes and boots got you covered. All the products we have here will safely meet your needs and demands. Say goodbye to shoe damages as these brands can offer all the components your footwear need to be shiny, durable, and functional.
1. Rust-Oleum Boot & Shoe Spray
The Rust-Oleum Boot and Shoe Spray is one product that stands out in the area of water-proofing for your shoes. Its super hydrophobic coating technique delivers an almost perfect waterproofing surface which stands the test of time.
It gives clear and invisible protection that shields your shoes from water or snow penetration. With Rust-Oleum, say goodbye to possible damages from dirt or water.
Rust-Oleum has a natural, odorless scent. It will leave no offensive smell on your shoe on application.
This product is very effective when it comes to protecting the surface of your shoes. Feel free to step in puddles after using it. Watch how the mud and water run off the surface of your shoes.
No need to worry about doing the activities you love, like going to the golf course. Don't even worry that, your shoes will pick up some muds or get wet.
Rust-Oleum wet Spray got you covered. Just head on to the golf course and play a couple of rounds in the dew or dirt. Your shoe will not be wet nor collect any stain.
Pros
Creates a moisture repellent barrier on shoes
Does not change the feel or look of the shoe
Keeps the shoes clean and dry for a long period
Cons
The product is a bit pricy
2. Atsko Silicon water Guard
View on Amazon
Worried about the rain and how this may affect your shoes? Are you thinking about how the snow can damage your pricy pair of designer shoes? You don't need to worry anymore.
The Atsko silicon guarantees to guard your shoes against all forms of damage due to water, dirt or snow. This product works just fine and last for months after one application.
This brand is fast growing and now competing with similar products in the industry because of its unique formula.
People who have used the product for different waterproofing purposes and conditions have testified of its wondrous performance. So, it comes recommended by real users and not spectators.
Pros
Has a long-lasting effect to withstand heavy usage
Leaves no smell
Cons
May take up to 24hours to dry
3. Nikwax Tx Direct Spray
View on Amazon
Choosing Nikwax Tx Direct Spray will help revive the degree of water repellency of your footwear. It has no adverse effect and increases the breathability of the material of your footwear.
The product delivers high-level performance. It has a unique water-based and biodegradable formula which contains no fluorocarbons or Voc's. The product stands out amongst others as a leading brand and has won the hearts of most of its user.
Nikwax is highly recommended for use on leather shoes, suede shoes, and Nubuck. No need to worry about spray fumes as this product does not produce spray fumes when you apply on the shoe surface.
Therefore, it is also safe for asthmatic people. They can use the product without fear of endangering themselves with fumes from the spray.
The product according to reviews has no discoloration effect. It does not change the natural color of your shoes on application. It leaves your shoes shiny and in its original form.
Pros
It retains no lingering smell after spraying
There is no discoloration effect
Cons
The seals are not tight enough. It drops off the liquid when you spray it
4. Apple Brand Garde Stain water Repellent
View on Amazon
This is an invisible one-step Applicator that comes in an easy spray can. It has good waterproof and oil resisting capacity. Apple Brand Grand waterproofing spray can be used on any type of shoe material. It a durable product, one application can last up to several months.
This product has been tested tried and proven to be an effective shoe protectant. It is a fine product you can use as a protective guard for your shoes and boots in all conditions.
Apple Brand is an invisible boot waterproofing spray that keeps your shoe in its natural form for a longer period.
Pros
Forms invisible protective layers
Does not alter the color of your shoes
Manufactured in the USA
Cons
It changes the color of suede and can also change the texture too
5. Scotchgard Heavy Duty Water Shield
This product is not left out from amongst the best. This spray is great for outdoor wears such as sporting gears, canvas, and rough material surface.
It is also good for regular clothing's shoes. Many users of this product have given lots of good reviews about it.
It contains a silicon petroleum distillate and propane. It has no harmful chlorofluorocarbon. The product is best used on hard fabrics.
Pros
It delivers an even surface coverage
Water resistant coating holds very well and for long
Cons
It may take longer to dry properly
6. Kiwi Camp Dry Heavy-Duty waterproofer

This is an active protectant for your shoes and boots. It contains a unique silicone formula which delivers constant protection for a period of 3- 6 months.
It leaves the surface where you apply it free of notable maps or lines since it dissolves completely. Kiwi camp dry doesn't retain any odor after you spray it on your shoe.
This product has been known to give one of the best forms of protection for shoe surfaces over the years. Thousands of people now use it to protect their shoes from the effect of rain, snow, and dirt. Even construction workers also use kiwi camp dry for their work boots to keep them functional.
Expensive work/dress shoes are not left out in the category of shoes suitable for kiwi. This product helps to maintain the quality of designer shoes alike. It gives them the much-needed glow and maintains shoe color and material texture which helps them to last longer.
Pros
It has the best water resisting capacity amongst other products
There is no strong or offensive smell
It adds no form of discoloration to the surface of your shoe
Not only does it protect your shoes but it makes them easy to clean
Cons
It hardens the surface and wrinkles it
Important Things To Consider Before Choosing Shoe Waterproofer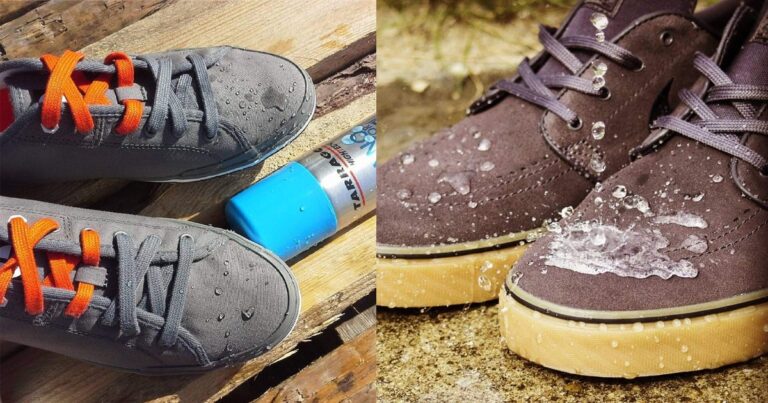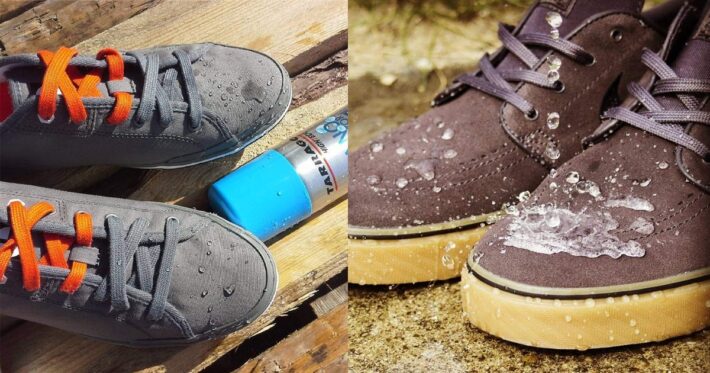 Water base resistance
The best waterproofing spray should be a good water repellent. You can never underestimate the level of damage water can cause to your lovely pair of shoes. This is why your choice of waterproofer should resist the penetration of water or prevent water from passing through it.
Are you a site worker?  If yes, the risk of water getting to your shoe surface is unavoidable. Well, this is a major problem considering what it does to the shoe over time. Water does a lot of damages to the sole and leather of the shoe. It is more likely to destroy the shoe quicker than it's due for a change. Therefore, you must first consider the water resistance capacity of the spray. This will effectively get rid of water damages.
Go for products with a higher water-base repellent for your shoes and boots to give it a longer life span.
Discoloration
Before choosing, consider products that will not affect or change the color of your shoes. Some Waterproofers contain chemical components. These contents may cause the color of shoes to change from what they are to something different.
However, there is no way to know how a product will affect the color of your shoe without carrying out an actual test. Some manufacturers of these products will claim that their products would not alter the natural color of your shoes. It is best to carry out a test to validate their claim.
Here is a simple technique to determine how a particular product will affect the color of your shoe.
–    Apply the selected product to a small area of the shoe, somewhere close to the sole of the shoe
–    Make sure that the area you selected for the test is not noticeable in case there is a change in color
–    Apply a very small quantity of the spray on that area
–     Allow it to dry very well before cleaning to know if the spray changed the color of your shoes
After conducting the test, if you notice a change in the color of your shoe, drop the product. However, if there is no change in the color of your shoe, you can buy and use the product.
Durability
This is one of the most important factors to look out for when choosing the best waterproofer for your shoes. It has to do with how long the product you are considering to buy for your shoes will last.
You must consider how enduring the product is and how well it will repel stains and dirt. Also, look out for products that you may not need to use very often. N.B Shoe water proofers should not be used daily.
Some products available in the market may resist damages caused by water and dirt easily. However, the real test comes when you have to put the shoes through wet conditions many times. So, use products that can withstand harsh conditions and yet stay intact protecting your shoe.
A good waterproofing spray/gel must maintain the shoe for a longer duration of time. If the product cannot protect the shoe, it won't be worth the trial.
Price and efficiency
Value for money comes first when choosing the best shoe waterproofer. It is therefore wise to measure the price of the product against the benefits and satisfaction you'll get from it.
We're pretty sure that no one is looking to throw his or her money on any worthless product. This is why products with great reviews are highly acceptable and considered the best.
A highly-priced product should be deserving of a recommendation, but that is not always the case. You can purchase an item of lesser price and get two times the benefit of a costlier product. Also, you can purchase a cheaper product and still derive no benefit. So, when considering the price of a product, also consider its efficiency and worthiness.
Healthy or Toxic
Some shoe water proofers may contain harmful chemicals. Users who are allergic to such chemicals in the waterproofers may be at risk unnecessarily. Therefore, when choosing your shoe spray, go for products with lesser spray fumes especially if you're asthmatic. Products with more spray fumes may be harmful to the user on continuous inhalation.
Consider the health implication of every waterproofer before picking it. If the product is safe for inhalation, then you will never experience any health challenge from using it.
Quantity
If you use your shoes & and Boots very often, then the quantity of the product is an important factor to consider. You would want to go for a more voluminous product that will last for a longer period. Voluminous product may be costly or cheap.  So, check the brands very well and choose a product that will be suitable for your budget.
Type of material
Shoes come in different shapes, sizes, and designs. They're also made from different types of materials which may include leather fabrics of different texture and quality. We also have suede of different class and nubuck leather of varying textures.
It is advisable to know the material of your shoe because it will affect your decision of a waterproofer brand.  It may also affect the quantity of the waterproofer you need. Don't forget; the quantity may vary from material to material and material texture alike.
Also, note that leather shoes will appear to be better with waterproof than suede or nubuck boot/shoes. Leather boots are almost natural water proofers while the suede fabric has a larger tendency to absorb water or dirt.
After considering these points according to your needs, check out the top 5 shoe waterproofers for your shoes and boots.
Advantages Of Using Waterproofing Shoe Spray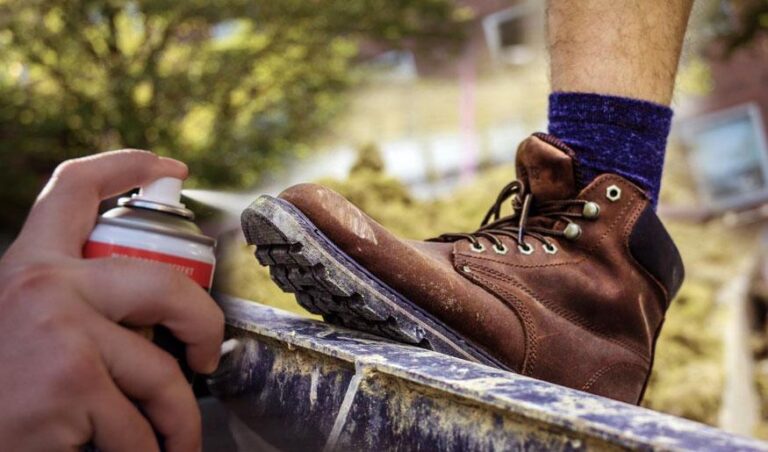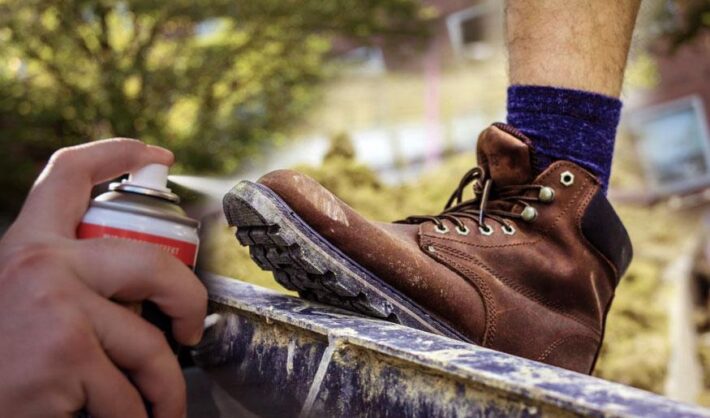 The effects from the snow, rain, dirt & stains may cause damages to your shoes & Boot. It is advisable to use water proofing sprays on your shoes and Boots to increase their durability
Below are some of the advantages derived from using Shoe waterproofers for your Footwear;
It increases the durability and life span of your shoes and boots- Every good waterproofing spray will guard against the weather and other factors that may affect the shoes ability to last long.
Water-proofing sprays with high ability to retain water, helps protect your shoes from the effects of destructive moist. If you prevent moist from ruining your shoes, it will serve you for a longer period. When you achieve this, you will save a bit, and won't need new pairs of shoes in a short time.
It helps prevent stain & dirt from ruining your shoes- Applying waterproofers on your shoes will help prevent it from picking dirt and stains on the way.
We all know that sporting activities like golfing, and working on a construction site increases the chances of accumulating dirt. As you work during the day or move on the field, you may not notice these things. However, a good water-proofing spray will help prevent the stains from getting deep into the material. This will allow you to clean your boots easily after all the outdoor activities.
It guards your shoes & boots against moist – When our shoes get wet, it dampens and results to moisture inside and on the surface of your shoe. Applying a water proofing spray to the shoe would be very beneficial. It will help to prevent the damages that results from moisture by making your shoe surface water-resistant.
How To Use Waterproofing Sprays On Your Shoe Fabrics
Before applying a waterproofing spray on your boots and shoes, you must first
Clean your shoe & Boot thoroughly to remove dirt, stain, and oil covering the pores of the material.
Allow your shoes & boots and other fabrics to dry naturally from the heat of the sun.
When your shoe is completely dry, then you can spray your waterproofer gently and evenly on the surface.
Hold the container between 6 to 8 inches from the surface you are spraying to allow even distribution of the spray.
Spray your shoes in an open, airy place or preferably outside to avoid inhaling too much of the substance.
After spraying your Water Proofer on your shoe, allow the product to dry for a few hours.
You may apply a second or third coating for a better result if you want.
But if your shoes are already wet, here are some tips to help you before applying your waterproofing spray;
Steps To Take When Your Shoes Are Already Wet
Let's assume you have not been informed of the possible ways of keeping your shoes from getting wet. Somehow, they are wet already but you need to spray them. Don't worry too much.  There are some simple steps you can take to get them dry again without doing any damage.
Use a dry cloth to clean the surface of your shoe. Make sure the cloth is clean and free from any dirt mark that could leave a stain on your shoe.
Place a dry cloth or a dry towel on the shoe. Leave the cloth or paper on the shoe for about an hour and then change to another dry cloth or paper. Depending on how damp your shoe is, you may need to do 3-10 changes.
Avoid placing your shoes near a heat source. It is better and safer to have them dry slowly and naturally. This will eliminate any chances of damaging the material in the process of drying. Heating too quickly has a high tendency of causing the leather to dry up and crack.  Note that it is impossible to fix dry and cracked leather so be careful to avoid such a situation.
When the shoe becomes dry, use wax to condition it or you can also use any mild balm. After which you should polish or spray the shoe with a waterproofer. You should always spray or polish the shoe after each use for the next few weeks. This will help the shoe get back to its original feel and state.
How Water Proofing Sprays Work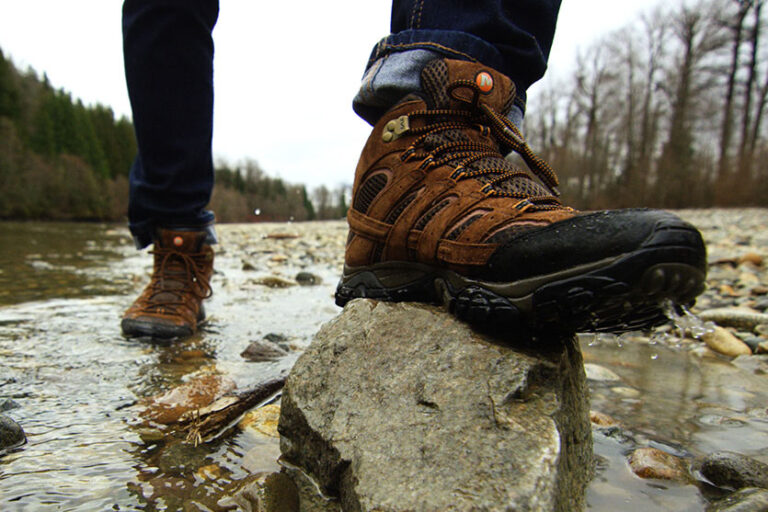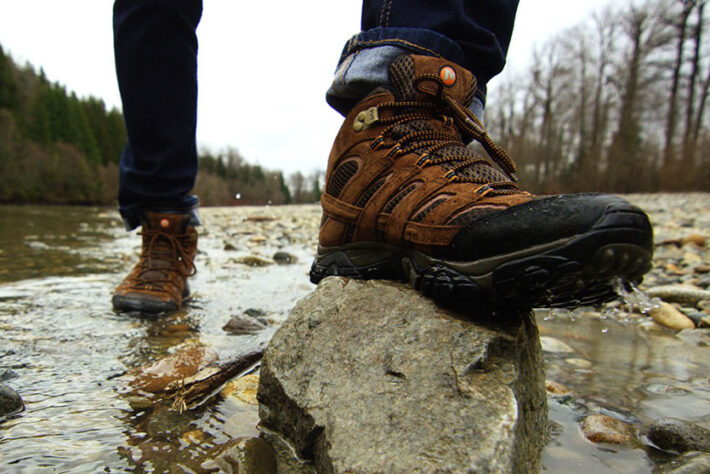 Waterproofers have an added hydrophobic solution that acts as a resistance to water and moisture. The presence of this substance will help prevent water from getting through the fabric of your shoe.
Every fabric has pores that allow it to be breathable. When applied to your fabric it seals the pores and allows the liquid to drip off your footwear.
Water Proofers will guard against anything that threatens to rid your shoe of its natural fabric form.
Why Should You Use Water Proofing Spray For Your Shoes & Boot?
Do you have expensive shoes? If you do, then you would want to preserve them for a long period and get the value for your money. The application of Waterproofing spray on your shoe will help you achieve that.
Also, using your shoes daily increases its chances of wearing out quickly. Shoes get worn out from continuous use. You need to shield your shoes against the damaging effect of working on a construction site, on snowflakes, moist areas, under the rain, and others.
Using Waterproofers may not totally protect your shoes from ruin. However, using the right Waterproofing spray for your shoe type will help prolong the lifespan
Reasons You Should Consider Waterproofing Your Shoes
Damages from water are expensive
Water can destroy the suppleness of your shoes. Leather may have the ability to withstand thousands of flakes. However, if you don't take care of it, it may suffer terribly. The animal skins used in making most leather wears contain fats and some proteins. These components may retain a level of moisture in them.
Leather also has unique strengths but is susceptible to cracking when dry if you use it carelessly. Harsh chemicals stains are hard to remove when they permeate leather wears. If you leave it unattended, it may not only discolor but result in a weaker top layer and cause serious damages to the finish.
Having a small layer of wax or polish and most of those harmless products will make a huge difference
Comfort
Nobody would be comfortable with moisture in their shoe. Moisture doesn't only make walking feel terrible, but also the health implication of fungus or possible bacteria is of consideration.
Walking or working in wet shoes gives one of the most uncomfortable experiences and should be avoided. Having your feet feel dry and comfortable while you work or play will help you to relax. As a result, you can easily concentrate on your work or task.
Tips On Using Water Proofing Spray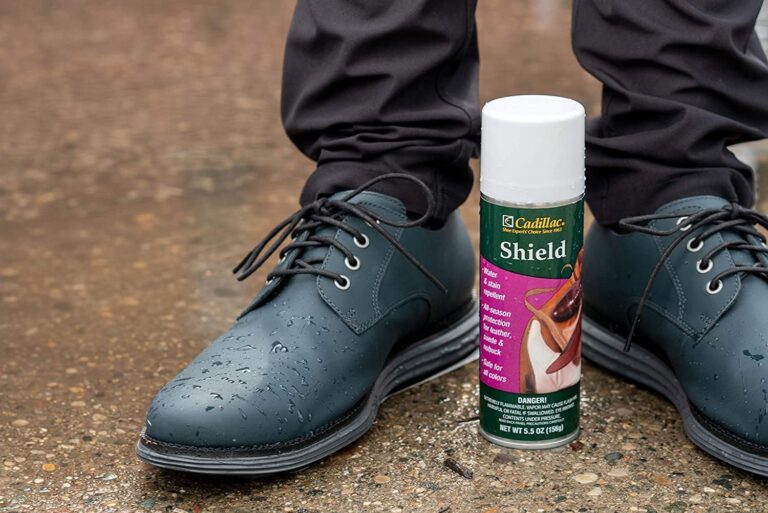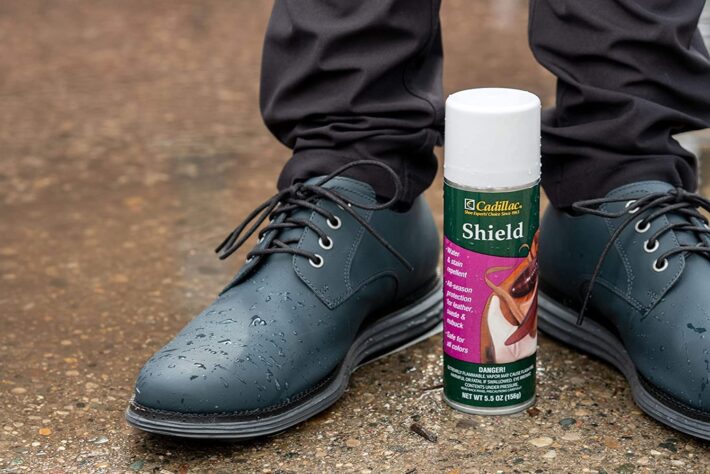 Know the type of material you intend to spray:
Different approaches are recommended for different material types. No matter the type of product you choose to use, make sure to read the instructions on the label carefully. Look out for information concerning the material type and follow the instructions.
You should test the spray on similar materials and colors before using them on the main shoe. This will show you the actual performance of the waterproofer on your target material.
Keep the surface you want to spray clean and in proper condition first:
Before you try out any spray on your shoe, it is better to take time and clean the surface with a clean cloth. Remove any dirt residues or dust from the surface before spraying. When you spray on an unclean surface, you seal in dirt which could have a negative effect later.
You could also use simple soaps to wash and clean the shoe surface before spraying. Also, remember to dry the surface properly before applying the spray to get the result you expect.
Make sure to remove stains from the surface before spraying:
If your shoe has some stains on the surface, it is best to remove such stains before applying the waterproofing. You can use a mixture of white vinegar diluted in water to remove stubborn salt stains.
Use a Brush
You can also get a soft brush for cleaning the surface of your shoes before spraying. You can remove grimes from the surface of your shoes easily with a brush. Dirt and mud are also removed when you use a brush to clean.
Be Careful with the seams
The area where the sole meets with the top of the shoe should receive special attention and care. This is the region where water may pass through to get to your shoes. Pay a little more attention to that area and apply more quantity of your spray for better coverage and protection.
Be gentle with each Spray
Do not deluge your shoe while using the spray. Read manufacturer's directions on how to apply and follow it closely. It is good to practice from about 8 inches away. This will give an even distribution of the spray on the shoe. Always allow drying properly before use. And always check the packets to confirm how often you are expected to re-spray your shoes.
Conclusion
In Conclusion, waterproofing spray is recommended for everyone. It has no restrictions on who can or cannot use it. If you wear shoes, then you should adopt measures to preserve them for as long as possible. It doesn't pay to spend hugely on a brand of expensive shoes and lose them shortly. Every investment we make should be worthwhile.
In this article, you have seen the best waterproofing sprays on the market. Each of the products here can help you guard and protect your shoes from ruin. These products offer durability and water repellence which are the basic needs for all footwear. The best part is that they are insanely affordable.
We also enumerated some of the important factors you should consider before choosing any brand. The best shoe waterproofer should have all the important attributes required for great performance. Any brand without these features is not worth your consideration.
Therefore, take your time to study these brands here and choose the one you prefer. Say goodbye to shoe damages going forward. Also, follow the additional information we dropped for a better experience.
Check also: