If you've set your eyes on these types of boots, you're probably wondering which is the best waterproof Wellington boot for men. Of course, if you're a lady, your question is which is the best waterproof Wellington boot for women? Well, it all depends on what purpose you're planning to use them for.
Although they've been around for more than two centuries, Wellington boots are still among the most popular type of footwear. People love them for their looks, but also for the fact they're comfy and very practical for wear. They're also warm, thus ideal for winter conditions. And the same is the fact why many people use them for outdoor purposes.
Which boot model is the best for you depends on your preferences, as well as on the purposes for which you're planning to use these boots for. Still, there are a couple of models that can be used for all kinds of purposes, while also looking lovely.
We've picked out 8 such boot models, 4 of which are for ladies and 4 of which are men's boots. So, with no further ado, here are our best picks!
Top Picks Waterproof Boots for Men
To save you the trouble of going through hundreds of different boot offers on Amazon, we've decided to take care of the boring work for you. Instead of wasting your precious time, why not focus only on the best boots? And here are some boots we believe to be the best waterproof Wellington boots for men on today's market!
1. Muck Boot Arctic Sport Rubber High-Performance Men's Winter Boot
Even though these are not the cheapest of shoes, the Muck Boot is more than sure to be worth it. Taking into consideration what they offer as quality and features, you'll find that the price has a reasonable price.
These winter boots are thoroughly waterproof, making them perfect for snow. Also, for increased comfort and support, the midsole is molded, so you'd have no problem walking for long distances.
You will no longer dread long walks in the snow! Why? Because it has a fleece lining, which is not only soft but it also provides lots of warmth during the cold season. It has two millimeters of thermal foam under the footbed, making its comfort rates to go from -40 degrees Fahrenheit to +40 degrees Fahrenheit (or -40 to 4 degrees Celsius).
Another cool thing is that you no longer have to worry about slipping or falling on ice. The Muck Boot has the outsole lines with molded lungs, in order to increase the traction of the boot on land that is uneven or slippery. And if you're worried about the shock your feet could suffer from, or excessive heat, you should know that the 5 millimeters of neoprene will help you here.
Besides aiding with the boot being waterproof, it also helps with the absorption of shock and even has capabilities to absorb heat. Also, to increase comfort, it will mold to the shape of your foot and you won't have to go through the pain of having blisters or ill-fitting shoes.
Pros
Shock-absorbent sole
Suitable for very low temperatures
Comfortable for long-distance walks
Very stable, thus suitable for walking over slippery surfaces
Cons
Not suitable for warm summer/spring/autumn days
2. Irish Setter Men's 83907 Wellington Work Boot
Sure, the price tag seems to be a little high on this one, these boots are designed to protect you in difficult work conditions, so they are worth every penny for the support they provide.
The sole and the heel of the work boot are made so that that can protect you from an electrical hazard, meeting the ASTM standard. Additionally, the boot has an UltraDry structure, meaning that it has a combination of lining that manages wetness with components that are waterproof, That means you will benefit from complete comfort, that lasts a long time and is completely dry.
Just because these are boots designed for work, that doesn't mean that they should be stylish. They come in a classic look and are made of certified leather, with rubber soles. So you don't have to worry about not looking good in those long shifts at work.
They are also customizable. If you want to, you can remove the polyurethane cushioning for the insole and replace it with an orthotic one, if you need to. For increased support for your midfoot, the boot has a non-metallic shank.
Additionally, the outsole made of rubber has a deep-cleat design, in order to give you more stability and security to get you through the day. The outsole is also heat-resistant, to protect you in any conditions.
Pros
Very good at waterproofing
Provide great support
Comfortable and stable
Heat-resistant sole makes it an ideal work boot
Cons
If the price were slightly lower, this would've been the best Wellington boot on the market
3. Thorogood Men's Gen-Flex3 11″ Waterproof Composite Safety Toe Boot
View on Amazon
If you frown a little bit at the price tag, you should know that it is a small price to pay for a pair of tanks for your feet! These safety boots are perfectly designed to protect your feet from anything from water to oil and chemicals. The safety toe only adds more security to the already protected boot.
The sole of the boot is designed in such a way that no matter how slippery the ground you walk on is, you'll feel no difference. You can now walk confidently on stairs or even go through oil and still place your steps with incredible ease.
Now, even if these boots are designed for safety and protection, that doesn't mean they can't be stylish. They're made of brown-reddish leather with rubber soles and bring style to safety measures.
The insole has multiple layers of cushions, in order to protect you from any shock your feet might suffer from. Also, these boots boast to be really lightweight and quite flexible, two qualities that are really important in difficult work conditions.
As reported by faithful customers, they are really easy to break into, something that is unusual with newly bought boots. So these boots are really good if you want to skip the blisters and uncomfortable phase of buying new safety boots.
Pros
Incredibly rugged and safe
Composite safety toe
Stable on slippery surfaces
Lightweight and comfy to wear
Easy to break into
Cons
Not the cheapest option on the market
4. Muck Boot Chore Classic Men's Rubber Work Boot
View on Amazon
These boots are great for any type of outdoor work, landscaping or just plain garden work. With these work boots, you're sure to maintain your feet comfortable and completely dry for the entire duration that you're wearing them for.
They come with 5 millimeters of neoprene, which aids the feeling of comfort and the flexibility of the boot. Additionally, it also guarantees great waterproofing qualities, as well as shock absorbance and even the retention of heat.
In order to avoid that uncomfortable period of blisters and pain while breaking in the shoes, these rubber work boots will adjust to the shape of your feet from the start. Even more, due to the Airmesh lining that is highly breathable, you will no longer have to worry about perspiration or any kind of humidity inside your boots.
These boots will maintain their comfort features during temperatures ranging from 65 degrees Fahrenheit, or 18 degrees Celsius, and up.
Apart from being waterproof, these rubber work boots are really easy to clean due to the high-grade overlay of rubber they have, as well as the durable and also easy to clean outsole. So you don't have to worry about being all day in the mud, the dirt will come right off!
To ensure your comfort and protection, these boots come with a steel shank to increase the offered support. Even more, they have triple toe and even quadruple reinforcements out of rubber for the heel – all for your comfort and security.
Pros
Really good at keeping the moisture out
Suitable for cold temperatures
Easy to maintain
Very safe thanks to the triple-toe feature and the shank
Highly breathable
Cons
None – you're bound to be impressed with these boots!
Top Picks Waterproof Boots for Women
Lady's Wellington boots are meant to be comfortable, rugged, and beautiful on the eye. Finding such a pair of boots could be challenging. But, you don't have to worry because you have us to guide you. We've picked 5 models of waterproof Wellington boots for women that we're sure you're going to love. So, here they are!
1. UGG Women's Shaye Rain Boot
The first thing you might notice about these boots is the price. They're a bargain! But they're not only a pretty price tag. The outside material is purely synthetic, with a rubber sole, while the inside is lined with dyed sheep wool that is imported from Australia.
Another thing these rain boots do differently is that instead of having to pull them up in order to put them on, they have two zippers, a medial one and a lateral one, in order to make them easier to put on and take off.
Comfort is one of the words that define this pair of rain boots. They have great arch support, making them perfect for long-time wearing. Also, the fleece lined insides will keep your feet warm and dry during the rainy days.
However, you do not have to compromise style for comfort with these boots. They go well with anything that you wear, both due to their design but also their neutral color. So you can keep your feet warm and dry while also looking great every second!
These UGG Rain Boots are not only a pretty pair of boots, but they're also really durable! According to the customers' reviews, they are perfect to be worn for long periods of time and also, they can be dragged through almost anything, from rain to mud and snow, and they will still look like they did when you first bought them.
Pros
Perfect for rainy days
Great arch support
Very comfy to wear
Rugged and durable
Very attractive price
2. Spylovebuy Karlie Flat Festival Wellies Wellington Knee High Rain Boots
Have you ever been to a music festival and then…it suddenly rained? Was your experience ruined? Well, that's probably because you didn't have these knee-high rain boots! And… they come at a price that helps you afford them even after purchasing those expensive festival tickets!
They come in a large variety of colors and patterns, all of them very playful and festival-like. However, they aren't only pretty, but also practical. They are made from very durable and excellent quality waterproof rubber, equipped with large grip soles to improve the fit on your feet. Additionally, the fact that they are handmade means that the attention to details is great and the quality is superior.
The opening is large to fit even the largest of calves, so you don't have to worry about size differences and breaking in problems. They are very reliable and take a short time to break in, so no worries about blisters and pain at the beginning of wearing them.
They bring comfort up to a new level, as they can be worn for a full day without feeling any fatigue. Also, they can stand up to any kind of weather, from rain, to snow or muddy terrain, protecting your feet from wetness successfully.
Pros
Very reasonably priced
Come in many different colors
Lightweight and comfortable
Cons
Might not be the best possible choice for winter conditions
3. DKSUKO Rain Boots for Women Waterproof Elastic Wellington Boots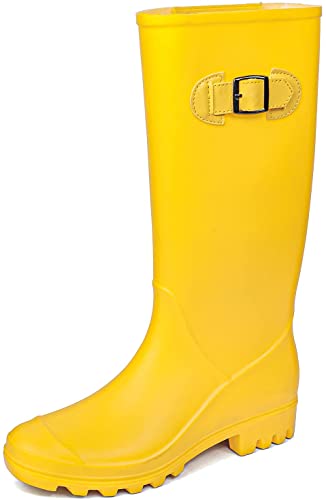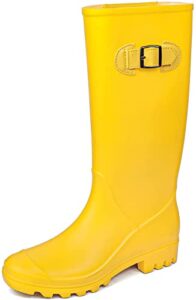 Everything is great about these elastic rubber boots! From the price to the design and build quality, we're sure these guns will impress you. They come in different colors, so you can be sure you will find a pair perfect for you.
Their design is great. The sole is designed to protect you from slipping, no matter the surface, having a super grip. You can even run or dance in the rain or snow, without having to worry about slipping! Additionally, as you would expect, they are waterproof and can protect you in any kind of weather, be it rain or snow. Even more, the resistant exterior is now dirt-proof, meaning that it will be incredibly easy to clean the dirt off after a full day of wearing them.
They are suitable not only for rainy or snowy days but can be worn to any occasion, from shopping to garden work, and you will still look fashionable and stylish in them.
As for their comfort, they are made of vulcanized natural rubber, to improve the waterproof protection and thermal insulation of these rubber boots. Also, since the calves are made from natural rubber of high quality, it will not crack when it stretches to fit your feet in.
Pros
Attractive price tag
Slip-resistant sole
Lightweight, flexible, and comfortable
Different colors to choose from
Easy to break into
Cons
Not too warm, which can pose a problem during winter
4. Le Chameau Footwear Women's Vierzon Jersey Boot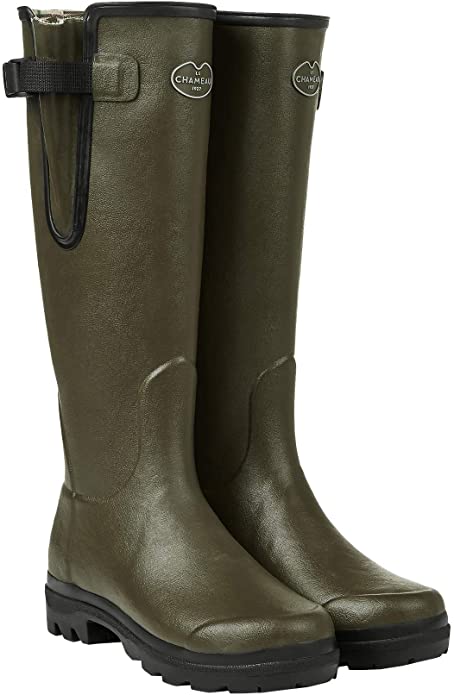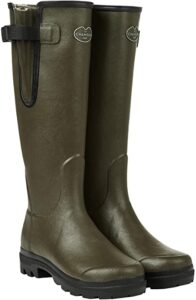 These rubber boots perfectly combine protection with style! The calf is shaped ergonomically, the rubber they are made of is flexible and incredibly soft and the waterproof protection is quite reliable. So no matter when you wear them, you will look incredible and be dry and comfortable for the longest time.
These iconic country rubber boots are worth every penny! They and handcrafted, made from natural rubber combined with polycotton. The tartan lining makes them perfect to wear even in warmer seasons, without having to worry about moisture or excessive heat.
They are customizable since the waterproof gusset is highly adjustable with a snap-fastening buckle – this is to ensure that you have a comfortable fit at all times for your leg. They are perfect for long time wearing since they have the outsole equipped with a dual-density grip that absorbs shock that can also prevent feeling tired after walking a lot.
The material is resistant to abrasion and these rubber boots are perfect for any kind of terrain you decide to walk on.
These boots are suitable for long term use and are guaranteed, based on the customers' reviews, they can be used for many years until they break down. Also, they are quite easy to break into, meaning that you won't have to go through that uncomfortable period of blisters and pain before adjusting to your new pair of boots.
Pros
A very stylish boot
Made of sturdy and durable materials
Great at keeping moisture out
Breathable and comfortable to keep on your feet
Non-slippery sole
Cons
Its price could've been slightly lower
Tips & Tricks for Finding Best Wellington Boot for You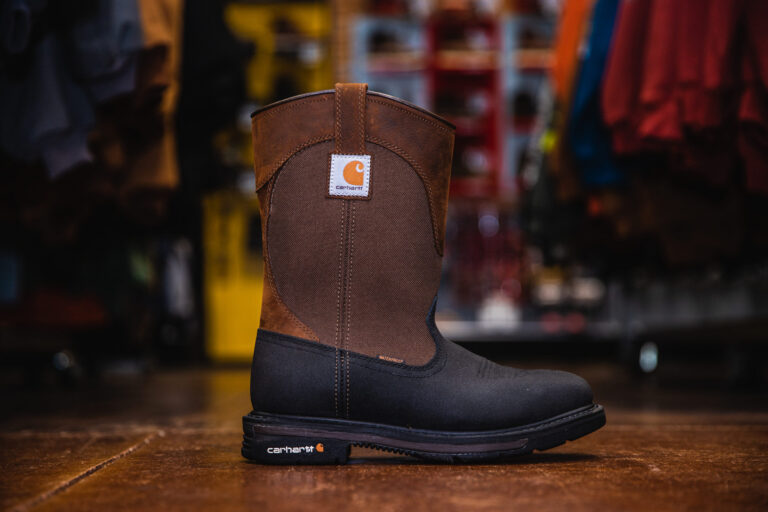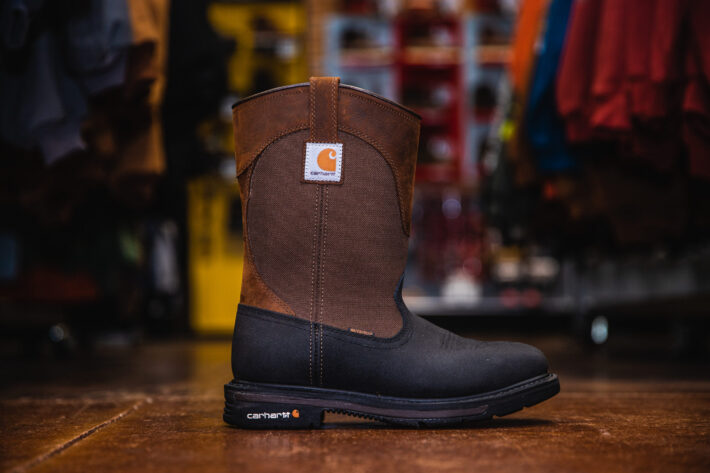 The first thing you need to remember when buying a new pair of Wellies is that it's not just about the size of your feet. You also need to measure your calves. The most frequent reason why people end up getting uncomfortable Wellington boots is that they forget to measure their calf size beforehand. Only the Wellies that fit you correctly are going to be your faithful servants for a long time.
The next thing to take into consideration is the purpose for which you're going to use them. If you want a pair of Wellies just in order to enrich your shoe collection, going for a trendy model should be your objective. However, if you need them for outdoor activities, the shoes you get need to be both comfortable and warm, not to mention that they need to do a really good job when it comes to keeping your feet dry.
Speaking of waterproofing, all the Wellies we reviewed before are pretty good when it comes to keeping the dampness away from your feet. However, when it comes to shoes like these, it's not just about being able to keep the moisture out of the shoe; it's also about allowing your feet to breathe.
If they're not very breathable, the warmth of your feet is going to create a sort of sauna atmosphere inside the boots. And this can happen with some pretty quality Wellies as well. If you're wondering how's that possible, it's because there are some models of Wellington boots meant for winter conditions. If you wear them during hot days, they're going to make your feet extremely hot. All of this means that you need to decide whether you're need Wellies for winter or summer.
And finally, the last factor you need to consider is the price tag. Because Wellington boots have a sort of a cult status among fashionistas, some of these boots can be pretty pricey. In most cases, it's got to do with the brand. If they're made by a fashion company famous for extravagant footwear, the Wellies are bound to be expensive. But, a high price doesn't necessarily mean them better than the rest.
Best Brands of Wellington Boots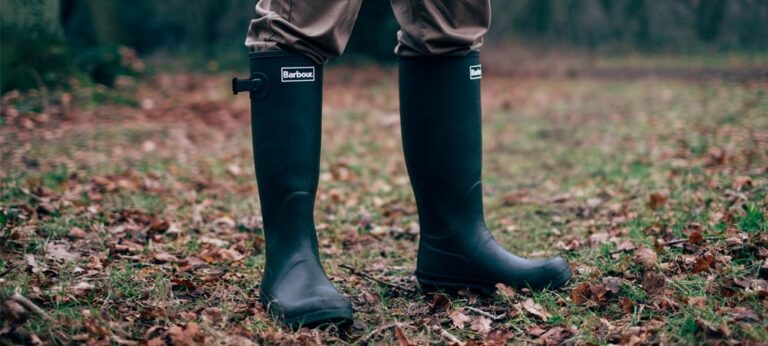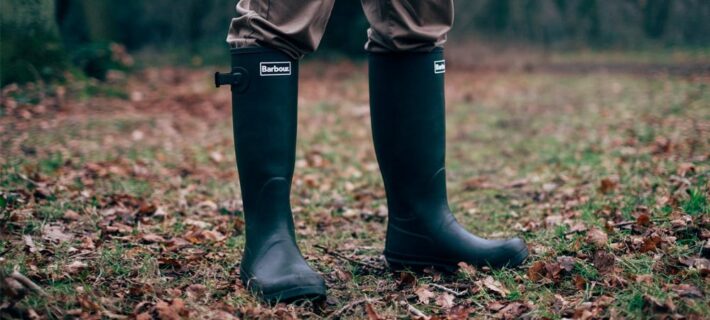 There are some brands of Wellington boots famous for the quality and durability of their products. And some of their models are pretty beautiful on the eye. Finally, these brands also have some reasonably priced products in their collection. So, let's talk about those companies!
Muck Boot – The brand was created twenty years ago by the people from the Honeywell Safety Products Company. The reason why they decided to launch a new brand is to create footwear that's both fashionable and suitable to wear in all weather conditions. The result is that two decades later, Muck is a leader in manufacturing Wellington boots. Their products are waterproof, comfortable to wear, very sturdy and durable, and even really beautifully designed.
Le Chameau – This brand is famous for high-end products, which makes it a favorite among fashion aficionados. Their Wellington boots are a bit pricey, but there's more than one reason for that. They're not only beautiful and trendy, but they're also built to last. Le Chameau uses only the best possible materials to construct each model of Wellington boots you can see in this company's offer.
Hunter – When it comes to Wellington boots, one of the most famous brands that make this type of shoe is Hunter. The company has been around for a long time and has been a favorite brand of many celebs. Unfortunately, the price of their boots is pretty high. If you want to buy similar Wellies but at a more reasonable price, we say go and take a look at what brands like Irish Setter and Thorogood have in their offers.
Short History of the Wellington Boot
The history of the boot goes all the way back to the 1700s. At that time, one of the preferred riding boots of the English aristocracy was the so-called Hessian boot. The problem with those boots was that they weren't too comfortable nor did they do well in rainy weather.
That's why Duke of Wellington decided to have them modified. Based on his instructions, the shoemakers were able to create a new leather boot that will instantly become very popular.
Over the years, the boot got even more improved and shoemakers started using other materials apart from leather. Rubber became their preferred choice. Although over the course of two centuries, the style of the boot changed a lot, the name did stick. Even today, these sorts of boots are known as Wellingtons or Wellies, in honor of Arthur Wellesley, who was the 1st Duke of Wellington.
So, Are Waterproof Wellies Right for You?
This is a classic type of shoe, which will never get out of fashion. But, it's not just about tradition; it's also about the level of comfort and support they provide. Not to mention that they're superb at keeping your feet dry. And because of all these things, you can use Wellies for a number of different purposes.
Of course, this is only true if you get yourself a good pair of waterproof Wellington boots. The good news is that finding them is not that difficult. All you got to do is pick one of the models from our list of best waterproof Wellington boots for men (if you're a gentleman) or from the list of top-rated waterproof Wellies for women (if you're a lady). Choose one of these and we guarantee you won't get disappointed!
Check this also: