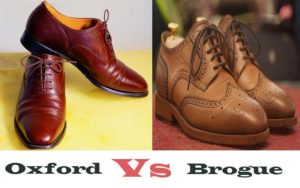 It's great to have a collection of shoes to pair with your outfits. But it's a lot greater if you know how to match your outfits and shoes properly. I'm pretty sure that your collection of shoes has an Oxford and a Brogue. I mean, every man has, at least, one of these pairs of shoes.
But, if you do not have one, and you intend to buy any of these pairs, it can be a bit confusing to distinguish between them. Both shoes have lacings and they both look formal. There is a tendency to pick one in place of the other.
I'll be examining both pairs of shoes, and how you can easily spot an Oxford vs a Brogue. This knowledge will enable you to know how to pick and pair them with your outfits for different occasions.
It's great that we now have female Oxford and Brogue shoes. So, ladies, you're welcome to read through this article.
What is the Difference between Oxfords and Brogues?
Oxfords are dress shoes with plain face and closed lacing system. Brogues, on the other hand, are shoes with perforated patterns on their bodies
Oxford shoes are dress shoes. They have a closed lacing system. This means that the eyelet tabs for the shoelace are pierced under the vamp, making the top part of the vamp closely knit together.
Because the eyelet tabs are pierced under the vamp, this gives Oxfords a slim fitting.
Traditionally, Oxfords have smooth leather, elongated toes, plain faces, and bodies, with hardly any designs. They also have low heels with exposed ankles, and curved toes.
However, they have evolved to take forms different from their traditional sleek, smooth, leather design.
Some sneakers are now styled as oxfords; some female shoes are also styled as Oxfords. There is also the suede Oxfords, canvas Oxfords, nylon Oxfords, and ankle boots styled Oxfords.
These casual footwears are Oxfords because they have the signature closed lacing that only an Oxford shoe possesses.
Brogues are designed like Oxfords. However, they have perforated patterns on their bodies. These perforated patterns distinguish them from the plane face Oxford. The perforated patterns are found on the upper body of the shoes.
So, in a sense, brogues are perforated Oxfords. Interestingly, they have a common heritage, as they both emanated from Scotland and Ireland. But the shoes were made with different aims.
It's interesting to note that even though Brogues may have closed lacing, it's very common to find Brogues with open lacing. In other words, Brogues can also come in the Derby style.
To always be sure that it is a Brogue, look out for the perforations on the body. As I said earlier, these perforated patterns are the basic distinguishing feature of a brogue from Oxfords and any other shoes.
I have basically outlined the difference in their design. This will enable you to recognize an Oxford from a Brogue.
At this point, I believe that you pretty much understand that Oxfords are plain with no design on their bodies.
However, some complexity arises with Brogues. Their complexity arises from the perforated patterns. You may not easily appreciate the distinction in the perforated patterns unless your attention is drawn to it.
It's important to distinguish them because this distinction is the factor that makes one type of Brogue more suitable for a formal occasion than the other.
So, I think it will be nice for you to have a little bit of knowledge about the different types of Brogues. This will help you understand how to pick and pair them.
Types of Brogue

Full Brogues
These Brogues have a lot of perforations around the upper body of the shoe, especially at the toe cap.
They also have wing-like extensions close to the vamp. The extensions take the shape of a 'W' or an 'M', depending on the view from which you are looking at it.
The extensions run across the mid-length of the shoes to both sides of the shoe. In some full brogue shoes, the length of the wings extends to the back of the shoe.
Because the perforations or details on the body are too busy, they are more suitable for less formal occasions.
Half Brogues
The perforations on the upper body of the shoe are lesser than that of the full brogue. However, like the full brogue, they also have fine perforation patterns on the toe cap.
They do not have a 'W' or 'M' wing extensions like the full brogue.
They have a single line extension that runs close to the mid-length of the shoe. The extension has little perforations.
They also have a single line perforated extension on the quarters of the shoes.
They are suitable for formal occasions.
Quarter Brogues
They are similar to half brogues.
Unlike half brogues and full brogues, quarter brogues do not have perforated designs on their toe cap. Their toe caps are pretty plain like that of Oxfords.
Close laced quarter brogues are very similar to Oxfords, and they are suitable for formal occasions.
So, an Oxford vs Brogue for a very formal occasion?
It's popular knowledge that plain sleek shoes look really great on suits and tuxedos.
For very formal occasions like cocktails, dinner parties, award parties, bow-tie-white-and-black occasions, always pair your suits, tuxedo and even your tailcoat with an Oxford, especially patent Oxfords.
It is also important to note that slimmer oxfords are a lot smarter to give you that sleek look.
How do you pair your Oxfords or Brogues for Semi-Formal or Casual occasions?
For formal occasions like the office,
You can pair your Oxford or quarter Brogue with your smart business suit, to look clean and sharp.
Your cap toe Oxford is great with your office suit.
Your half or quarter Brogue (close or open lacing) is also great with your office suit.
For less formal occasions or look:
Tan Oxford or any kind of Brogue will look great on your chinos and denim trousers
You can also pair your dressy jeans with an Oxford or close laced Brogue.
To achieve a great look, top this with a button up shirt or a pair of blazers.
You can also nicely pair your suedes Oxford with a pair of denim shorts.
For the Female Oxfords and Brogues  
Ankle boot Oxford or Brogue is great on a sweater and jeans.
Female Oxfords or Brogues can also be paired with a not too hugging tank top/t-shirt with jeans, or ankle fitting leggings/pants.
A shirt dress will also be great on your Oxford and Brogue ankle boots.
You can also achieve a breezy cute look with your Oxford or Brogues by pairing them with a short casual jumpsuit, or short loosely fitted dress.
You can also pair your suede oxfords with your denim shorts
Any Particular Choice of Colors when pairing Oxfords or Brogues with an Outfit?
Leather Oxfords and Brogues come in black, brown, cognac, oxblood and tan
Leather Brogues also come in pairs that have two combined colors.
Suedes Oxfords come in a variety of colors
When pairing, ensure that the color of your Oxfords or Brogues matches the color of your outfit. To be safe, you can always go for black, brown, and tan.
Do not forget to wear matching pair socks with your Oxford or Brogue.
Is there a particular Reason for the Differences between Oxfords vs Brogues?
I'll say yes. The history behind Brogues is the major source for the difference in these designs of shoes.
The perforations on the Brogues were initially not for decorative purposes; they served an active purpose.
The perforations were made to allow water, which sipped into the shoe, easily drain out of the shoe.
Because of this, Brogues were mostly worn for outdoor purposes, especially when walking on wet terrains. They were not made for formal occasions.
Are Oxfords different from Derby shoes?
Yes. Any shoe with a close lacing system belongs to the Oxford family. Derby shoes, on the other hand, have an open lacing system. So, an Oxford cannot be a Derby, and vice versa.
Are Brogues different from Derby Shoes?
It depends. A Brogue with an open lacing system belongs to the Derby family, while a Brogue with a closed lacing system belongs to the Oxford family.
So, you have a Derby-Brogue and an Oxford-Brogue. The perforated patterns are what makes a shoe a Brogue.
Are Oxfords the Top-Rated Men's Dress Shoes?
Yes. The leather, the style, the fit, the heel, the sole, the shape of the toe, the comfort, and general sleekness of the Oxfords, makes it the top-rated men's dress shoes. Any man will definitely have an Oxford or must have had an Oxford.
Resources:
https://en.wikipedia.org/wiki/Brogue_shoe