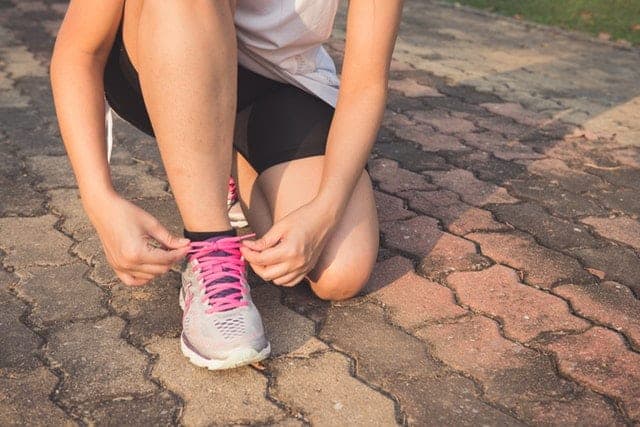 Making use of the wrong type of shoes for any activity can indeed be an injurious and counterproductive move. This is because it may lead to injuries and soreness. However, it should be noted that running a few miles per time using Basketball shoes may not lead to noticeable damages.
However, making it a continuous activity may be a counter-productive venture as it will slow you down while adversely affecting your form and leading to injury
Therefore, is it good running in basketball shoes?
Yes, it is good running in Basketball shoes. It should, however, be noted that due to the design of basketball shoes, there may be a few limitations when compared with running shoes. Unlike Basketball that usually requires some all-round movement, running is usually in one direction which is why running shoes are made to provide increased stability and cushioning for continuous runs.
What Exactly Differentiates Running Shoes From Basketball Shoes?
Basketball and running shoes are indeed quite different from each other. Running shoes, for instance, are created in such a way as to help with foot movement and gait. Basketball shoes, on the other hand, are however designed to handle multidirectional movements like jumping, running and sideward movements.
Making the right choice of shoes for your sport of choice can certainly go a long way in preventing injuries
Basketball Shoes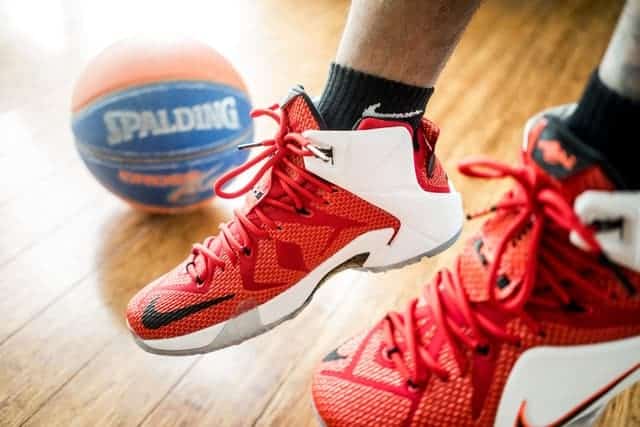 Basketball shoes are uniquely designed to give a reasonable measure of ankle stability during quick changes in direction and jumps.
The cushioning found in basketball shoes tend to be concentrated in the mid-foot, this means that the weight of the sole is usually quite lighter thus giving you room for maneuvers.
In addition to this is the fact that basketball shoes usually possess certain features on the outer sole which helps in the maintenance of overall stability as well as traction while in the game.
Running shoes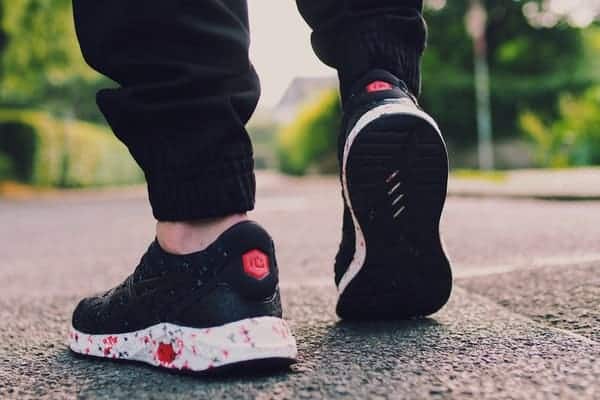 Running shoes are specifically made to move forward. However, you should know that some of the models help with stability on your foot to help you prevent over heightening or flattening of your foot's arch.
Furthermore, running shoes are usually quite light which means you will need little efforts to lift your body in a stride.
Your body withstands a shock that is equivalent to 2.5 times the weight of your body when running. By making use of running shoes that have to cushion on both the forefoot and heel are designed to deal with this. Also, running shoes are quite flexible and designed in such a way as to move along with your feet.
Running With Basketball Shoes
Running using basketball shoes is one of the reasons it was made. However, the difference with running shoes is the fact that you only run around the court wearing them, which means you don't spend all your time running forward.
Basketball shoes are not created with the stability and cushioning which running shoes provide. For instance, the outer sole of basketball shoes is designed in such a way as to give you optical traction on Asphalt or wood floors.
Because basketball shoes give you stability while moving quickly, they do not usually provide as much flexibility as running shoes which may have a profound effect on your gait.
Types Of Basketball And Running Shoes
Running shoes Types
These types of shoes are basically of three distinct types namely: stability, motion control and cushioning.
Motion control running shoes are made in such a way as to lower overpronation.  They are good for runners whose feet roll inward rather excessively.
On the other hand, stability running shoes are designed to mildly aid pronation. They tend to provide extra stability to the rear foot in addition to forefoot flexibility and medial support.
Cushioned shoes are on the other hand designed for runners who possess high arches.
They are designed to give you added cushioning and protection to prevent injuries.
Basketball shoes
The criteria for categorizing basketball shoes are their cut. For instance, High-top cuts are designed to give extra protection for your ankles while mid or quarter-cut shoes give you less cover instead of giving you greater breathability and movement.
You should, however, be aware that lower cut shoes tend to increase the possibility of suffering ankle sprains.
While basketball shoes may give our covering for your ankles, running shoes tend to extend below your ankle and are quite lightweight with great flexibility when compared with basketball shoes.
What Is The Traction Like For Both?
Basketball and running shoes come with different tread patterns. For instance, the herringbone tread pattern is best suited for basketball shoes because traction is vital for running, moving and cutting sideways.
It is not advisable to use running shoes in playing basketball because the traction can be quite excessive and may get your feet locked during turns thus causing injuries.
Tips And Tricks To Help You Get The Best Basketball Shoe Deals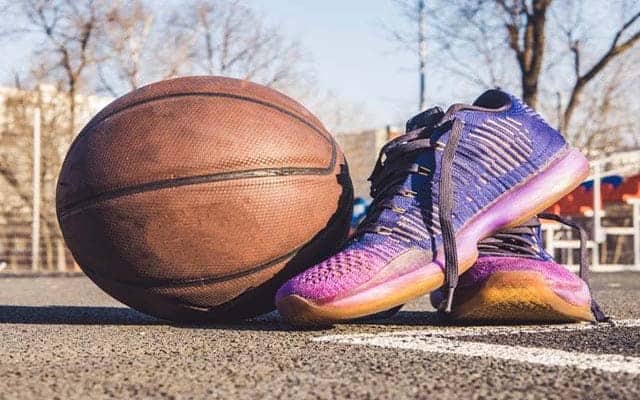 Having settled the issue of running in Basketball shoes, it is important we show you how you can get for yourself a good pair of basketball shoes. As far as getting the ideal shoes are concerned, different people have different views.
However, most basketballers will agree with the fact that certain features make a great shoe.
It is worthy of note that there are quite several models out there in the market today which means that you may make a bad choice if you are not careful. Here are a few tips to help you out:
Account for your position
Certain products can be used for all positions on the basketball court. If you, however, seek to maximize your performance, there are rules you ought to be privy of.  There are four groups of players on the basketball court if you do not know already.
Slasher (shooting guard and strong forward): the players under this category have the unique reputation of being among the best on the court. This simply implies that they tend to move around a whole lot. Slashers, therefore, require shoes that should offer them adequate protection
Power (Strong forward and power forward): these are basketballers that are big, powerful and fast. They are reputed for their unique ability to muscle their way through opponents while going for the basket.
Finesse (Point Guard and shooting guard): these basketballers are known to hold the ball while moving it up the court. They usually require a high level of cushioning.
Post (strong center and forward): basketballers in this category are known to handle rebounds dunks and blocks using their impressive heights. This is why the need shoes that help in providing support.
Size matters
Regardless of whether you intend buying the shoes for running or playing basketball, it is important that you have a fair idea of what your ideal size is. Most people who are new to sports tend to make the mistake of choosing the wrong size when buying.
Simply remember to leave at most ½ and inch of allowance when purchasing your shoe.
Take note of ankle protection
You will need to be very careful about ankle roll when involved in sports as this leads to injuries.  This is why the first thing you should be concerned about when selecting is to assess the ankle protection. Don't go for models that look like may fail your ankles when moving quickly either on the court or on track.
Be mindful of the brand
There are dozens of basketball shoe manufacturers these days, however, even at this; some are more outstanding than others. It, therefore, suffices to say that you should go for brands that have a proven track record as well as positive customer reviews to back it up.
How Can You Run Safely?
As with every other activity in life, safety is indeed a top priority that must be considered at all times. Here are a few tips you should never forget when running:
Ensure to plan your run in advance
Ensure to run with an ID card in the event of an emergency
If you are listening to music, ensure to make use of just one earbud
Always run against traffic
Carry your mobile phone along just in case you need to call for help
Always wear bright-colored clothes preferably reflective ones.
Run light!
Try to make it a social activity by running with others
Don't do it during the rush hour
Respect laid down traffic laws while at it.
Conclusion
The choice of shoe for running is one that is dependent on factors such as availability and choice. However, you should have it at the back of your mind that if you simply intend to run for short distances such as 2 to 3 miles maximum two times a week, basketball shoes may not be a bad idea.
If you, however, intend going longer distances at greater frequency, you may need to get running shoes for yourself.
References

www.sportsrec.com/difference-trail-runners-hiking-shoes-7271915.html

www.northstationsports.com/playing-basketball-in-running-shoes/