Loafers are comfortable, casual, and easy to slip on. You don't have to go through the stress of trying to lace them up, because they do not have laces. Who wouldn't love to always put on such easy-to-wear-easy-to-remove footwear?
But do loafers go with all types of dressing, especially suits? I mean, suits are supposed to look all formal and dashing? And loafers are pretty much often used with shorts, jeans, casual trousers and other casual clothing. So, will a loafer be great on your suit?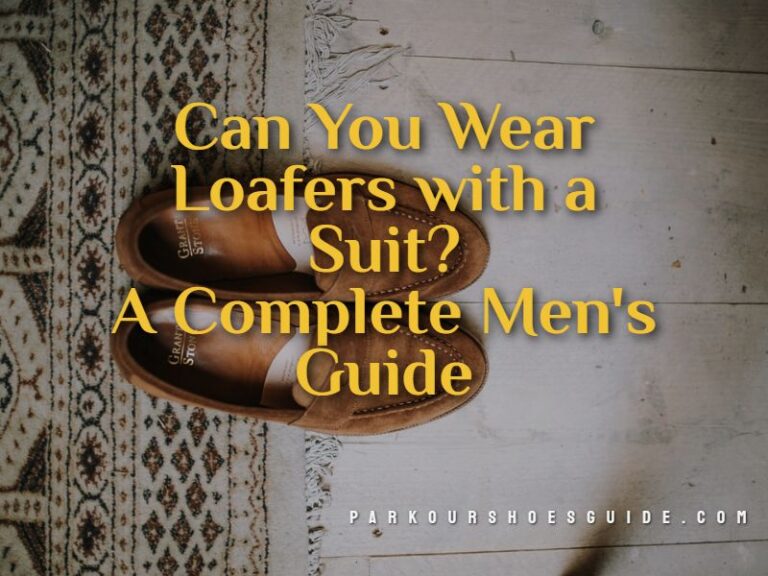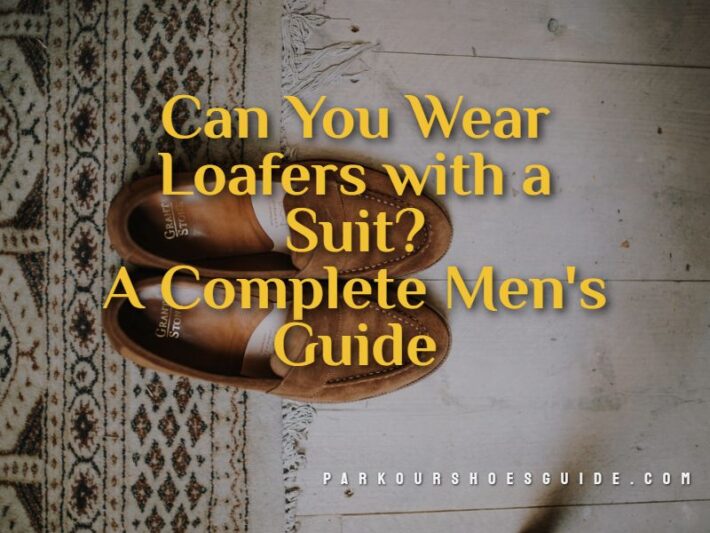 This is pretty much what I intend for you to find out, and I'll help you decide.
And no, our discussion is not limited to male suits. Females who love to wear pantsuits are also welcome to check out this article.
So, can you wear loafers with a suit?
Yes, Dress loafers go well with suits. They are slick, and comfortable and do not give the casual vibe that a casual loafer exudes.
You can put on your single or three-piece suit, slip on your dress loafer, and voilà, you're good to go. You'll achieve the formal, dashing look you aim for, while still being comfortable.
Since dress loafers are the right loafers for your suit, you obviously have to know what your target dress loafers should be.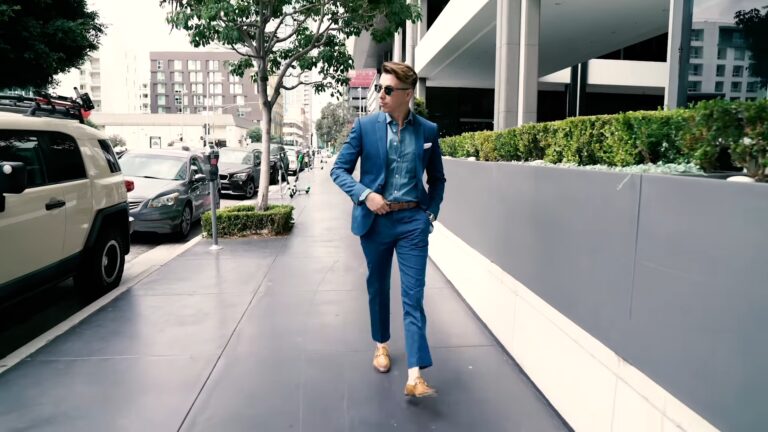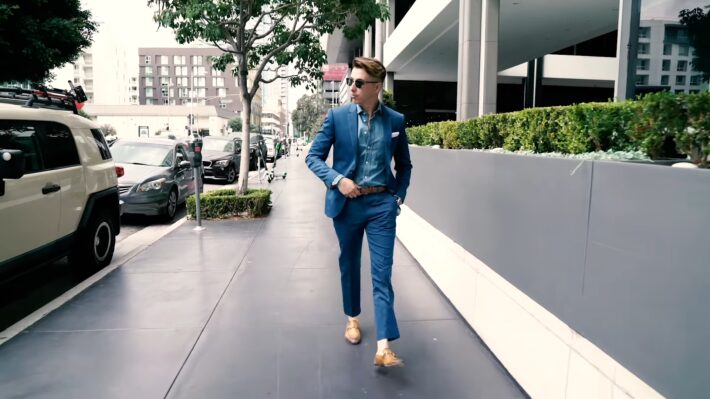 So, what types of dress loafers should you pair with your suit?
My first pick is the bit loafers. More specifically the Horsebit loafers, also known as Gucci loafers.
Second pick, is the faux patent leather tassel loafers with low heels; and
Third pick, is the simple leather tassel loafers. This will go well with your casual suits.
Why did I make these picks?
Firstly, these designs of loafers are made of leather, and of course, you can't go wrong with leather when it comes to suitable footwear for your suit.
These loafers have thick soles, high vamp, and heels, perfect for the formal vibe that your feet need to exude in a suit.
Finally, they are designed in a formal way, reminiscent of the Oxford laced shoes for suits.
But you know, there are times when you just want to keep it simple with your suit – nothing too formal, nothing too casual, and nothing offbeat.
Like, when you are wearing your suit with a buttoned-up shirt and no tie; or when you are wearing an open-neck shirt with your suit; or when you are attending a gathering that is less formal but not casual.
For such moments, you want to achieve a laid-back look in your suit.
To do this, you can slip on a pair of suede tassel loafers, and still look fashionable. You'll be able to bridge the gap between formal and casual.
How Do You Pair Your Suit With Your Loafers To Achieve A Great Look?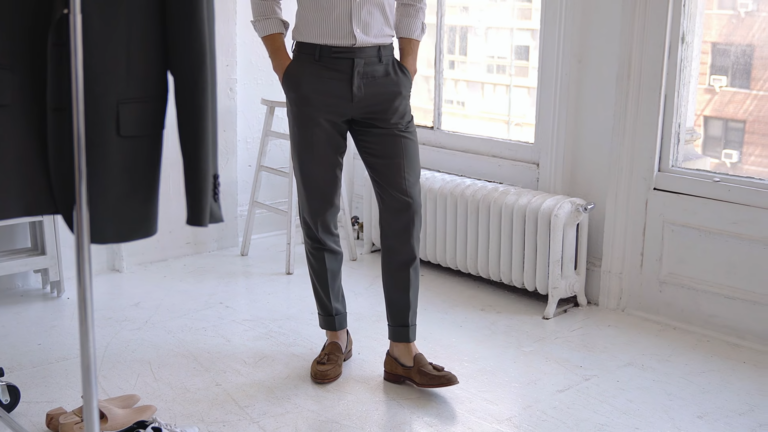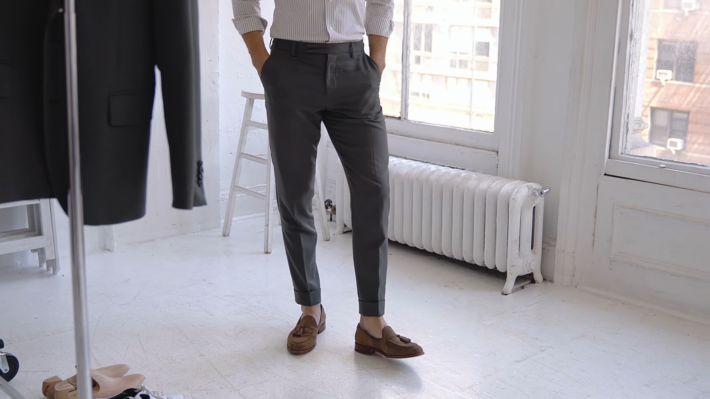 The goal of dress loafers is to show off a little bit of skin while still looking stylish and corporate. So, it is advisable to follow these suggestions and rules when pairing your loafers with your suit, so as to avoid creating a tacky look or a look which defeats the goal of the dress loafers.
Put on the Right Trousers.
It is very important. A great combination between your suit and your loafers can only be achieved when you put on the right trousers.
To show off the beauty of your loafers with your suit, you must strictly adhere to these rules when choosing your trousers:
Do not wear a suit trouser that has a bottom which sags over the top of your loafers.
The bottom of your trousers must be neatly tailored.
There must be a distance/gap between the bottom of your trousers and your loafers.
The bottom of your suit trousers must stop at your ankle or very near to your ankle, especially when you are not wearing socks.
Combine your Suit with a Loafer that has a colour that complements your suit.
Your colour combination is vital. To be safe, you can go for black, grey or brown loafers.
But do not use a black loafer with a navy blue trouser. It won't look so good.
By all means, try to ensure that the colour of your loafers compliments your suit colour.
Socks
When wearing a loafer with your suit, you can decide to either wear socks or not.
If you decide to wear a pair of socks, go for a color that will compliment your suit. It is advisable that you get a colour that is similar to the colour of your loafers.
Your dress loafer will be beautiful with a visible sock if you're attending a formal gathering. For a less formal gathering, or for a Friday look at the office, a little show of flesh around your ankle will make the combination look great.
If you intend to achieve a laid-back look by pairing your suit with a suede loafer, I advise that you should not wear socks. Socks do not look great on suedes loafers. But, if you need to wear socks, invisible socks should be your pick.
Can You Wear Dress Loafers On Tuxedo?
My answer is no. Pair a dress loafer with your smart business suit, or suit to be used for any other dressy occasion, as long as it is not a tuxedo.
A loafer does not complement a tuxedo in any way. A tuxedo requires full-length trousers, while loafers are worn on ankle-length trousers. Obviously, there is no way your loafer will look good on the tuxedo. Moreover, a tuxedo looks good on laced footwear.
So, do not try to make a pairing between your loafer and your tuxedo.
Can You Wear Dress Loafers To Your Wedding Event?
It depends. If you are wearing a tuxedo on your wedding day, then of course, you cannot wear loafers. If you are wearing a suit, then feel free to wear any of the dressy loafers I have previously mentioned.